It is a common thing for one big company to own several other large companies. As a matter of fact, there are about a dozen companies that own all the other ones. Did you know that only a while ago (December 2017), Apple acquired Shazam for $400 million? Or that Facebook owns both Instagram and WhatsApp, and that Microsoft bought LinkedIn, Skype, MSN, and Bing? However, before becoming a child company of Microsoft, Skype was actually under eBay's wing. The world appears to be small when you take a look at all big company acquisitions that happened over the years, and all the leading companies are somehow always intertwined. It's like a business-themed soap opera. As there's much going on, we'll focus on two major names in the eCommerce world, namely Amazon and eBay.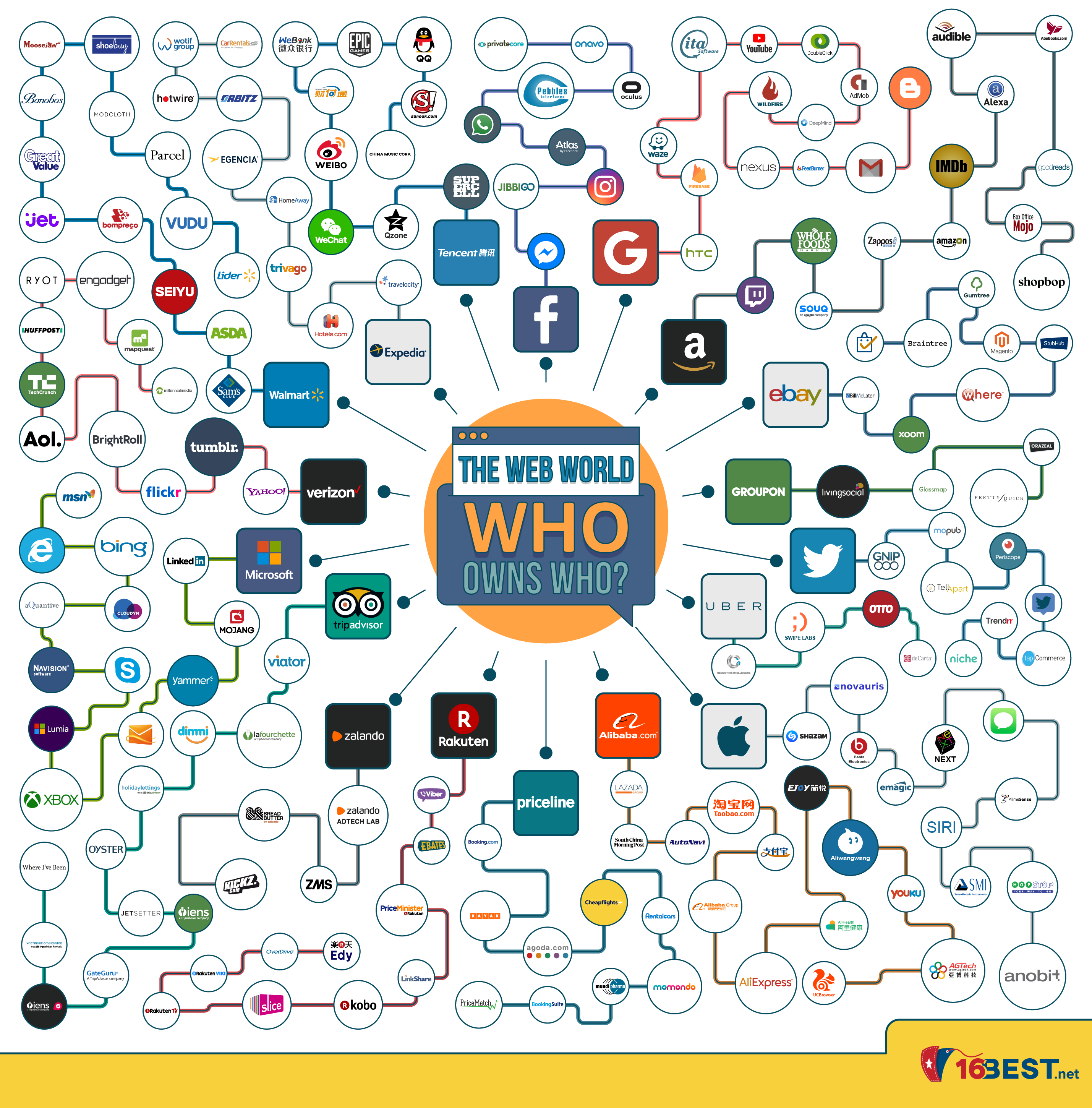 Briefly about eBay
Founded in 1995, eBay is one of the largest auction websites, where people can buy literally everything. There have even been instances where people tried to sell air on eBay! As a matter of fact, there was an active listing for a bag of air up until a while ago. Now that we've proved our point – that people can find everything on eBay – let's talk about some stats.
There are 6.7 million sellers on this auction site that offer a large selection of products. eBay lists about 1 billion items and covers 190 markets from around the world. On average, Americans visit eBay two times a week and spend approximately 1 hour and 15 minutes on the website on a weekly basis. Among eBay's visitors, you'll also find NASA that had used the auction website in search of outdated replacement parts.
Companies acquired by eBay over the years
About 59 companies have been acquired by eBay. The greatest number of those companies belong in the online auction industry. The first company of the sort that was acquired by eBay was Up4Sale.com, while others include Butterfield & Butterfield (1999), Kruse International (1999), Alando (1999), Internet Auction Co. (2001), iBazar (2001), CARad.com (2003), Baazee.com (2004), and Tradera (2006).
Another type of companies eBay has acquired over the years belongs to the classified advertising field. The most famous company in this category is Craigslist, which eBay purchased in August 2004. Other names that eBay has bought include Marktplaats.nl (2004), Rent.com (2004), Loquo (2005), and Gumtree (2005).
The last big group of companies that eBay acquired over the years is from the electronic commerce industry. These companies include StubHub (2007), GittiGidiyor (2007), Bill Me Later (2008), Magento (2010), and brands4friends (2010)
Biggest eBay acquisitions
The two biggest acquisitions for eBay were Skype (2005) and PayPal (2002). The eCommerce giant paid $2,600,000,000 for acquiring Skype, only to sell it to a private investment group four years later for $1.8 billion. Skype eventually ended up as a part of Microsoft which bought the Luxembourg-based company for $8.5 billion.
As far as the relationship between eBay and PayPal goes, eBay had a long history with PayPal from 2002 to 2015. The two companies worked side by side for 13 years until they decided to go separate ways and function as two standalone businesses in 2015.
Briefly about Amazon
Founded back in 1994, Amazon was first known as Cadabra, Inc. The founder, chairman and CEO of Amazon, Jeff Bezos had the vision to build a place where people can buy anything, but he also wanted that company to be heavily focused on its customers. In the beginning, Amazon sold books only. Today, it's one of the largest retailers selling everything from software and electronics to toys, jewelry, and more.
There are 541,900 employees working at Amazon, and the company's revenue is US$135.98 billion. According to research, Amazon has about 300 million users. The company ships about 3 million packages on a daily basis and has more than half a billion items on sale. The most popular products on Amazon are books, followed by electronics. When it comes to specific products, the best-selling items are tablets, memory cards, Amazon Bluetooth speakers (Amazon Echo and Amazon Echo Dot), robotic vacuum cleaners, and headphones.
Companies acquired by Amazon
The biggest acquisition Amazon has ever made happened in June 2017, when Amazon purchased Whole Food Markets for $13.7 billion. The following companies were either bought in full, or Amazon only bought shares in those companies. The first-ever acquisition Amazon made was back in 1998 when the company acquired PlanetAll – a reminder service. That same year Amazon bought four other companies – Bookpages.co.uk, Junglee, Telebook, and IMDB.
1999 was another good year for Amazon, as they bought 16 more companies. Some of them include Gear.com, Alexa Internet, MindCorps Incorporated, Back to Basics Toys, GeoWorks, Drugstore.com, and LiveBid.com among others. In 2002, the online shopping giant acquired CDNow.com, and in 2004 Joyo.com is an eCommerce website. Between 2005 and 2010, Amazon purchased more than 20 companies and Shopbop, Brilliance Audio, CreateSpace.com, Zappos, Stanza, and Woot are only some of them.
In the period between 2010 and 2016 Amazon bought 25 more companies and among the most profitable acquisitions were Twitch, Annapurna Labs, and Kiva Systems. In 2017, Amazon purchased Harvest.ai, Do.com, GameSparks, Body Labs, and as previously mentioned, Whole Foods Market – its biggest acquisition ever.
Based on what we've outlined above, it's evident that both brands are keen on expanding their kinship. However, they are not the only ones to keep up with this trend – especially when it comes to the online shopping business. Check out the infographic below to see what other online giants have bought and sold over the years.