Last updated on June 29th, 2019 at 09:48 am
Even an amateur woodworker knows that you can't get very far without proper tools. No matter how good your skills are, some things are impossible to do without the necessary technology. One of the most indispensable tools a woodworker must have is a wood router.
We will now introduce you to some wood router reviews, as well as discuss what you should exactly pay attention to when looking for the best model to buy for your workshop. Purchasing a new wood router can be a bit intimidating if you're new to the whole concept, but after you read this article, we're sure that you'll be equipped with all the necessary knowledge. Let's get right to it!
Best Wood Routers 2018

There are truly lots of great wood routers out there, no matter what your price range is. Moreover, you can actually save when shopping for wood routers by making the most out of, for instance, eBay coupons. Because of this, it can sometimes be a challenge to find the best machine for your particular needs. When most folks decide to buy a new wood router, the first places they look are Home Depot or the Lowes online catalog. The problem here is that if you shop online, you don't get a thorough elaboration of what you can expect from the product – instead you most often just get the specifications, not actual reviews.
Because of that, we've decided to make your lives easier and put together the 16 quintessential Wood routers reviews, 2018 edition! Any of these 16 will be a good choice regardless of your budget or skill level, so read away if you want to get yourself a good router.
[content-egg-block template=offers_list]
1
DEWALT DWP611PK Variable Speed Compact Router Combo Kit
This wood router employs a powerful 1.25 HP motor, more than enough for even the toughest woodworking applications. The Dewalt DWP611PK has a variable speed option that allows you to tweak the rotation speed from 16,000 RPM to 27,000 RPM (important for router longevity), as well as a soft-starting motor. One thing that's great about this router is the two LED's that provide you with pristine lighting at any given moment while using the unit, making your job as a woodworker a lot easier.
2
PORTER-CABLE 7538 Speedmatic 3-1/4 HP Plunge Router
Unlike the previous model, the Speedmatic doesn't possess a variable speed function. Instead, the motor operates at a constant speed of 21,000 RPM. However, it is equipped with a soft start feature to reduce the torque at startup, significantly contributing to the durability of the machine. The auto-release collet system makes it easy to switch out bits as much as you please, making this a versatile unit in almost every aspect.
3
Craftsman 27683 Combo-Base Router
This 12-amp powered base router features soft start technology, and thanks to a little engineering ingenuity you can use it both as a fixed-base and a plunge router, depending on your requirements. It's designed to be used with 1/4" and 1/2" collets and the motor allows you to choose between 6 different speeds, from 10,000 to 25,000. Additionally, the dual-view window and the chip deflectors are there to provide you with superior visibility, which takes a lot of guesswork out of your workflow.
4
CNC Router & Engraver 3 Axis 3040T
If you need small-scale, precise shaping, and modification then this is definitely the router for you. First of all, as the name suggests, this is a CNC router, which means that its software-controlled operation can provide you with far greater precision than a conventional router could. The spindle motor knob further allows you to make small positioning adjustments, and the strong, durable chrome shaft guarantees that this unit is sure you a long time.
Buy Now
The variable speed motor in this unit allows you to choose from speeds between 8,000 RPM and 25,000 RPM, more than sufficient for any range of operations you might need to perform. The powerful 2.25 HP engine is more than enough to deliver the force necessary for drilling through even the hardest of wooden materials, and the aluminum construction makes this one of the most durable wood routers on the market. This is possibly the best model for beginners in this price range, so even if you've just learned how to use a wood router, this unit will definitely take care of you.
6
Makita Compact Router Kit RT0701CX7
The Makita's rack-and-pinion fine depth adjustment system allows you to be precise with the actual depth of the drill. This router is ergonomically designed, easy to control, and comfortable to work with, which is more than can be said for many conventional wood routers out there. The electronic speed control makes sure that the speed remains constant no matter the amount of force involved, and the soft start feature is effective at preventing excess initial torque that can damage the unit.
7
Milwaukee 15 Amp 5625-20
With a whopping 3,5 HP motor, this fixed-base router is powerful enough to drill through a solid piece of oak like butter. The variable speed feature allows you to switch between 10,000 and 22,000 RPM with a soft start, and the linear depth adjustment system allows for precise movements. As far as wood routers go this one is pretty light at only 12 pounds, which is also something to consider if you're going to be moving the router around a lot. All of this explains why this overall excellent model ranks great in most wood routers reviews.
8
Hitachi KM12VC Combo Wood Router
The KM12VC features a 2-stage motor release clamp, allowing for quick and accurate adjustments and base changes – this means you can work quickly and efficiently without having to fine-tune anything on the router itself. According to various wood router reviews, a cool feature of this router is its industry-leading noise level of a mere 79.5 dB – very quiet by wood router standards.
9
Skil Fixed-Base Router w/ Soft Start 1817
Like many routers in this price range, this machine features a LED SiteLight illuminatory system that keeps your workspace perfectly lit, so you know exactly what's going on. The soft-grip handles make the unit easy to control and maintain, and the router even features a dual position on/off switch and a quick-release button for easy motor adjustments and removal. If you're looking for the best wood router under $100 that gets the job done, this is a good choice.
10
VEVOR CNC Router 4 Axis 3020T
This router is equipped with spiral flute bits that can be used to shape a lot of different materials such as metal, steel, as well as stone – not just wood! The unit can be controlled by a simple laptop near your workstation, allowing for easy, efficient and precise adjustments and designs. Whether you're a pro or a hobby woodworker, this unit is one of the best wood routers because it is equipped with everything necessary to make your job as simple as possible, without sacrificing efficiency.
11
Bosch Palm Router PR20EVS
The rugged aluminum fixed base of this unit makes it super durable, solid and precise, and the base itself is designed with cavities for your fingers. This makes operating this router safer and more efficient by giving you more control over the unit, and the quick-clamp system allows the motor to be easily transported to a different base. If you've settled on this wood router, Lowes offers the best deal for it.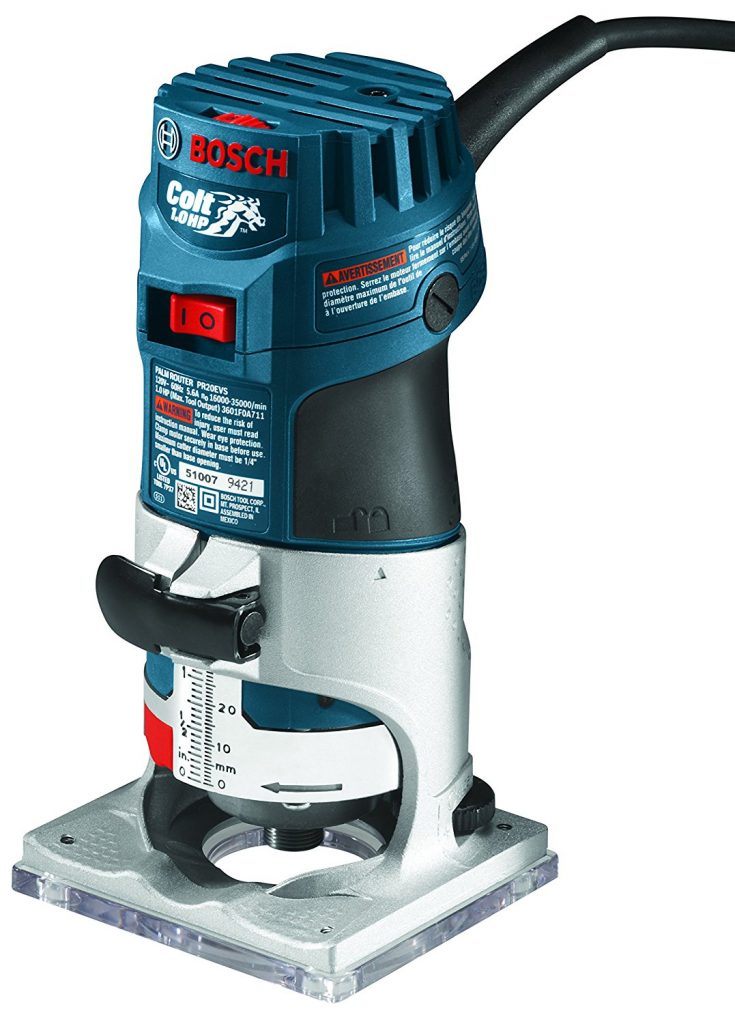 12
PORTER-CABLE Wood Router Kit 893PK
With a whopping 12 amps of power, the motor of the 893PK is powerful enough to maintain optimum speed even through the toughest of applications. The variable speed function lets you change between 10,000 RPM and 20,000 RPM, and the plunge base is equipped with brass bushings and steel rods to give you more control with your plunge strokes. For this wood router, Home Depot is the place to look for the best price.
13
DEWALT 12-AMP Wood Router Kit DW618PK
One of the most common causes of wood router failure is excessive dust buildup, which leads to mechanical flaws and overheating. This is why this Dewalt unit comes with a through-the-column dust collection system that gathers up to 95% of the dust particles flying around while you're working, instead of letting it gather inside the machine itself. This is a big plus for durability and reliability, so if you don't fancy taking your router apart to clean the dust every couple of weeks, this machine is the best woodworking router to buy.
14
Black and Decker Plunge Router RP250