16 Best Things to Do in St. Louis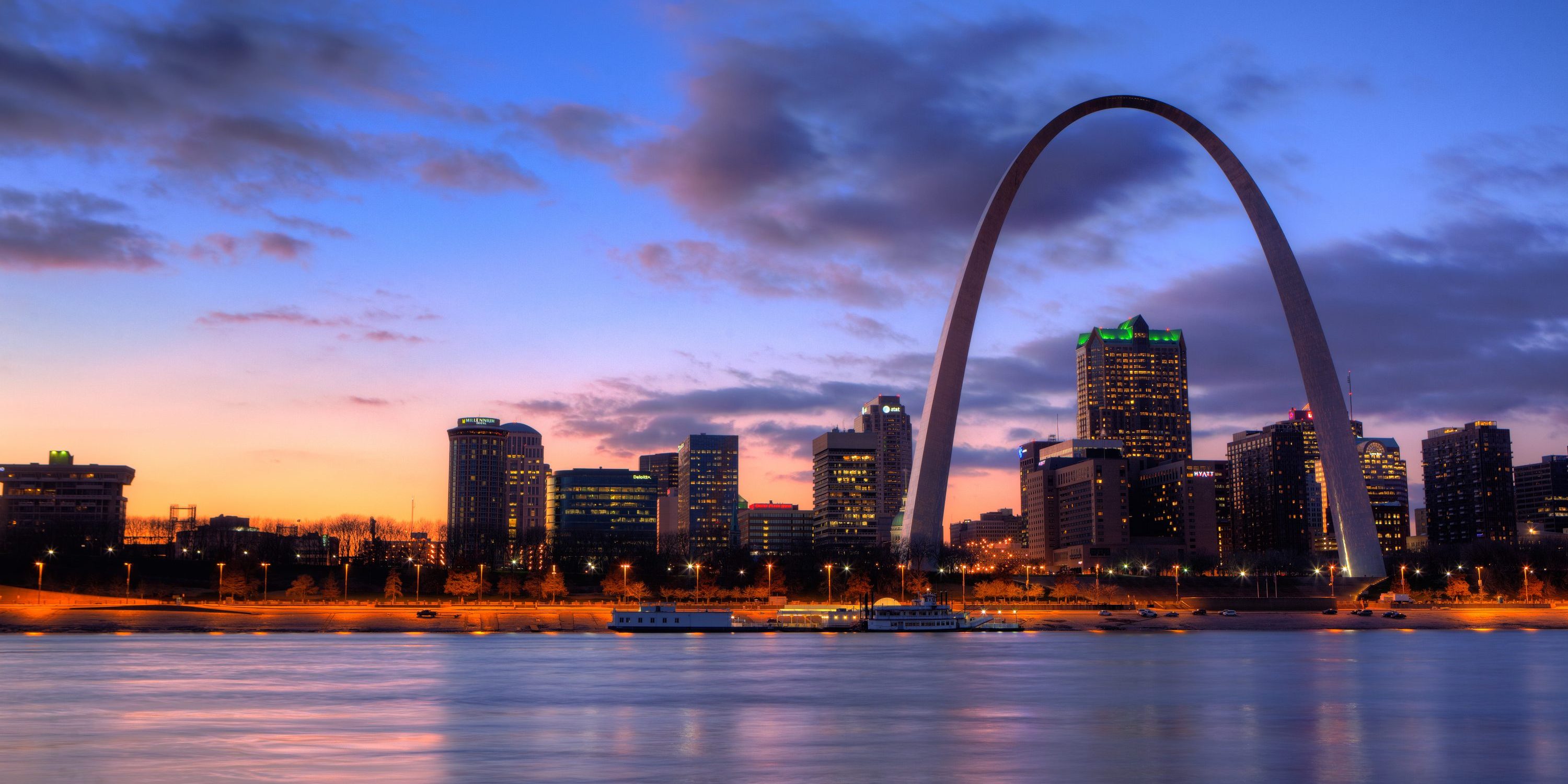 Since St. Louis is a city known for beer and baseball, we could effortlessly say that it packs a punch. Also known as the Gateway to the West, St.Louis is one of the largest cities in Missouri and people are drawn to this exciting metropolis because there's not a single day without at least one meaningful and fun event. With so many markets, museums and green spaces to explore, you will never be short of things to do in St. Louis. And the best part? Most of the attractions are free to explore, enter and discover! Here's our selection of 16 best among them!
1
Admire the view from the Gateway Arch
When you travel to St. Louis, you cannot and should not resist the urge to visit the iconic Gateway Arch – a tall sloping steel monument resembling a Centenary arch that towers over the city. At 630 feet, it's the world's tallest archway. However, you shouldn't worry because you won't be taking the stairs. Hop onto the elevator and ride to the top for an incredible view over the city skyline. Our top tip? Timing your visit to the top of the tower at sunset is one of the most romantic things to do in St Louis.
2
Watch or play a baseball game
If you want a more local experience, you can opt to support the Gateway Grizzlies at GCS Ballpark where you can watch a game with a backdrop of the city skyline. Whether you like sports or not, you'll have a good time since visiting GCS Ballpark provides a unique experience. Furthermore, Busch Stadium is the home of the famous Cardinals baseball team who have won 11 world championships. Ultimately, watching a Cardinals game at this iconic stadium is one of the most fun things to do in St. Louis for adults. If you liked the view, you can even book a few nights at the nearby hotel. Of course, using Hotels.com promo codes for additional savings is highly recommended.
3
See the Animals at the St. Louis Zoo
We love the St. Louis Zoo – most of all because it's completely free to enjoy! That means there is no pressure to get your money's worth of animal spotting and you can relax and enjoy your time here.  Enjoy close encounters with all the animals in the zoo, from cute looking capybaras, sun bears and flamingo to chimpanzees and the endangered black rhino. Because this facility has been a real landmark and at the top of every St. Louis points of interest list, spending some time at it is a must. The zoo is one of the best zoological parks in the US. Moreover, you can explore fun-named exhibits like Big cat Country, Penguin & Puffin Coast or the Stingray Pool. The last one is even interactive! We'd recommend riding the Emerson Zooline Railroad and enjoying a guided tour of some of the most exciting wildlife exhibits in the park. If you're visiting with little ones, make sure to stop by the petting zoo for a more hands-on experience. Whatever you do during the rest of your trip, exploring the zoo is one of the best free things to do in St. Louis.
4
Go Wild at Six Flags St. Louis
Reward yourself with the thrills and spills of St. Louis at Six Flags – an exciting theme park with adrenaline-pumping roller coasters and water slides for thrill-seekers, families, and kids. Enjoy live concerts, feast on some fantastic American fare and have the little ones meet their favorite Looney Tunes characters at the Bugs Bunny National Park. Doesn't it feel daring already? Why not challenge yourself to the Screamin' Eagle coaster that zooms along at speeds of up to 62 miles per hour or the exhilarating Fireball and SkyScreamer rides. All in all, one of the top St. Louis, MO attractions, Six Flags St Louis is great on a sunny day when you can cool off on the exciting Thunder River or Hurricane Harbor Water Park.
Welcome to the Magic House, an exciting attraction built for the curious minds of Missouri. While this attraction may be most interesting for children, it provides heaps of fun for the parents as well. Housed in an abandoned Victorian mansion from the 1900s, the Magic House is the very first interactive children's museum in the region and one of the unique things to do in St. Louis. The kids will love climbing the three-story Beanstalk from the famous children's Jack & the Beanstalk novel, playing the president in a mock-up set of the Oval Office and pretending to be grown-ups in a miniature town. It's pretty educational too – think a news studio simulator, a bubble room and an electric ball that causes your hair to stand on end for a great photo opportunity! There are always exciting things to do in St. Louis so keep both eyes wide open for the free family nights and fitness first Thursdays held at the Magic House.
6
Browse the Tower Grove Farmers Market
One of the goals you should strive for when you visit any city is to see how the locals live. Arguably, the best way to see the way of life of a certain group is to visit a farmers market. Why? Because that's where you'll meet different people, see how they behave, and get the overall impression on what you can expect. So, if you're looking for things to do in St. Louis today, why not join the locals at the Tower Grove Farmers Market? It's open every Tuesday evening and Saturday morning and it is arguably the best farmers market in all of the St Louis region, the Tower Grove Farmers Market space is filled with over 70 different vendors offering only the freshest local products, food, and beverages.
However, that's not all. They also provide extra services such as live music and free yoga on weekends. One of the newest activities favored by locals, the market is not likely to be on your average St. Louis travel guide so make sure you place it on your list of exciting activities to do in St. Louis. If you like the way locals live, you'll also love to have one show you around. Since there aren't that many top-notch genuine local tour offers in St. Louis, you can try using one of Airbnb promo codes. That way, you'll get the best deal on both accommodation and tours managed by St. Louis locals.
7
Explore Forest Park Forever
One of the largest urban public parks in America, Forest Park Forever is the best place to spend a day outdoors. Larger than Central Park in its acreage, it encompasses a golf course, greenhouse, skating rink, Science Center and the St. Louis Zoo. Having a picnic on the vast green area is quite pleasing. Having a picnic at this park is one of the most enjoyable St. Louis activities. Furthermore, locals use the cycling and walking pathways to keep fit and walk their days, making a day at the park a genuinely local and social experience. Various events are also held in the park throughout the year, including Pilates in the Park, Wildflower Walks, and unique art exhibitions. Head over to the website for an updated event programme. If you like the looks of it, you can even stay at one of many hotels located in this area. What's more, you can even get a bargain price on accommodation in one of those hotels by using one of at many Priceline deals!
8
Visit the Miniature Museum of Greater St. Louis
Set over two stories, the Miniature Museum of Greater St. Louis is undoubtedly at the top of our list of the most fun things to do in St. Louis. Explore the maze of the interior filled to the brim with its collections of miniature dollhouses depicting everyday scenes of St. Louis. The views range from ice cream parlors and private homes and apartments to shopping centers and motor mechanic workshops. As with most scaled miniature displays, the beauty is in details – you'll be surprised to notice things like a Magnum P.I poster decorating the dollhouse walls and the exquisite detail in the hand-carved antique car. And, a top tip of one of the most interesting things to do in St. Louis, MO – the museum also hosts their workshops where you can create your very own mini dollhouse!
9
Experience the Whispering Arch at Union Station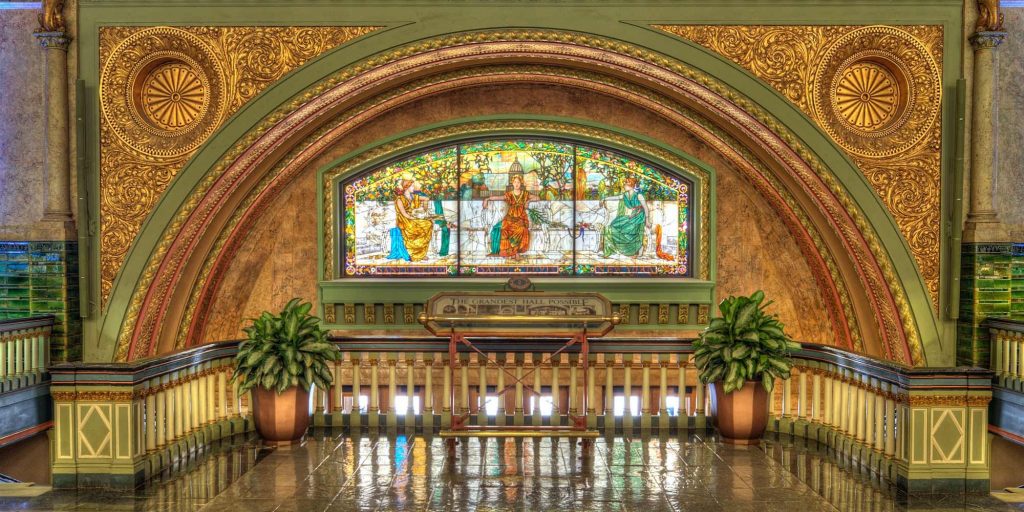 There's no shortage of unusual stuff to do in St. Louis. Did you know that an unusual architectural feature at the St. Louis Union Station allows you to speak to your friend even when they are standing nearly 40 feet away? Similar to the whispering gallery that can be found at St. Paul's Cathedral in London, an individual vault allows sound waves to travel from one side of the room to the other.  Take some time to admire the stained Tiffany glass window that portrays the life of the facility when it was one of the busiest stations in the United States. Today, the station no longer in order but visitors are welcome to explore the Grand Hall.
10
Take a Walk through the Citygarden
Looking for things to do in St Louis this weekend? For a spectacular day outdoors, head to Citygarden – an urban paradise filled with countless sculptures and beautifully manicured gardens that focus on art, nature, and architectural design. Within the park, you will find no less than six rain gardens, a laidback little cafe, a musical amphitheater for shows under the stars, and a park with over 70 different sculptures.  If you plan on visiting on a hot sunny day, you won't have to worry about the well-being of your children. Pool monitors ensure your kids can enjoy the water features of the park safely.
You cannot travel to St. Louis and not experience one of their excellent breweries where local brews are paired with tasty dishes. Plus, as most of the tastings and tours are held indoors, they are one of the best things to do in St. Louis in winter. Spoilt for choice? We'd recommend a visit to Urban Chestnut, a German-style brewery, and Civil Life to taste their English-style beer. Also, you wouldn't want to miss the tasting room at 2nd Shift and a tour of the Anheuser Busch Brewery, followed by beers in the Biergarten, of course.
12
Discover the City Museum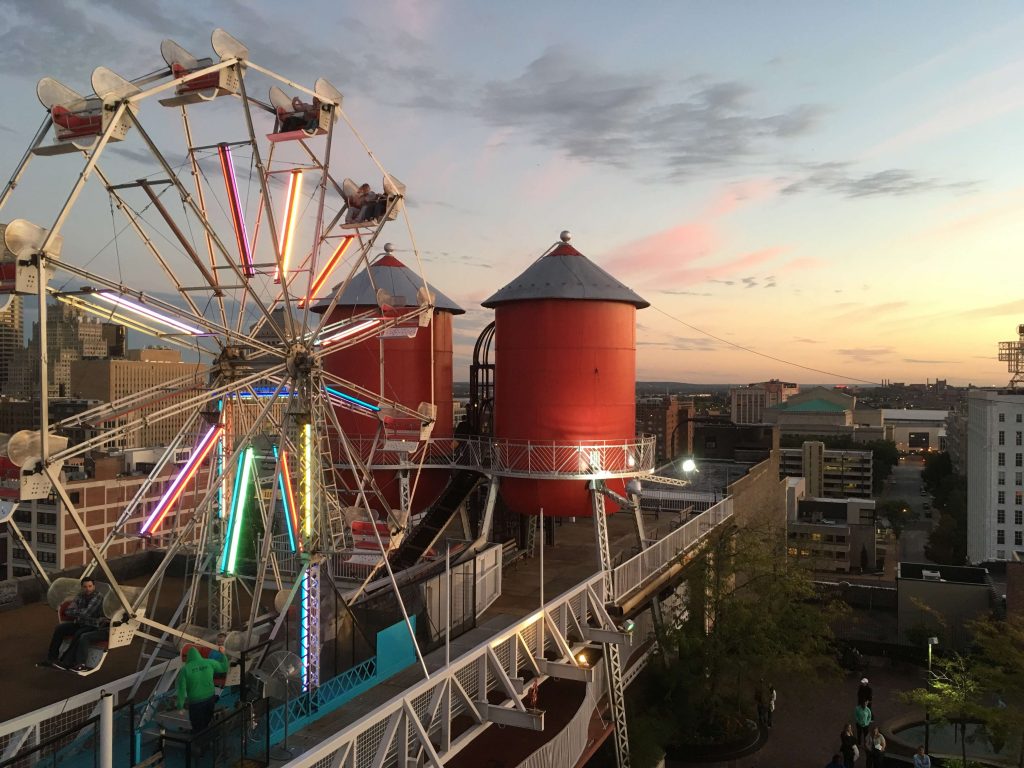 Since it's genuinely a virtual playground for adults and kids alike, it's no surprise the City Museum is one of the top things to do in St. Louis.  The 600,000 square feet of space looks more like a funhouse than a museum. Nevertheless, this museum houses exciting exhibits and displays made from reclaimed St. Louis materials. Created by 20 different artists, the shows range from circus themed areas to enchanting caves and an aquarium that's home to over 10,000 marine animals. Don't miss MonstroCity which is filled with a castle turret, an adult-sized ball pit and two planes hanging from the ceiling. And afterward, you can enjoy the fruits of Washington Avenue – not far from where the museum is located. Also, educational circus classes and workshops are held every day. If you're looking for things to do in St Louis this weekend, our top tip would have to be to stop for lunch at the Rooftop Cantina to enjoy the stunning view over the city.
13
Explore the Turtle Playground
If you were to drop a pin and randomly pick one of the most popular things to do in this city, you might end up exploring the Turtle Playground. This facility is not just an average playground. In fact, the Turtle Playground is filled with enormous turtles and other reptiles made out of concrete making it one of the most important and well-known landmarks in whole St. Louis. Created by a local artist, it's one of the most exciting things to do in St. Louis with kids. Your offsprings can enjoy climbing through the mouth of a gigantic turtle, walking beneath the body of a giant snake and taking a seat on seats that look like a baby turtle at this amazingly interactive sculpture park.
14
Learn at the St. Louis Science Center
The St. Louis Science Center is one of the most entertaining and educational activities in which you can participate during your stay in St. Louis. If you're still wondering what to do in St. Louis, this suggestion should resolve some dilemmas, particularly for those with an interest in science and the way things work. Admire the infinitesimal stars of the galaxy at the Planetarium, fly high at the four-story Omnimax Theater and explore the Discovery Room. The Discovery room is perfect for little ones; it comes with complete age-appropriate hands-on exhibits and experiments including a life-sized Tyrannosaurus Rex.
15
Attend a Concert at the Missouri Botanical Garden
Relax within 79 acres of beautiful gardens and greenhouses at the Missouri Botanical Garden. This landmark is filled with a plethora of fascinating plants and flowers, tinkling water features and lush rainforests. As a result, it's one of the best things to do in St. Louis when you're looking to chill out. Furthermore, the Japanese Garden and the Children's Garden make great picnic spots. If you're visiting St. Louis in the summertime, make sure you come for The Whitaker Music Festival on Wednesdays where you can organize a picnic and enjoy live music in the gardens. Be sure to check out the website for an updated event program.
16
Watch a Live Theater Show
One of the best things to do in St. Louis at night is admiring the talented people of St. Louis while watching an entertaining live theater show. There are plenty of venues to choose from – be wowed at the Fabulous Fox, see a musical at Stages St. Louis or enjoy a classic play at the Repertory Theater or Peabody Opera House. Or, for something different, why not watch a theater show under the stars at The Muny in Forest Park, the largest outdoor amphitheater in the States?
Ultimately, regardless of where you're coming from, there are a lot of Expedia deals which can help you save on both transport and accommodation. With so many things to do in St. Louis, you'll need to allow plenty of time to explore it all. What's first on your St. Louis bucket list?