16 Best Things to Do in San Juan Puerto Rico
San Juan is one of those beautiful holiday destinations you read about in the news – a travel hotspot that is as much about adrenaline-induced adventures as it is about lazing on the picture-perfect sandy beaches. While it may be the capital city, and certainly the largest, it holds undeniable charm within its ancient city walls. Considering all the things to do in San Juan Puerto Rico, it's no surprise that it's become one of the most popular stops for Caribbean leisure cruises. San Juan's growing popularity is mainly due to its history and fantastic nightlife but also because there are so many things to do in the San Juan, Puerto Rico cruise port. Whether you want to spend your days exploring the cobblestone streets of Old San Juan with its magnificent colonial architecture or discover the ancient forts and spectacular ocean views along the coastline, you are sure to be spoilt for choice for fun activities in San Juan, Puerto Rico.
1
Relax with a Cocktail on Condado Beach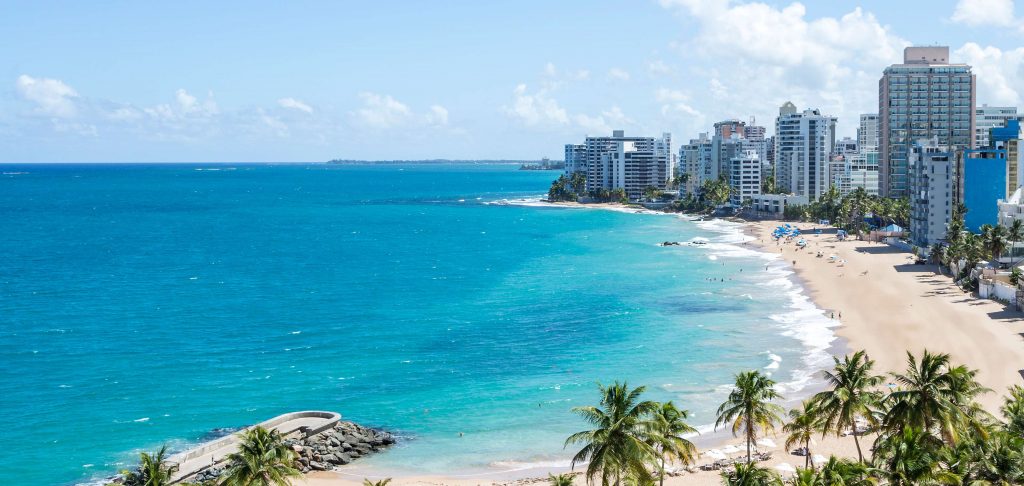 Condado Beach is one of the trendiest beaches in San Juan, Puerto Rico. In fact, it is a palm-studded stretch of beachfront loved by many for its laid-back atmosphere. Surrounded by high-rise hotels and resorts, the beach is always a hive of activity and has even been compared with the likes of Miami Beach. No matter the time of year, the beach is often filled with people enjoying water sports and sipping cocktails at the nearby beach bars. And the best part? You can rent a sun lounger and settle in as waiters keep your Pina Coladas topped up. The beach is free to access and is open every day until sunset.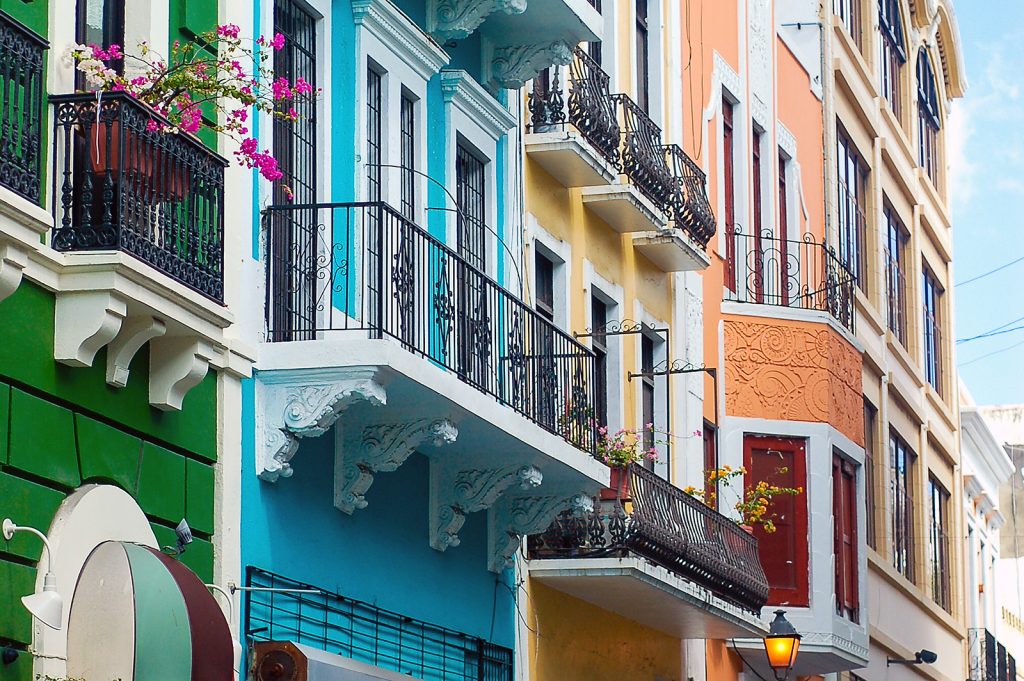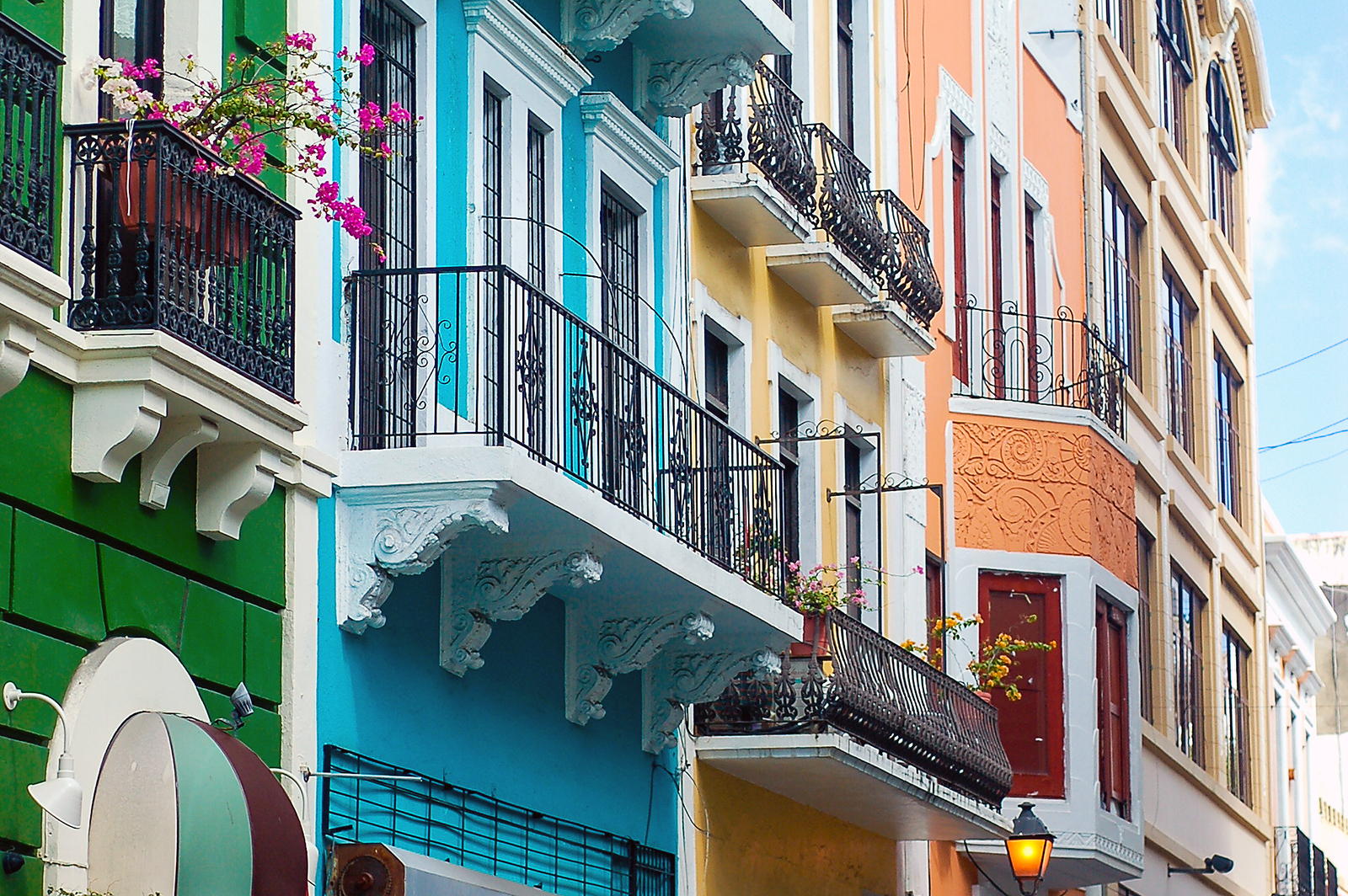 The walled Old San Juan district is made up of as many as 400 restored buildings that date back to the 16th century. With picturesque cobblestone streets, the old town is filled with museums, historical sites. restaurants, and bars offering some of the best nightlife in San Juan, Puerto Rico. While you won't be able to access the oldest areas of the city (they are closed off by walls), you will still get to spend time exploring the bustling piazzas and admiring Spanish colonial architecture –  just a few examples of the best things to do in old San Juan, Puerto Rico.
3
San Cristobal and El Morro Forts
Officially a UNESCO World Heritage Site, the San Juan National Historic Site is an iconic hotspot on the San Juan Harbor. It consists of two fascinating and historic fortresses while sightseeing along this stretch of rugged coast is genuinely one of the top things to do in San Juan Puerto Rico, particularly for anyone who has an interest in history. The more famous of the two – El Morro, is the most massive fort in the Caribbean and overlooks the San Juan Bay. Visitors are invited to explore the hallways, ramps, vaults, and dungeons of the fortress.
Or, if you prefer to savor the history without as many crowds; we'd recommend a visit to Fort San Cristóbal's – a 200+ year-old fort that was built to protect Old San Juan. The 27 acres that make up this fort are not visited as often as the El Morro. Furthermore, if you're looking to get an authentic feel for the history of this fort without the distraction of crowds, visit in the early morning or late afternoon. The fort itself still holds plenty of history within its stone walls, and you can spend hours exploring the fort's ramparts, tunnels, and dungeons. If you have some additional time, it's worth visiting both forts at the same time as you pay a discounted entrance fee to see them both.
4
Sunbathe on Carolina Beach
Carolina Beach is one of the more popular public beaches in greater San Juan. Since it's located near the Isla Verde resort and sunbathing on the gorgeous white sands, it is easily one of the best things to do in San Juan, Puerto Rico when on a cruise . If you're looking to avoid the crowds, come early in the morning or later in the afternoon. Watersport equipment is available for hire, and there are food vendors on the beach so you will never stay hungry.
Browsing the cobbled streets of Calle de Cristo is one of our favorite things to do in Old San Juan – especially for those in need of a small retail-therapy. This tree-lined street is filled with designer boutiques, artisan shops, craft stores and art galleries. And for those in the know, the little side streets and squares offer some of the best places to eat in San Juan, Puerto Rico. We love it because it gives travelers an authentic Old Town experience with cute little cafes, stunning chapels, beautiful people and incredible architecture. We'd recommend a visit to the Pigeon Park and exploring the interior of Capilla de Cristo – one of the street's two most famous chapels.
6
Visit the Capitol Building of Puerto Rico
Looking for affordable and free things to do in San Juan, Puerto Rico? The Capitol Building of Puerto Rico is set just outside of the walls of Old San Juan and is free of charge to access. Easily recognized by its white marble facade and enormous dome overlooking the ocean, the Capitol Building was built out of 21 different styles of marble, including 16 from Italy, four from the United States, and one from Spain. Keep in mind that the building is only open to the public during the week.
7
See the World's Smallest House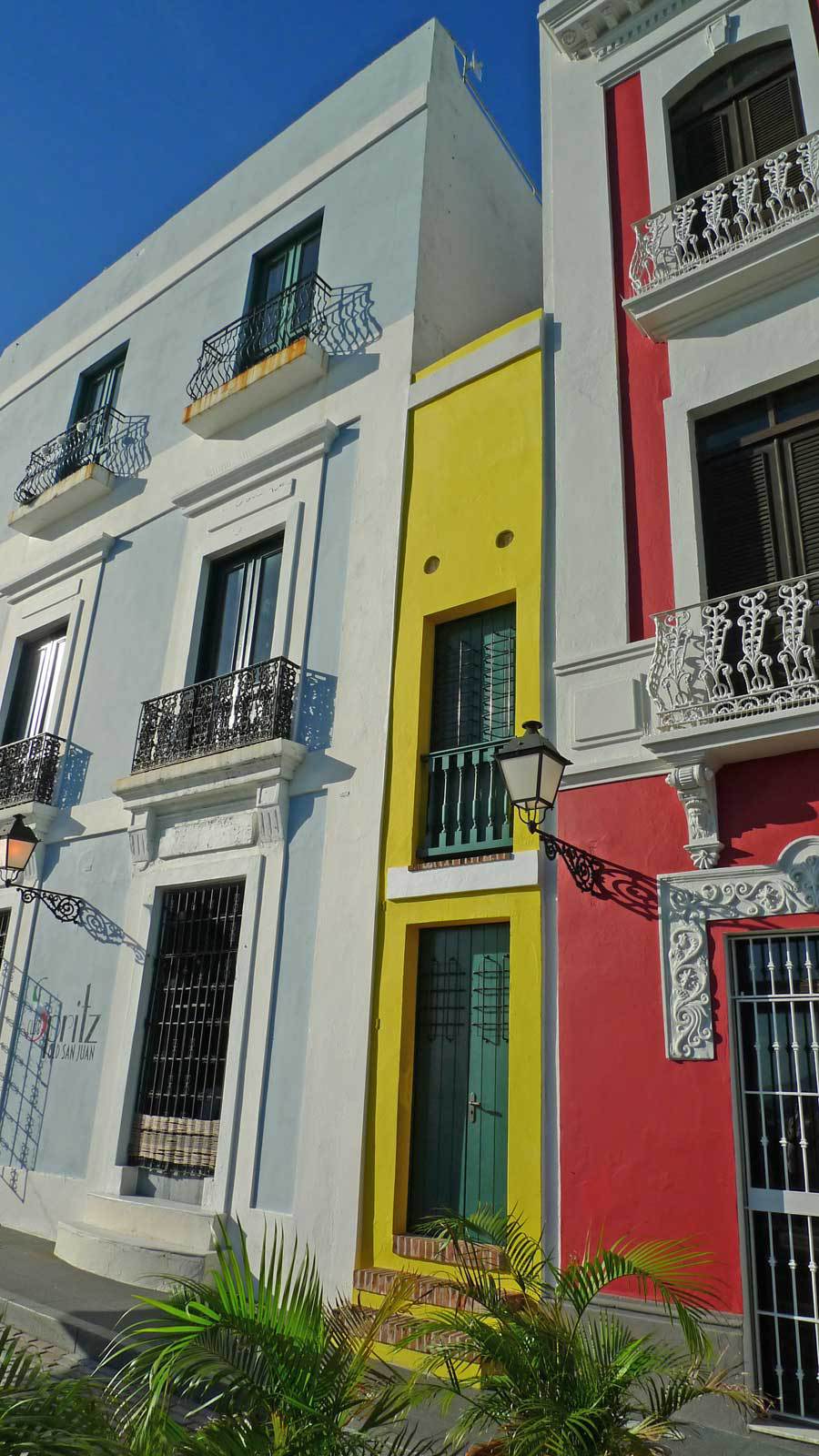 Did you know that the world's smallest house can be found in San Juan? It is located on Calle Tetuán, Casa Estrecha, which means "the Narrow House," and it's quite unusual to look at. It measures a surprisingly narrow five feet wide! This two-story landmark stretches back 36 feet which, as you can imagine, is rather odd to look at. Getting a photo in front of this strange house is one of the best things to do in San Juan, Puerto Rico.
8
Visit the San Juan Cemetery
While it certainly won't be found in your usual travel guide, the Old San Juan historical Cemetery (Cementerio de San Juan) is well-worth a visit. Also known as "Maria Magdalena de Pazzis," it is one of the most beautiful cemeteries on earth. Dating back to the colonial era, it is located right by the ocean to allow the souls of the deceased "sail off through the sea." History buffs will love the chance to explore the Old San Juan Historic Cemetery, filled with all sorts of interesting burial sites and marble sculptures waiting to be discovered.
9
Go Full-moon Zip lining in Mucaro
If you have the time, one of the most fun things to do in San Juan Puerto Rico is taking a day-trip outside the city and into the Carite National Forest located in Mucaro, to the south of San Juan. Here, you can dare a full moon zip line over the treetops – with only the light of the moon to guide you. At the end of the zipline, you will be served traditional stew and Medalla beer around a campfire while being entertained by traditional Spanish music. This is truly one of the best things to do in San Juan, Puerto Rico at night.
10
Visit the Cathedral of San Juan Bautista
The Cathedral of San Juan Bautista is one of the oldest buildings in Old San Juan and the second oldest cathedral in the United States. It may come as no surprise then that a visit to this cathedral is one of the top things to do in San Juan Puerto Rico. Built in 1521, this Roman Catholic cathedral is an ancient masterpiece home to some of the most beautiful stained glass windows, statues, and ancient relics. Don't miss the chance to explore the tomb of Ponce de León and see the mummy of St. Pio while you're here! On a final note, one of the most popular villas in Puerto Rico (villa Herencia) is located in close proximity to this cathedral and you can make major savings when booking a room with Priceline promo codes and deals.
11
Explore Rio Camuy Cave Park
Approximately an hour's drive from San Juan, Rio Camuy Cave Park is easily one of the most fun things to do in San Juan Puerto Rico. One of Puerto Rico's most noteworthy natural attractions, this ancient cave system is filled with over 200 mysterious caves to explore. These caves are believed to have been used by the first inhabitants of Puerto Rico, the Taino Indians. Created by the churning of the third largest river in the world, there are ten miles of cave networks to explore. As it is a popular tourist attraction, there are plenty of well-lit pathways and even a tramway allowing easy access. However, if you want to avoid the crowds, make sure you arrive before ten in the morning. Looking for cool things to do in San Juan, Puerto Rico? Why not try caving or spelunking here with an adventure tour company for something a little bit different.
While there is certainly no shortage of things to do in Puerto Rico, San Juan especially astounds with its age-old history. In order to soak up a bit of this history, we'd recommend taking the time to visit La Puerta de San Juan – the famous red gateway to the city. Standing 16 feet high and 20 feet wide, this huge red doorway has protected the city from invaders for centuries. Our top tip? It also has some of the city's most incredible views of San Juan Bay!
13
Kayak through Mangroves
There's plenty of thrills and spills to be found outside of San Juan and kayaking the mangroves is at the top of the list of our adventurous San Juan travel guide.  Head to south-western Puerto Rico to enjoy an exciting kayaking journey through the mangroves of La Parguera. Traveling down the waterways, keep your eyes peeled for all sorts of Caribbean wildlife, from birds and reptiles to marine life like dolphins and manatees. Amongst the 30 plus isles, La Parguera is also home to one of the most incredible bioluminescent bays on the planet! You may be able to convince one of the local fishermen to take you there. Or, you might as well grab one of Expedia's promo codes and book a private tour with a significant discount.
Discover age-old American culture at the Museo de las Americas, one of the quintessential landmarks from our San Juan, Puerto Rico travel guide. This landmark is set between old Spanish barracks, and the museum is filled with a wide range of fascinating archaeological and historical finds, including artwork and sculptures dating from all eras. You could easily spend a few hours immersed in these hallways. Don't miss the famous hand-carved figurines of saints and the Indo-Caribbean canoes.
15
Visit the Casa Blanca Museum
Built for the Spanish explorer, Juan Ponce de Leon, in 1521, this ancient house is now a museum open for the public to enjoy. Explore the exciting interior filled with displays that portray everyday Puerto Rican life from the 16th to the 18th centuries. You will be able to see all sorts of artwork, antiques, and artifacts. All these exhibits make visiting this museum one of the most fascinating things to do in Puerto Rico. And afterward, take a stroll through the fragrant gardens to admire the plethora of colorful flowers.
Alcaldia, the San Juan City Hall, should be on the list of each Puerto Rico visitor. Designed to replicate the styling of the Madrid City Hall, admiring the beautiful architecture is one of the most popular things to do in San Juan, Puerto Rico. Take your time as you stroll through the tiled courtyard, admire the overhanging balcony and stop in the plaza to listen the sounds of trickling fountains. There's also a small information center and an art gallery that are worth a visit. In this area, you'll find quite a few luxurious hotels. Although they provide great value, you can get an even better deal with one of many Hotels.com promotional offers.
Bonus tip: If you want to get something extra out of activities in San Juan, you can check what hosts on Airbnb have to offer. For instance, you can go paddleboarding, snorkeling, sailing, and so much more. Of course, don't forget to get the best price out of each deal by using Airbnb's promo codes! With incredible architecture, fascinating natural attractions and neighborhoods steeped in centuries-old history, there are so many things to do in San Juan Puerto Rico. What is first on your bucket list?