16 Best Things to Do in Montreal Canada
Last updated on July 24th, 2018 at 11:35 am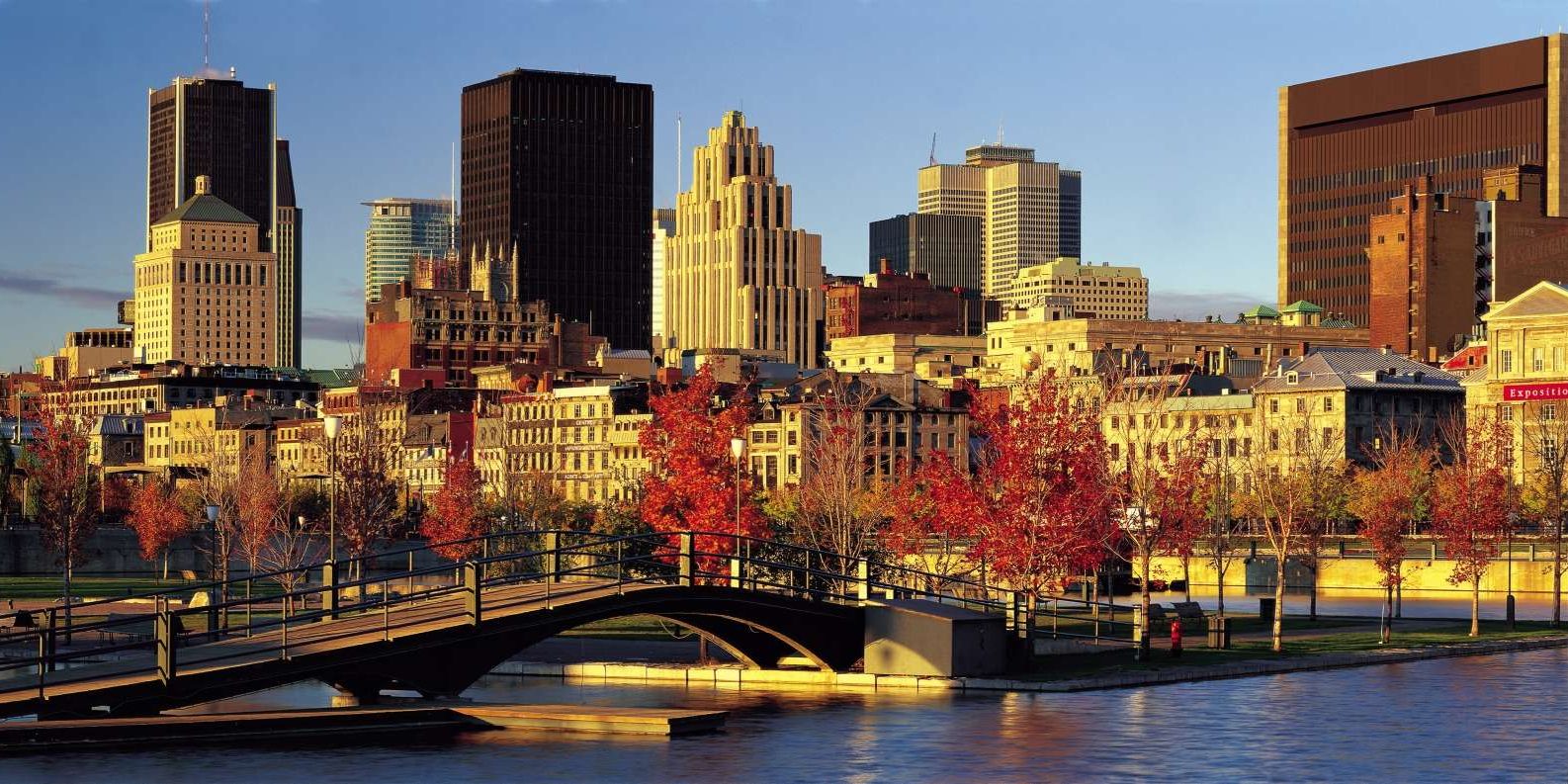 Montreal, with its cobbled streets, impressive architecture, and lively social scenes is arguably the most fascinating city to explore in Canada. From bustling markets to ancient cathedrals and outdoor activities, you will never be short of things to do in Montreal Canada. Whether you're looking to visit in summer or winter, we've put together an extensive travel guide so you can discover all the best that this French-inspired city has to offer.
1
See the View from Mont Royal Park
The best way to begin the Montreal, Canada travel guide is with a suggestion you can't afford to neglect. See the best city view from Mont Royal Park. We think that the view is best appreciated in the mornings when the sun is soft and golden. If you're feeling extra ambitious, get up before sunrise and watch the lighting spread over the city below. Afterward, take a stroll through the city's famous public park, go for a jog or ride your bike and enjoy some of the most incredible views of downtown Montreal. While you're here, we recommend a visit to the Smith House and taking your kids to the Beaver Lake. With a playground and a pavilion, it's one of the most fun things to do in Montreal Canada.
The home of poutine, bagels and, of course, maple syrup, Montreal is nothing if not a city carefully crafted for foodies. Head out on your own and taste your way through the city's famous foodie hotspots, including Mile End. However, for the best walking food tours, we'd recommend Local Montreal Food Tours as they will allow you to taste your way through the city's culinary heritage and learn fun facts along the way. For example, did you know that Montreal has more restaurants and eateries per capita than New York City? No matter which tour you choose to go with, albeit unhealthy, eating with the locals is one of our favorite things to do in Montreal Canada. What's more, you can even get cooking classes from locals with significant discounts by using one of the fantastic Airbnb promo codes!
3
Spend a Day at the "Beach"
While Montreal is indeed not a city known for its beaches (the nearest one is about an hour's drive away), the next best thing is the human-made beach at Village at Pied-du-Courant. Since 'the beach' is set beneath the Jacques Cartier bridge on the edge of the St. Lawrence River, you can enjoy great company with live music, cocktails and food truck cuisine. With a lively and sociable atmosphere, hitting this human-made beach is one of the most fun things to do in Montreal during the summer months.
4
Take a Ride on Le Bateau Mouche
It doesn't get much more romantic than going on a scenic river cruise in a new city, whether you choose to do it at sunrise or sunset. Le Bateau Mouche offers a choice of day cruises and a selection of dinner cruises that provide up to six courses in the summer months. You won't be left hungry, that's for sure. There's even a night cruise that includes a music, light, and sound display experience that we think is one of the most enjoyable things to do in Montreal at night.
5
Explore the Riverside by Bicycle
Set right on canals of the St. Lawrence River, Ma Bicyclette offers a range of bicycles for hire for those who wish to get around the city on two wheels. The company caters to all ages and all experiences – there are even kids' and tandem bikes! You're sure to get your money's worth here as each bike rental comes with a helmet,  bicycle lock, saddle bag and a city map for exploring. With so much to see and do along the canals, a cycling trip is easily one of the most fun things to do in Montreal Canada.
6
Stroll through the Botanical Gardens
The Montreal Botanical Garden, also known as the  Jardin Botanique de Montreal, is a 75-hectare green space filled with lush gardens, ten, and gorgeous water features. With as many as 200 different species of birds and 22,000 different species of colorful flowers and plants, it is one of the largest gardens of its kind on earth and easily one of the top things to do in Montreal, Canada all year round. Stroll through the Japanese Zen garden to see the Bonsai trees, smell the fragrant air of the rose gardens and tread warily through the exciting toxic plant garden – a firm favorite amongst the kids. The best way to spend a sunny day here? Bring along some food and beverages to enjoy in the garden's dedicated picnic area.
7
Take a Tour of Saint Joseph's Oratory
What better way to explore authentic Montreal than by visiting Canada's largest church? The Saint Joseph's Oratory is a truly impressive shrine dedicated to Saint Joseph (the largest in the world) and a prominent city landmark. Saint Brother Andre founded the church in 1904, but there is so much more to do here than exploring it – although you will want to allow plenty of time to do that too – you can also explore the grounds with its beautiful gardens, picnic tables, and the picturesque fountain. Don't miss the free organ concert held every Sunday at 15:30 – using an incredible 5,811 pipes – one of the best things to do in Montreal, Canada. Guided tours of the Oratory are available from June all the way through until September.
8
Have Lunch at a Cat Cafe
It may not be on your average Montreal travel guide, but it is worth mentioning that Montreal is home to Canada's very first cat cafe! This authentic and cozy cafe dedicated to felines, with its appropriate cat-themed decor everywhere, allows visitors to indulge in a touch of some much-needed cat therapy. In other words, Cafe Chat L'Heureaux is the ideal place in Montreal to sit down and enjoy a cup of tea with a side of kitty cuddles. Also, you won't go hungry while you're here either – the menu lists all sorts of cakes, pastries and light bites. Also, there are gluten-free options! Just be sure to check your bag for stow-away cats when you leave!
9
Explore the Streets of Old Montreal
Looking for things to do in Montreal this weekend? No matter the time of year, a trip to Old Montreal is worth a visit. With its beautiful cobbled streets, magnificent stop-and-stare architecture, the famed Notre-Dame Basilica, and fascinating art galleries, Old Montreal is a must-visit. Wind your way through the narrow streets in search of a boutique bargain, admire the water views at the Old Port and learn a bit about the city's history at one of the museums, such as the Centre d'histoire de Montréal or the intriguing Science Centre.
You can even use one of Expedia's deals and enjoy the Old Port quick jump freefall experience with a significant discount. We'd recommend browsing for gifts to take home down Saint-Paul Street, filled with endless restaurants, bars and souvenir shops where everything can be found at surprisingly reasonable prices. Speaking of reasonable prices, getting accommodation in Montreal can be expensive so make sure you get one of the Priceline promo codes and make some additional savings.
10
Explore the Underground City
Did you know that Montreal is home to a 32-kilometer network of hidden passageways and tunnels – believed to be the most massive labyrinth of underground tunnels on earth? One of the best things to do in Montreal in winter when it's too cold to be out in the open, the Underground City connects shopping malls, train stations, libraries, schools, restaurants and more and these pathways are used by half a million people every single day. While most of the network is in fact not underground at all, the indoor passageways still provide a much more convenient and comfortable way to  get around the city during the winter period when the temperatures drop below freezing.
11
Skate Around Atrium Le 1000