16 Best Things to Do in Cincinnati Ohio
Last updated on July 24th, 2018 at 11:33 am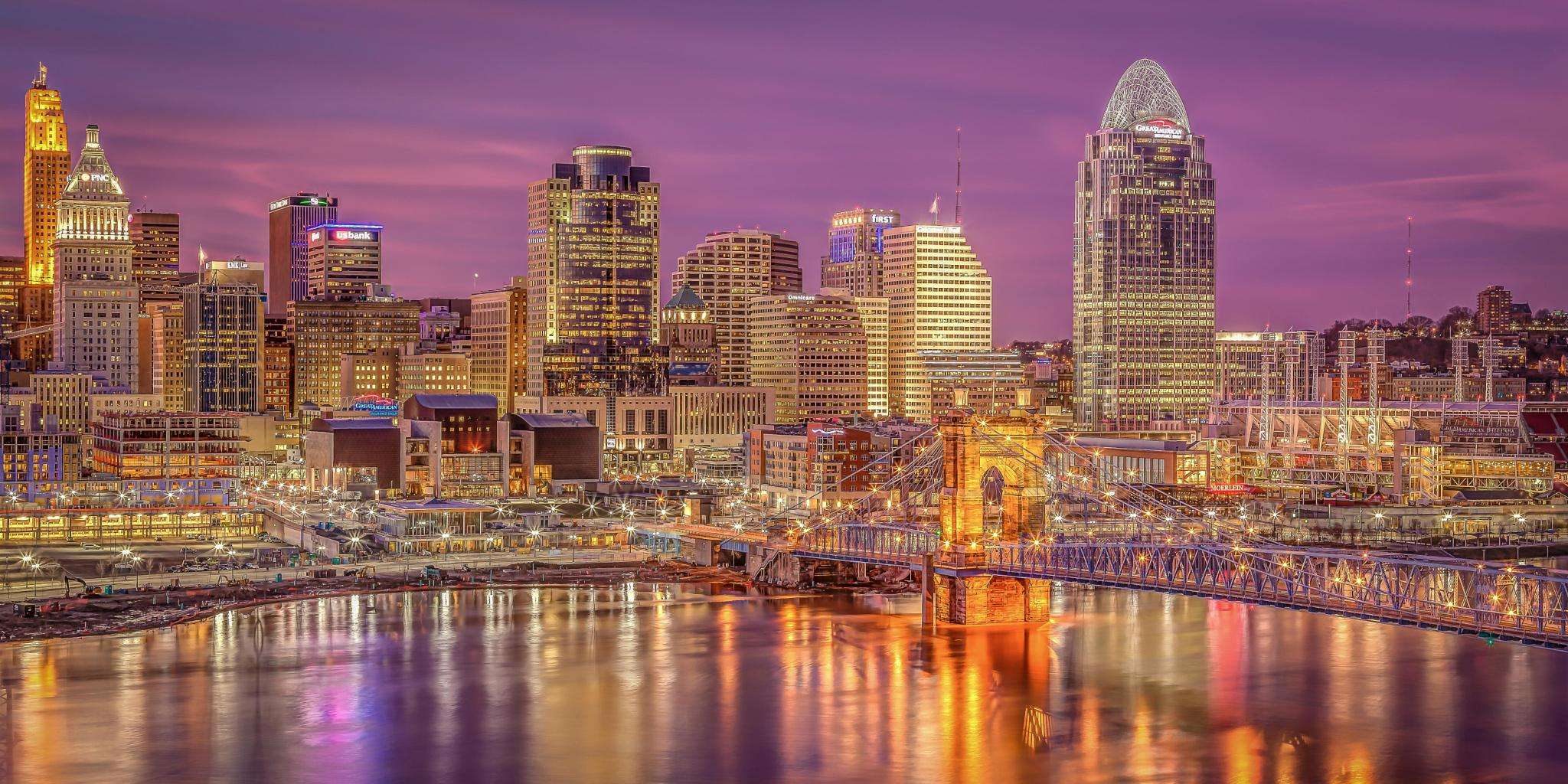 Cincinnati, also known as the Queen City of the West, is a thriving city with plenty of history, culture, and food to explore, enjoy and experience. Read on to discover our top attractions to enjoy when visiting the seat of Hamilton country and one of the most beautiful cities in Ohio. No matter whether you're traveling with family, friends or on your own, you are sure to find plenty of things to do in Cincinnati Ohio.
Towering 49 vertigo-inducing stories above the ground, the Carew Tower is the highest elevated building in Cincinnati. Climbing to the Observation Deck at the top of the tower for incredible 360-degree views of the city is one of the most rewarding things to do in Cincinnati where you can see the city laid out beneath you as far as the eye can see. While you're here, be sure to pick up some souvenirs from one of 25 shops located in the tower.
One of Cincinnati's most famous parks, Eden Park always hums with activity. Spend your time here cycling through the park – one of our favorite free things to do in Cincinnati – on the bicycle paths that wind past two lakes, Arabic-style gazebos, trickling fountains, a kids' playground and the Crohn Conservatory, home to some incredible free-flying butterflies. Take in the lush greenery of the Hinkle Magnolia Garden with its memorial tree groves and the Bettman Fountain or stop and challenge each other to a game of chess. The views along the way are incredible with stunning vistas over Kentucky and the Ohio River. Hotels in that area can be expensive, but you can get a good view and even better accommodation prices with Hotels.com deals and promo codes.
3
Browse the Findlay Market
If you're looking for things to do in Cincinnati today, we'd recommend a visit to the Findlay Market. Tucked away within cobbled streets and 19th-century architecture, the Findlay Market is one of the most traditional public markets in Cincinnati. Founded in 1852 and listed on the National Register of Historic Places, the market is also the oldest continuously operated market in Ohio. The historic market is located in a pretty Over-the-Rhine neighborhood, so it's always a bustle of activity with local food vendors touting their wares, fresh farmers and arts and crafts on display as well as street performers and a beer garden in the summertime. So if you are looking for things to do in Cincinnati Ohio this weekend, the market is a great place to start your way, open from Tuesday through to Saturday, with some vendors open on Sunday.
4
Get a Bird's Eye View of the City by Helicopter
For a different perspective of Cincinnati, why not take to the skies with a scenic sightseeing helicopter tour? Stratus Helicopters offer a variety of fantastic aerial tours of the city to see all of the iconic landmarks such as the Great American Ballpark and Tower. You'll also be able to see the United States Bank Arena, the Paul Brown Stadium, Jack Casino, Cincinnati Convention Center, Museum Center, Carew Tower, Fountain Square, and all of the many bridges that surround downtown Cincinnati. Up to three passengers can go at a time, each with a window seat for enjoying the incredible views of the city. If you're planning a special occasion, you can also book customized tours such as engagements and anniversaries. Organizing a tour is arguably one of the most fun things to do in Cincinnati for couples.
5
Barbecue with the locals at Eli's BBQ
One of the local hotspots in Cincinnati, Eli's BBQ promises guests the appeal of the classic American barbecue. Think Hickory smoked ribs, pulled pork burgers and all-beef dogs paired with mouth-watering sides like classic American mac and cheese, jalapeno-infused cornbread and baked beans. Whether you're looking for a place to enjoy a good old American dinner with the family, friends or even on your own, dining at Eli's BBQ with live music on Thursday nights is one of our favorite fun things to do in Cincinnati. Whatever you choose, you won't be leaving hungry! Also, if you love barbecuing with the locals, you'll also love staying either with them or at their place. Assuming you want that kind of experience, you can exploit one of the Airbnb promo code offers and get a terrific value deal.
6
Have a beer at MadTree Brewing