16 Best Things to Do in Charlotte NC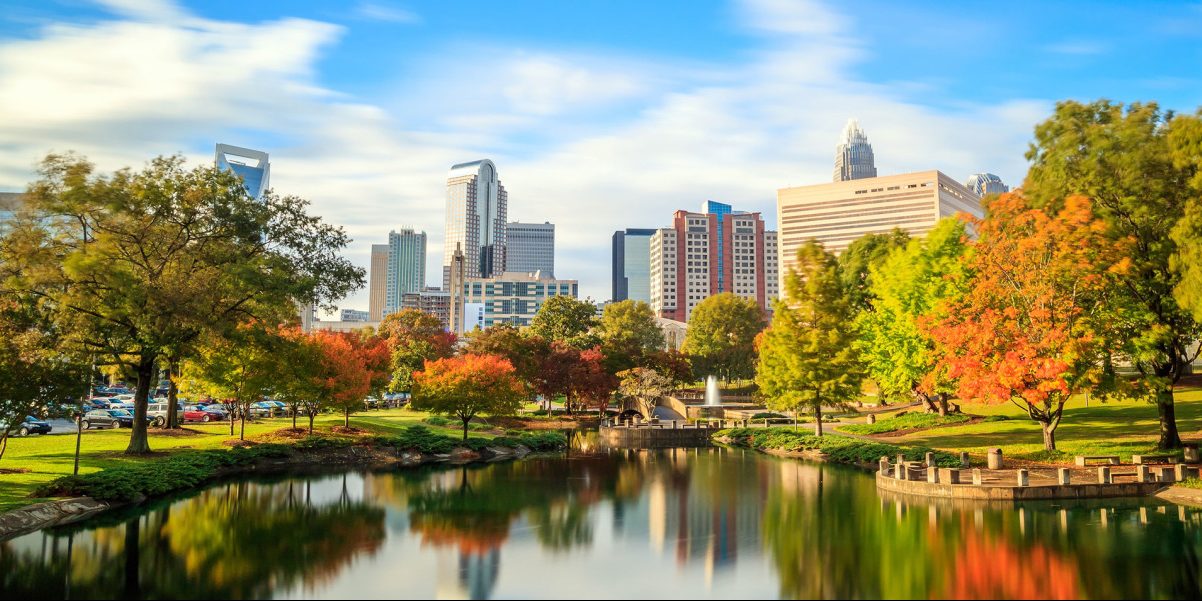 Whether your idea of fun is riding out a roller coaster or waterslide or merely organizing a picnic in one of the city's scenic public parks – there's always something happening in Charlotte. Named after the Queen of Mecklenburg-Strelitz, the "Queen City" is a bustling city filled with markets, exciting events and activities, and dozens of family-friendly attractions. No matter if you are visiting with friends, family, or on your own – you will find plenty to keep you busy in this dynamic city. Read on to discover our favorite things to do in Charlotte NC.
1
Spend a day at the US National Whitewater Center
Adrenaline junkies will genuinely be in their element at the US National Whitewater Center where you can spend a day white water rafting, kayaking, ziplining, rock climbing, stand up paddle boarding, or trail running. This 1,100-acre recreational center is carefully crafted for the active (particularly for those training for the Olympics) and is home to the largest man-made whitewater river on earth. Since there are at least 25 different land and water-based activities, this park provides an endless list of fun things to do in Charlotte NC. Also, there are rope courses and mountain bike trails, and you can even bring your dogs along too – provided they are kept on a leash. Once you've worked up an appetite, there is a restaurant where you can relax with craft beer and wine while you watch the rest battle through the whitewater rapids.
2
Learn and play at Discovery Place
Discovery Place is an exciting indoor museum that introduces visitors of all ages to the thrills of science. This place is easily at the top of any Charlotte, NC travel guide since it offers many impressive interactive exhibits which focus on all sorts of scientific areas, including physics and earth science. While you're here, you can also get involved in all types of lab experiments and even create your own stop-motion animated video at Think it Up. Take your time and watch one of the thought-stimulating films at the IMAX Theater with the largest screen in the Carolinas. Visiting with younger children? The KidScience exhibition caters for kids under the age of seven with colorful building blocks,  a water table, and a sound wall. Recent travelers recommend visiting the Discovery Center early in the morning to avoid the crowds. Or if you want to keep an eye on what's happening, get a hotel nearby with one of Priceline's promo codes. This way, you'll both stay close to the action and save some extra money for the shows.
3
Browse the 7th Street Public Market
Charlotte is well known for its excellent home-grown products. Head to the 7th Street Market to take your pick from the variety of fresh products, local wines, and delicious home-baked goods. As the market is located indoors, it can be visited all year long. All sorts of fun-filled events are held at the market throughout the week, and it's easily one of the most enjoyable things to do in Charlotte, NC at night. Keep an eye on the event calendar found on the market's website for updated events such as wine and cheese pairings, craft classes, and board game nights.
4
Experience the thrills and spills of Carowinds
You cannot visit Charlotte without taking a trip to Carowinds, the city's exciting theme park filled with thrilling rides and roller coasters. Known as the "Thrill Capital of the Southeast," Carowinds is home to 13 exciting rollercoasters with something suitable for all ages – it's so popular, it is always included in any North Carolina travel guide. Test out the peanut themed rides of Planet Snoopy, see 30 different moving life-sized creatures on Dinosaurs Alive, and get the whole family on board for Boo Blasters on Boo Hill. Daredevils will love the appropriately named Intimidator – the tallest, longest and fastest rollercoaster in the southeast! When you've worked up an appetite, there are plenty of eateries to choose from, including grab-and-go snacks and sit-down meals. Afterward, cool off at Boomerang Bay, the park's water park with an enormous swimming pool, lazy river, and 11 exciting water slides and rides. Entry to Boomerang Bay is included in your Carowinds ticket so be sure to pack your swimsuit. Your kids will probably want to visit this theme park over and over again so make sure you're well prepared. Exploit one of many Expedia's deals and save a significant amount of money. You'll need it for the rides!
5
Play tennis in Freedom Park
Freedom Park is a beautiful oasis in the middle of the bustling city and one of our favorite free things to do in Charlotte, NC. This 100-acre scenic public park has several playgrounds for kids included. What's more, there are also benches and picnic spots for just relaxing and soaking up the sunshine. This park is an excellent place for those wishing to do something active as there are four baseball fields, cycling and running trails, a basketball and volleyball court, and 12 tennis courts in the park. After an energetic game of tennis, enjoying a picnic on the lawns is one of our favorite activities in this city – there are even outdoor shelters with barbecue facilities so why not use them? This part of the city is one of the trendiest so it's no surprise accommodation is a tad more expensive. However, we can recommend using one of the Hotels.com deals to maximize your savings while in Charlotte, NC.
6
Visit the Carolina Raptor Center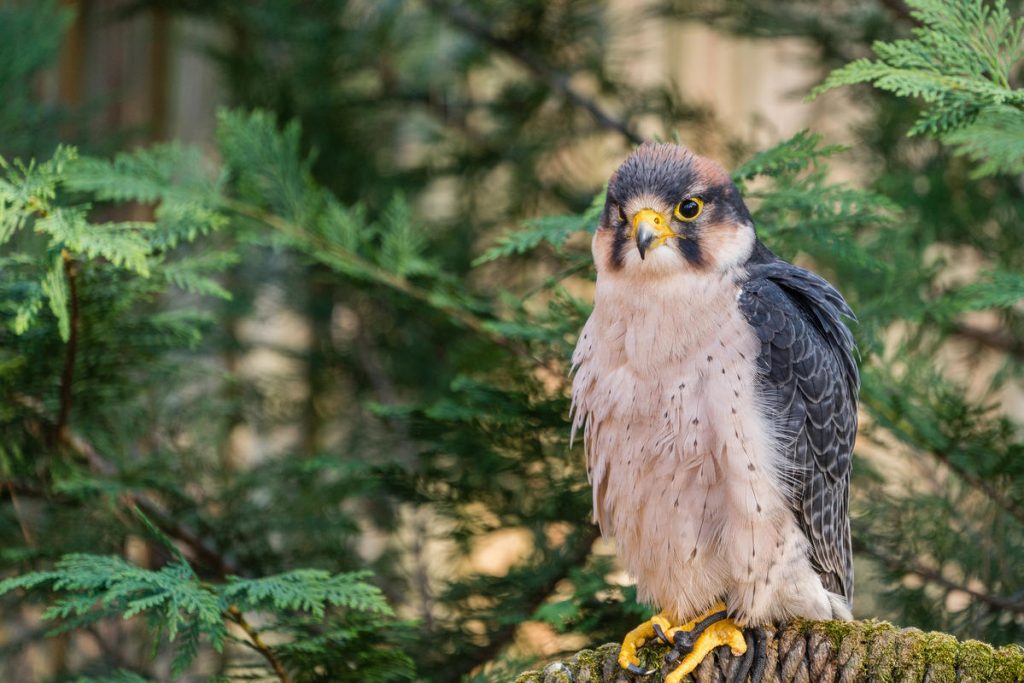 The next suggestion is one of the most relaxing things to do in Charlotte NC. Situated northwest of Charlotte, the Carolina Raptor Center is a rehabilitation center that cares of injured, ill, or orphaned birds of prey. Home to as many as 25 different species of raptors, the center focuses on education and conservation with plenty of events lined up on weekends, such as live bird presentations, tours, and bird feedings. Located within the country's largest nature reserve, you can enjoy an educational stroll along the outdoor nature trail while you're here.
7
Spend a day at the NASCAR Hall of Fame
Car enthusiasts will love the chance to visit the NASCAR Hall of Fame – one of the most fun things to do in Charlotte NC. It's well worth a visit with all sorts of historic racing cars on display, such as a 1952 Hudson Hornet and a 1967 Chevrolet Chevelle. Made up of 150,000 square feet of exhibition space, there is plenty to keep you bust. Head into the High Octane Theater with its 64-foot wide screen and surround sound system and explore the interactive exhibits to learn more about how NASCAR drivers prepare in the run-up for their races. Highlights include the Hall of Honor where past drivers are celebrated and Glory Road which showcases 18 historic cars and 40 race tracks.
8
Explore Carolina's Aviation Museum
Exploring Carolina's Aviation Museum is one of our favorite historical things to do in Charlotte, NC. For a fun and educational day out, head to this landmark dedicated to air travel. Visitors can enjoy an informative day out to learn about the history as well as interesting facts about technology and the evolution of flying. You will see a replica of the Wright Flyer (the first successful heavier-than-air aircraft), a collection of impressive military aircraft including the Douglas A4A Skyhawk and the Grumman F14D Super Tomcat. Don't miss the chance to see the Sopwith Camel biplane – one of the most famous British fighter planes from World War I – and the "Miracle on the Hudson," the airplane that landed in the Hudson River in 2009.
9
Visit the Wing Havens and Bird Sanctuary
Looking for fun things to do in Charlotte, NC this weekend? Nature lovers will be in their element at the Wing Havens and Bird Sanctuary – a stunning public garden dedicated to the conservation of birds. Established in 1927, the park is open all year round and boasts of exceptionally manicured gardens and walking trails. It's perfect for an afternoon stroll with lots to see along the way. There are lovely pools, fountains, and sculptures as well as astonishing trees and flowers. Don't miss the English sundial that dates back to 1705!
10
Get your blood pumping at Sky Zone
If you're looking for an exciting activity in Charlotte, head to the Sky Zone, an exhilarating indoor trampoline park where you can let off some steam. Play a game of dodgeball, jump off a trampoline into the Foam Zone or get some exercise with a Skyfit class. And if you thought this indoor play park sounded fun during the day, it's even more interesting after dark when strobe lasers, music, and black lighting add to the ambiance. This club-style indoor trampoline park is a unique way to experience the nightlife in Charlotte, NC.
11
Sip some bubbly at the City Lights Rooftop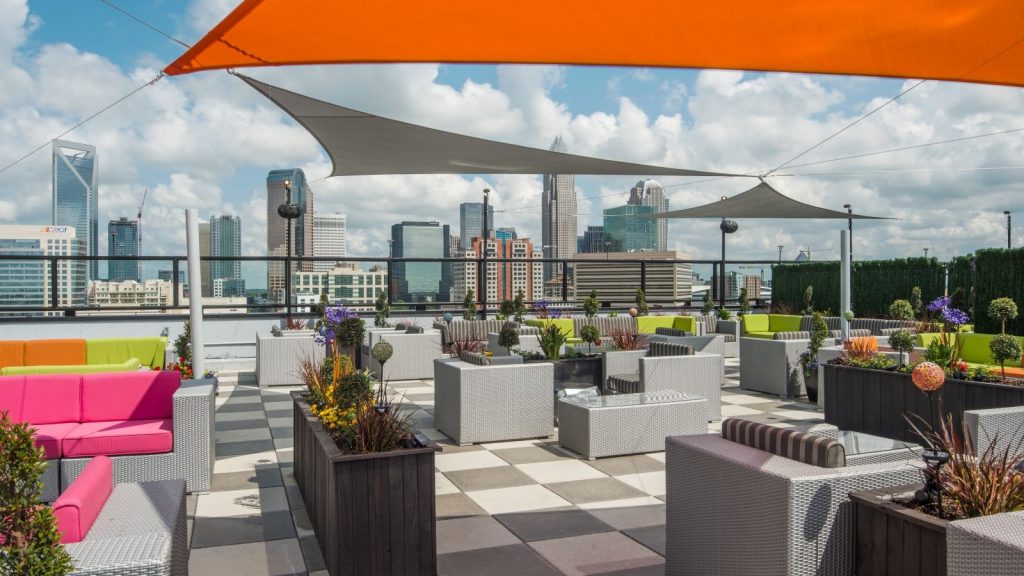 City Lights Rooftop is one of the top activities in Charlotte with incredible 360-degree views over uptown Charlotte. And as if the scenery wasn't enough to visit the city's largest rooftop at Le Meridien Charlotte, then perhaps the signature Sparkle and Pop drink on the menu will be. This unique cocktail experience includes a blend of your favorite bubbly – Cava, Prosecco or Rose – with a colorful King of Pops popsicle served upside down in your glass. It's certainly unusual, and it's one of our favorite weird things to do in Charlotte, NC.
12
Have a Picnic in the gardens at Duke Mansion
Having a picnic on the lush green lawns of the Duke Mansion is one of the best things to do in Charlotte, NC for couples. Dating back over a century, the historic Duke Mansion is a great place to stay, but even if you're not a hotel guest, it offers a romantic Picnic in the Garden experience where you can enjoy a spread prepared by the hotel's chef in one of the 12 beautiful gardens. You can even include a bottle of wine or champagne – perfect for a special occasion!  
13
Visit Ray's Splash Planet
Ray's Splash Planet is one of the best things to do in Charlotte, NC with kids. Spending a day here is perfect for any season since it is one of the largest indoor water parks in the Carolinas. The impressive 29,000 ft² aquatic facility includes a whole range of child-friendly attractions, such as The Blue Comet, a three-floor waterslide, The Orbiter lazy river and the Saturation Station water play area with a tumble bucket for little ones. Kids will love The Vortex quick current pool that pushes you around in a circular motion and Moon Beach with its gradual entry pool. And while the kids are kept entertained, parents can escape to the gym for a good work out.
14
Listen to the orchestra at Symphony Park
Symphony Park is a great place to spend a sunny Sunday afternoon, especially if you are looking for unique things to do in Charlotte, NC. Bring a blanket and some food to enjoy in the gardens while listening to the Charlotte Symphony Orchestra as the sun goes down. A 2,700 square foot stage hosts the Summer Pops series as well as Bourbon & BBQ and Movies Under the Stars. Neighborhood Living Room – What's All the Buzz About?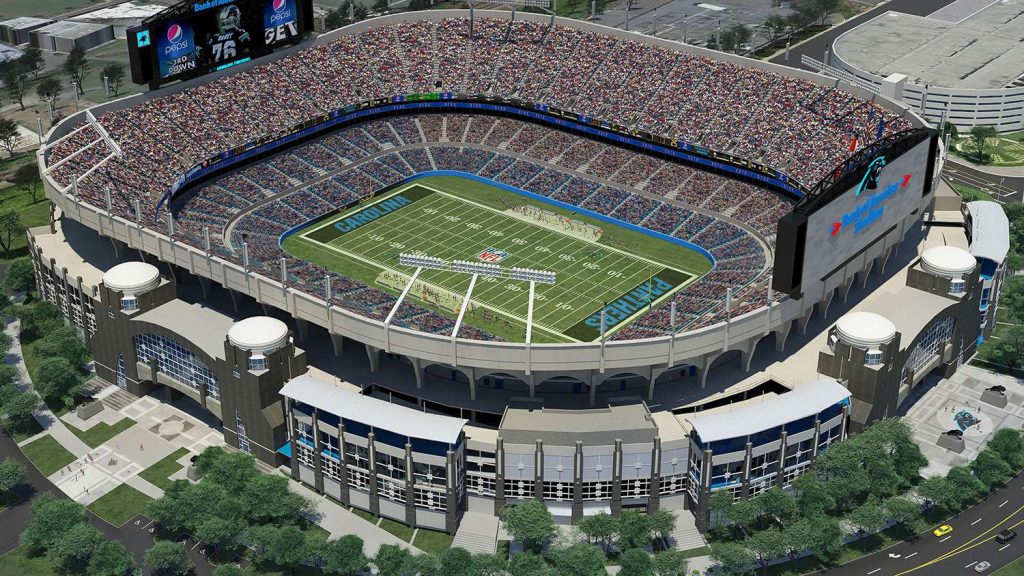 Watching a Panthers game at the Bank of America Stadium is one of the most exciting things to do in Charlotte, North Carolina. Located in uptown Charlotte, this stadium is incredibly iconic with lighting domes and towers, high arches and unbeatable sound system. All in all, watching a game at this stadium is highly recommended.
16
Stroll through the Daniel Stowe Botanical Garden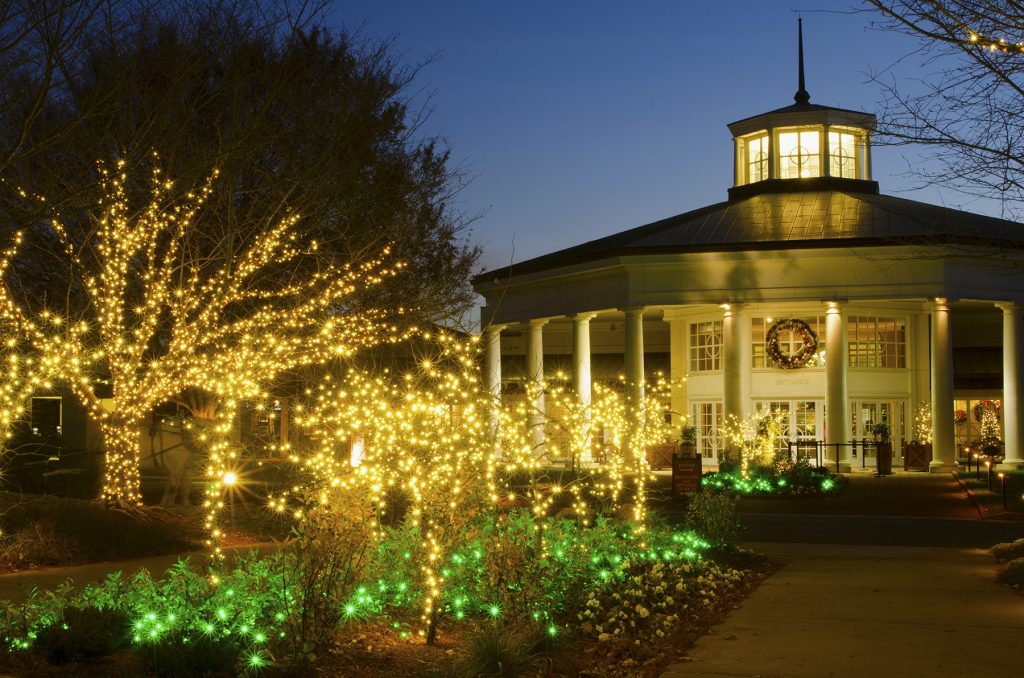 If you're looking for things to do in Charlotte, NC today, The Daniel Stowe Botanical Garden is a quiet spot to escape the hustle and bustle of Charlotte's city center. Filled with beautiful flowers, lush lawns, and tinkling fountains, the 380-acre garden is well worth a visit. Since this landmark is set on the edge of Lake Wylie, you can enjoy relaxed strolls through the gardens, see the conservatories filled with orchids and tropical flowers, and browse beautiful wines at the Garden Store. Don't miss the Tunnel Fountain, Lost Hollow – the Kimbrell Children's Garden, and the unusually shaped Serpentine Garden with its curious circular pools. Visit it near Christmas, and you can even enjoy a horse and carriage ride and a visit from Santa Claus. The botanical garden is not close to the city and if you plan on visiting it more than once, you can even get a place close to it. Check out the Airbnb promo codes we have to offer so you don't spend too much money on accommodation!
There are so many beautiful things to do in Charlotte NC. What is the first one on your to-do list? And if you've checked everything off your Charlotte list, we and Life, Tailored recommend you to stop by another charming city further down south – Charleston.