16 Best Tankless Water Heater Reviews
Last updated on July 3rd, 2018 at 12:59 pm
If people worked only when their services were required, they would be a lot more efficient. The same goes with water heaters. Tankless water heaters tend to be more economical as they work only when you need hot water. Furthermore, they take up less space and spend less energy than regular water heaters. According to numerous tankless water heater reviews and experts' opinions, instant water heaters have taken the market over from traditional ones. If you're a newbie in this field, you're probably wondering which tankless water heater is the best or what size to buy. Even though there's not a single correct answer to these questions, read on to get acquainted with instant water heaters as well as the aspects you need to put into perspective before purchasing one.
Tankless Water Heater Reviews
[content-egg-block template=offers_list]
1
Takagi T-KJr2-IN-NG Indoor Tankless Water Heater, Natural Gas (6.6 GPM)
When you consider purchasing this model, you must be aware that you'll have some additional expenses since it operates on natural gas. You may encounter heat loss and a complicated installation process (ventilation issues), but those things are normal when it comes to natural-gas-powered units. On the plus side, this tankless water heater is quite durable (hence the 10-year warranty on heat exchanger and 5-year on all parts) and has a very high-temperature range. Furthermore, this unit has above-average energy efficiency for a natural gas tankless water heater. All in all, this Takagi tankless water heater seems to be a good value purchase since its price is quite reasonable.
Not only this model fit almost anywhere but it's also easy to install – simply place it appropriately and plug it in. It's small enough to be considered portable. In fact, it is it's mobility and reasonable price that make this water heater a great outdoor option, perfectly suitable for mobile homes as well. Like almost all electric instant water heaters, it has a great efficiency percentage of 98%. There's a 5-year limited warranty period which is great for a point-of-use tankless water heater. The GPM ranges from 0.5 to 1.8 depending on the device's power. All things considered, most electric tankless water heater reviews agree that this model is the champion of practicality.
3
Rinnai V75iN Natural Gas Indoor Tankless Water Heater (7.5 GPM)
This model has an impressive 7.5 gallons per minute flow rate. This means that it can heat enough water for up to three bathrooms. That being said, it can be used for both domestic and commercial purposes. Among other monitoring sensors, it has a scale detection system which reduces the possibility of long-term damage to the unit. Moreover, you'll get a 10-year warranty on residential heat exchanger and 5-year warranty on other residential parts. Even though it operates on natural gas, it's highly energy efficient and guaranteed by the Energy Star certificate. Although deemed pricey, reviews assign a great price-quality ratio to this instant water heater unit. After all, you can get it at the world's largest online marketplace, reducing the price with one of many Amazon promo offers and coupons. 
In an attempt to determine which is the best electric tankless water heater, 2017 saw many items reviewed. This model is proclaimed to be the best point-of-use unit, recommended for single sink usage only. It has a flow rate of 0.5 GPM which makes it perfect for everyday use in bathrooms, offices, boats, and small homes or condominiums. Since it is energy efficient and durable, it's recommended for both residential and commercial use. While you can set up the unit by yourself, it's ill-advised to use it with a shower or multiple fixtures. It is moderately priced and compact sized which makes it one of the best option among all point-of-use units. As it's designed for everyday use (mainly hand washing applications), it has a limited one-year warranty.
5
Stiebel Eltron Tempra 24 Plus
This model is characterized by the ability to supply hot water even when the demand is high. This is enabled by the Tempra Advanced Flow control system. While other models reduce the heat when the demand is high, Tempra 24 plus reduces the water supply but keeps the temperature steady. That's why most of the whole house electric tankless water heater reviews recommend this model for homes demanding an unlimited supply of hot water without interruptions. Furthermore, Stiebel's Tempra 24 plus is easy to install and moderately sized. When you take this model's price into consideration, the Tempra 24 plus is considered to be a complete package.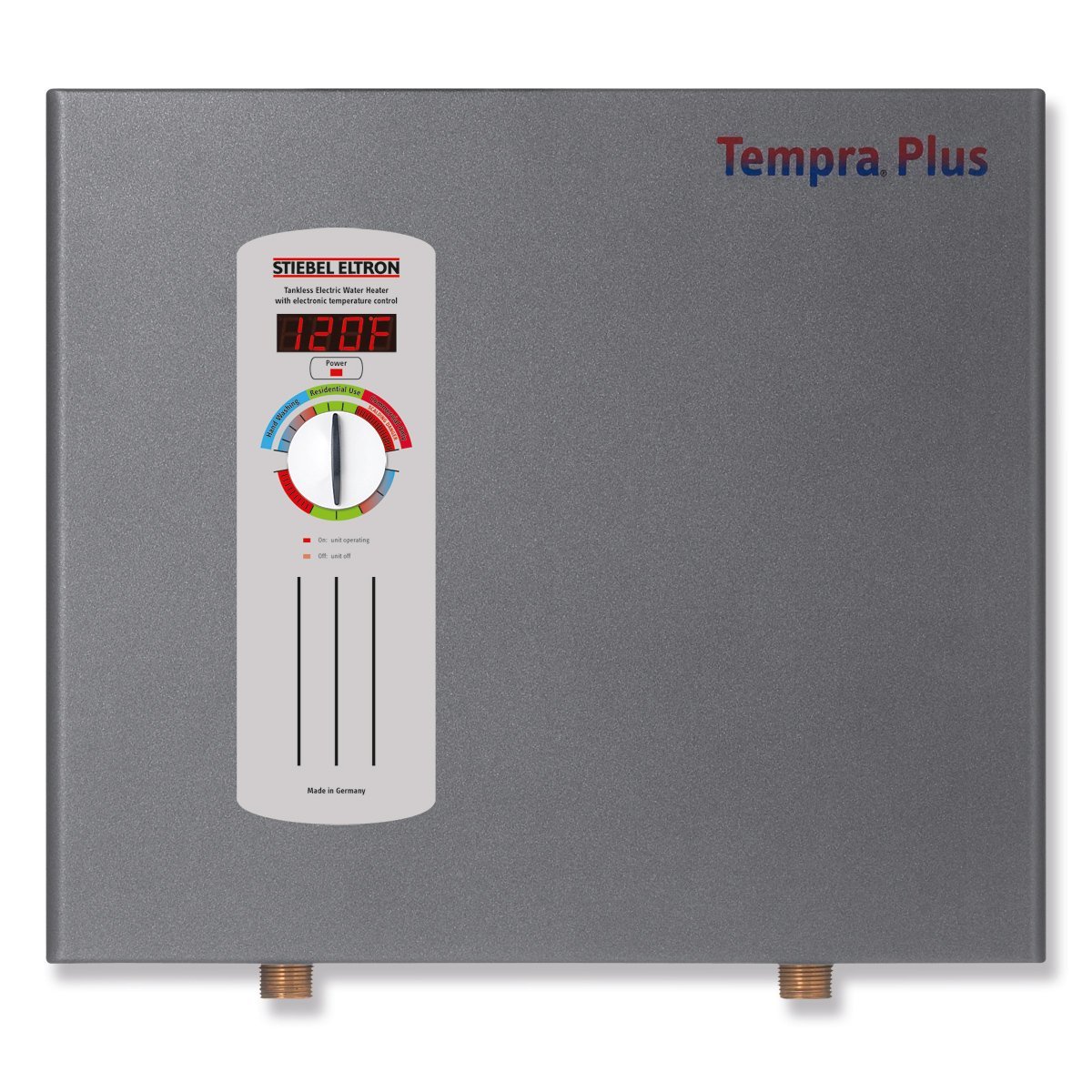 6
Titan SCR2 N-120 (Electric)
This is the lightest and smallest instant water heater on our list which brings us to its greatest advantage – it fits near every utility in need of hot water. Even though the unit's lightweight, it has a maximum GPM of 4 at a 20°F temperature rise which is enough for taking a shower without having to worry about a cold-water shock. This unit has an energy rating of 99.5%, but there's a catch – the inlet temperature mustn't be lower than 65°F in order to keep the required temperature rise. This model doesn't have any spectacular features, but when you consider the pricing and the item's consistency – it's a good value purchase.
7
Rheem RTGH-95DVLN 9.5 GPM Indoor Direc