16 Best Soldering Irons 2019
Last updated on June 29th, 2019 at 09:45 am
With so many great options to choose from, it's not difficult to find the best soldering iron for your level of expertise. A one-time investment in a good quality tool can save you loads of time and money in the long run. As we all know, wires and cords of various electronic devices can get damaged very easily. Repairing small defects can be rather burdensome if you need to take your devices somewhere every time to get them fixed. Why do this when almost everyone can reconnect a wire with the right tool?
I like to keep my soldering kit near me alongside my other tools because accidents happen all the time. Phone chargers break, dogs chew up cables, electronic components fail, but I always manage to fix them quickly and inexpensively. In addition to saving my time, I've easily paid off its cost numerous times by doing the work myself. Moreover, it's now possible to get a complete soldering station that contains everything you need at a price of a couple of pizzas. This is why we advise you to go for a kit or station over an individual soldering iron.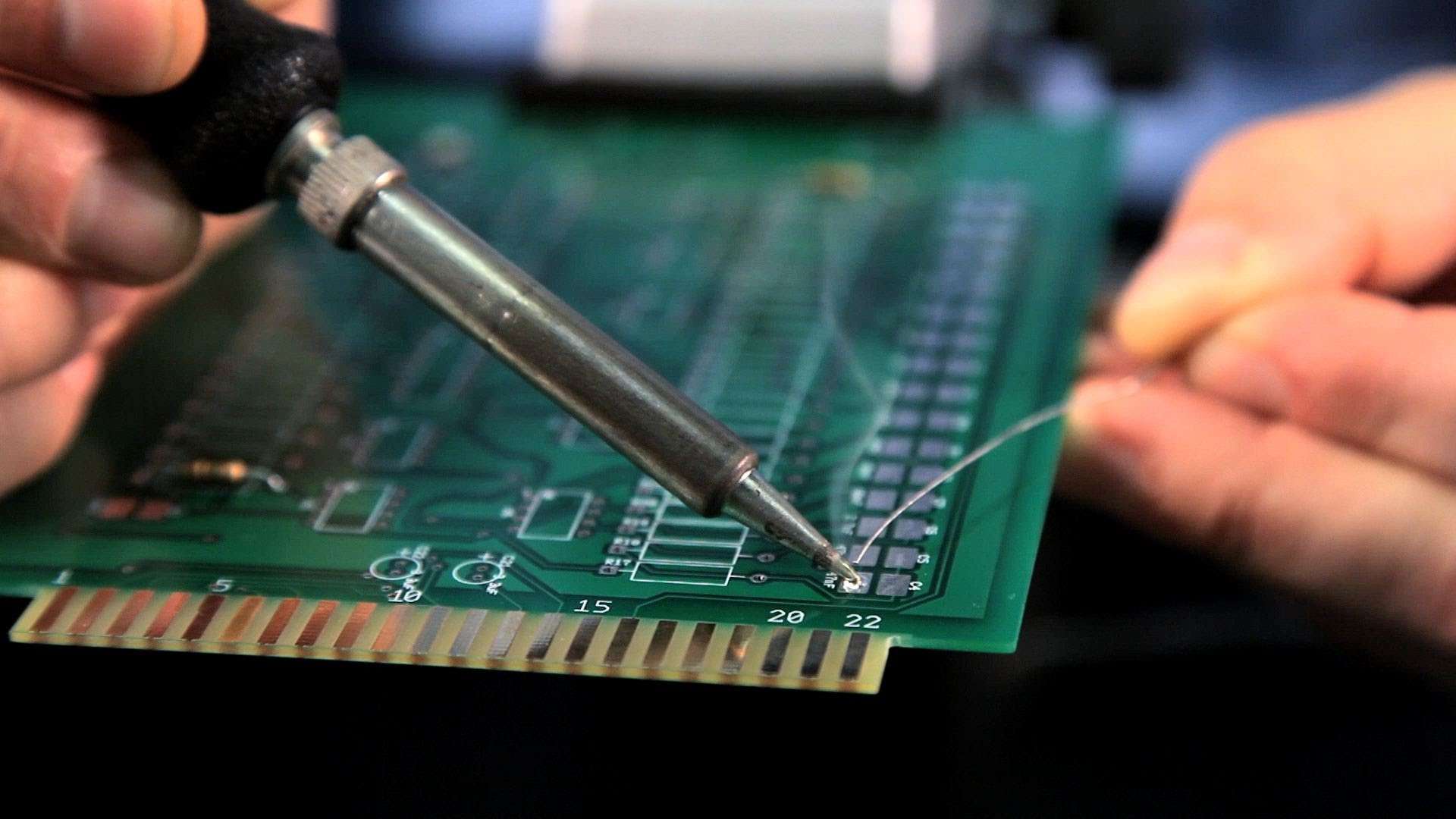 Expert Reviews: Finding the Perfect Soldering Iron Kit or Station
We've examined all of the best models on the market, shortening the list to the 16 best soldering irons presented in this review. They range from the cheapest entry-level model for newbie DIY repairs, to well-balanced, mid-level kits for casual hobbyists, to soldering kits even professionals would gladly use every day. Furthermore, we've included a quick guide that will assist you in choosing the right model for you based on a few key points.
[content-egg-block template=offers_list]
1
X-Tronic Model #3020-XTS Digital Display Soldering Iron Station
We're kicking off our reviews with this best-selling X-Tronic model #3020-XTS which is also our overall champion. It features an ergonomic 75 W soldering iron; an adjustable and very stable temperature range of 392 – 896 °F; a stainless steel iron holder, a solder roll holder, a brass sponge tip cleaner, and a cleaning flux. Additionally, it has "magic temp technology", and a C/F switch. If you're looking for a discount for this soldering iron, Walmart deals can help you, although, it's amazingly affordable considering its superb quality. Some other models come with a lot more accessories, but buying this model will give you the perfect foundation to build your ideal soldering station. What made it top our list is the fact that it has the essentials for diverse soldering tasks in one well-constructed yet very reasonably priced package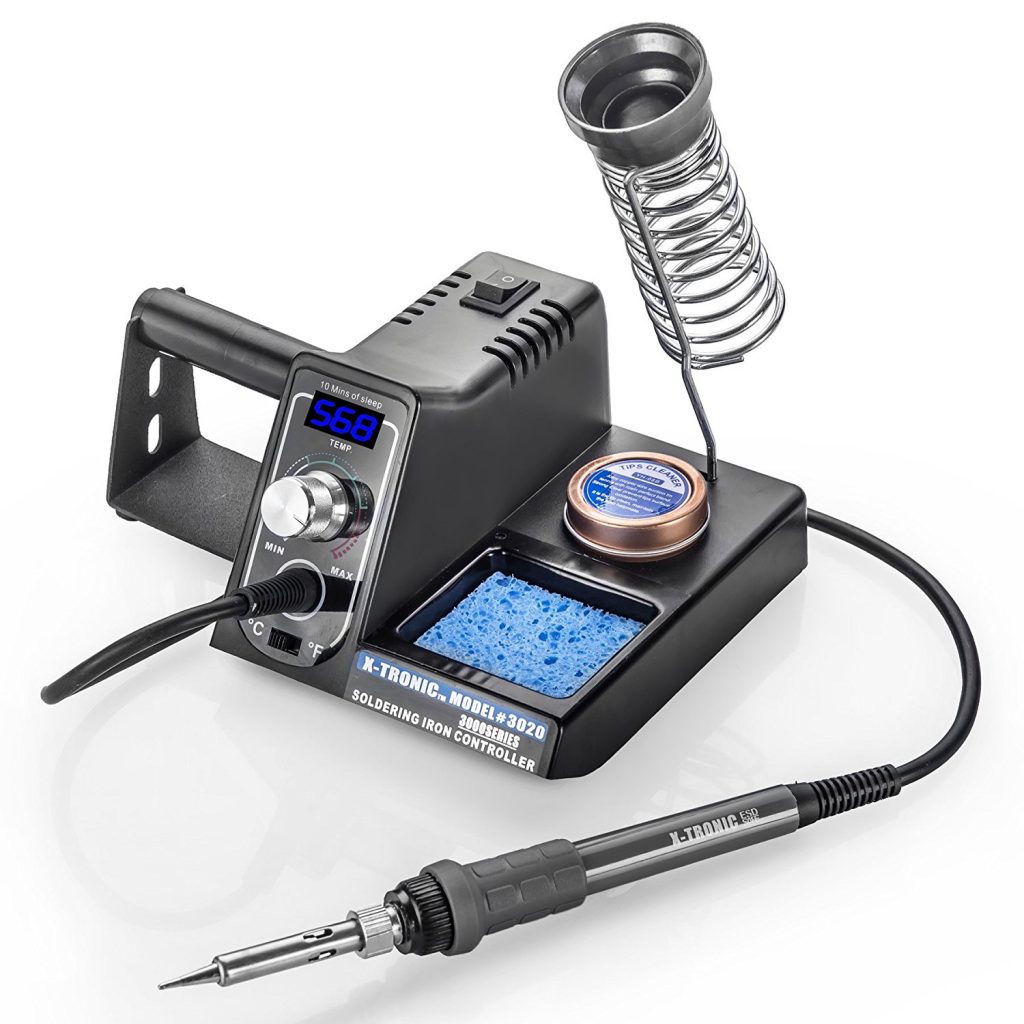 Positives
Powerful

Great quality product

Adjustable and stable temperature

Full range of accessories (except extra tips)

Affordable
Negatives
Additional tips sold separately

Some users reported durability issues
2
Weller WLC100 40-Watt Soldering Station
When looking at other soldering station review lists, Weller is the name that most often makes its appearance on the top. The first of the two Weller models that finished near the top of our list is the Weller WLC100. Truly a staple, this is a durable, reliable, top-notch soldering station backed up with a 7-year warranty. Unlike the X-Tronic, it doesn't have a display. Instead, it has a 5-step power controller for a 5 – 40 W output. The base unit has an integrated iron holder and cleaning pad. Finally, the pencil iron itself has replaceable tips, it's lightweight, and easy to hold with its cushioned foam grip. Overall, this is a fantastic setup. If you want to get this soldering iron, Lowes has it in stock.
Buy Now
Positives
Reliable

Durable

Adjustable temperature

Integrated iron holder and cleaning pad

Affordable
Negatives
Additional tips sold separately

No display
3
Hakko FX888D-23BY Digital Soldering Station FX-888D FX-888
Hakko is another premium manufacturer. The FX888 model can be found on Amazon in many different configurations depending on the accessories. This powerful, 70 W digital soldering station with adjustable temperature comes with an ergonomic pencil iron. The iron has an excellent thermal recovery when used with any of the T18 series tips that boast terrific heat conductivity. To put it differently, it heats up to 660 °F in about 20 seconds. Considering the substantially higher price tag compared to the previous models, if you've settled on this soldering iron, Home Depot coupons can be your best friend. This particular configuration comes with the fx-8801 soldering iron, a t18-d16 tip, the Fh800 iron holder, the A1559 sponge, and the A1561 cleaning wire.