16 Best Soldering Irons 2018
With so many great options to choose from, it's not difficult to find the best soldering iron for your level of expertise. A one-time investment in a good quality tool can save you loads of time and money in the long run. As we all know, wires and cords of various electronic devices can get damaged very easily. Repairing small defects can be rather burdensome if you need to take your devices somewhere every time to get them fixed. Why do this when almost everyone can reconnect a wire with the right tool?
I like to keep my soldering kit near me alongside my other tools because accidents happen all the time. Phone chargers break, dogs chew up cables, electronic components fail, but I always manage to fix them quickly and inexpensively. In addition to saving my time, I've easily paid off its cost numerous times by doing the work myself. Moreover, it's now possible to get a complete soldering station that contains everything you need at a price of a couple of pizzas. This is why we advise you to go for a kit or station over an individual soldering iron.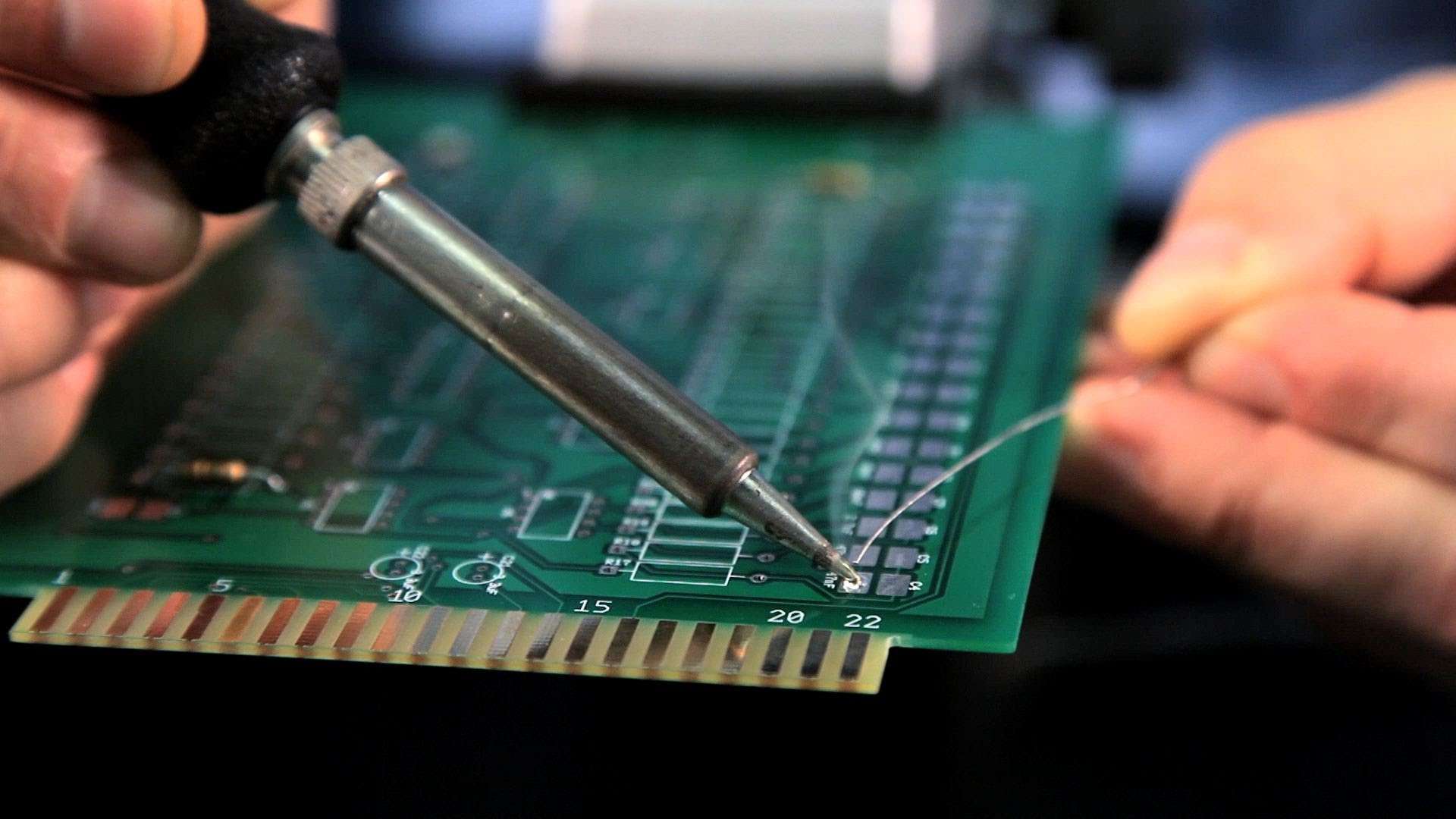 Expert Reviews: Finding the Perfect Soldering Iron Kit or Station
We've examined all of the best models on the market, shortening the list to the 16 best soldering irons presented in this review. They range from the cheapest entry-level model for newbie DIY repairs, to well-balanced, mid-level kits for casual hobbyists, to soldering kits even professionals would gladly use every day. Furthermore, we've included a quick guide that will assist you in choosing the right model for you based on a few key points.
[content-egg-block template=offers_list]
1
X-Tronic Model #3020-XTS Digital Display Soldering Iron Station
We're kicking off our reviews with this best-selling X-Tronic model #3020-XTS which is also our overall champion. It features an ergonomic 75 W soldering iron; an adjustable and very stable temperature range of 392 – 896 °F; a stainless steel iron holder, a solder roll holder, a brass sponge tip cleaner, and a cleaning flux. Additionally, it has "magic temp technology", and a C/F switch. If you're looking for a discount for this soldering iron, Walmart deals can help you, although, it's amazingly affordable considering its superb quality. Some other models come with a lot more accessories, but buying this model will give you the perfect foundation to build your ideal soldering station. What made it top our list is the fact that it has the essentials for diverse soldering tasks in one well-constructed yet very reasonably priced package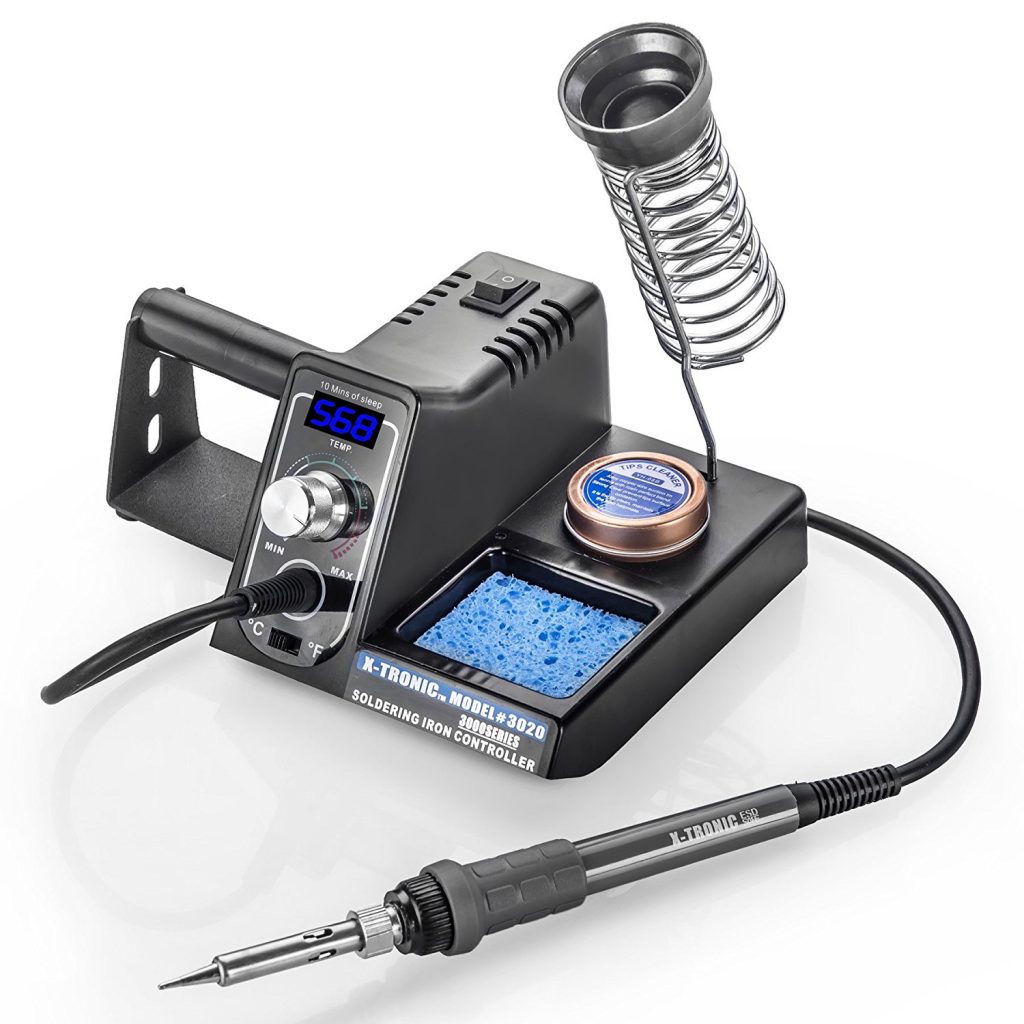 Positives
Powerful

Great quality product

Adjustable and stable temperature

Full range of accessories (except extra tips)

Affordable
Negatives
Additional tips sold separately

Some users reported durability issues
2
Weller WLC100 40-Watt Soldering Station
When looking at other soldering station review lists, Weller is the name that most often makes its appearance on the top. The first of the two Weller models that finished near the top of our list is the Weller WLC100. Truly a staple, this is a durable, reliable, top-notch soldering station backed up with a 7-year warranty. Unlike the X-Tronic, it doesn't have a display. Instead, it has a 5-step power controller for a 5 – 40 W output. The base unit has an integrated iron holder and cleaning pad. Finally, the pencil iron itself has replaceable tips, it's lightweight, and easy to hold with its cushioned foam grip. Overall, this is a fantastic setup. If you want to get this soldering iron, Lowes has it in stock.
Buy Now
Positives
Reliable

Durable

Adjustable temperature

Integrated iron holder and cleaning pad

Affordable
Negatives
Additional tips sold separately

No display
3
Hakko FX888D-23BY Digital Soldering Station FX-888D FX-888
Hakko is another premium manufacturer. The FX888 model can be found on Amazon in many different configurations depending on the accessories. This powerful, 70 W digital soldering station with adjustable temperature comes with an ergonomic pencil iron. The iron has an excellent thermal recovery when used with any of the T18 series tips that boast terrific heat conductivity. To put it differently, it heats up to 660 °F in about 20 seconds. Considering the substantially higher price tag compared to the previous models, if you've settled on this soldering iron, Home Depot coupons can be your best friend. This particular configuration comes with the fx-8801 soldering iron, a t18-d16 tip, the Fh800 iron holder, the A1559 sponge, and the A1561 cleaning wire.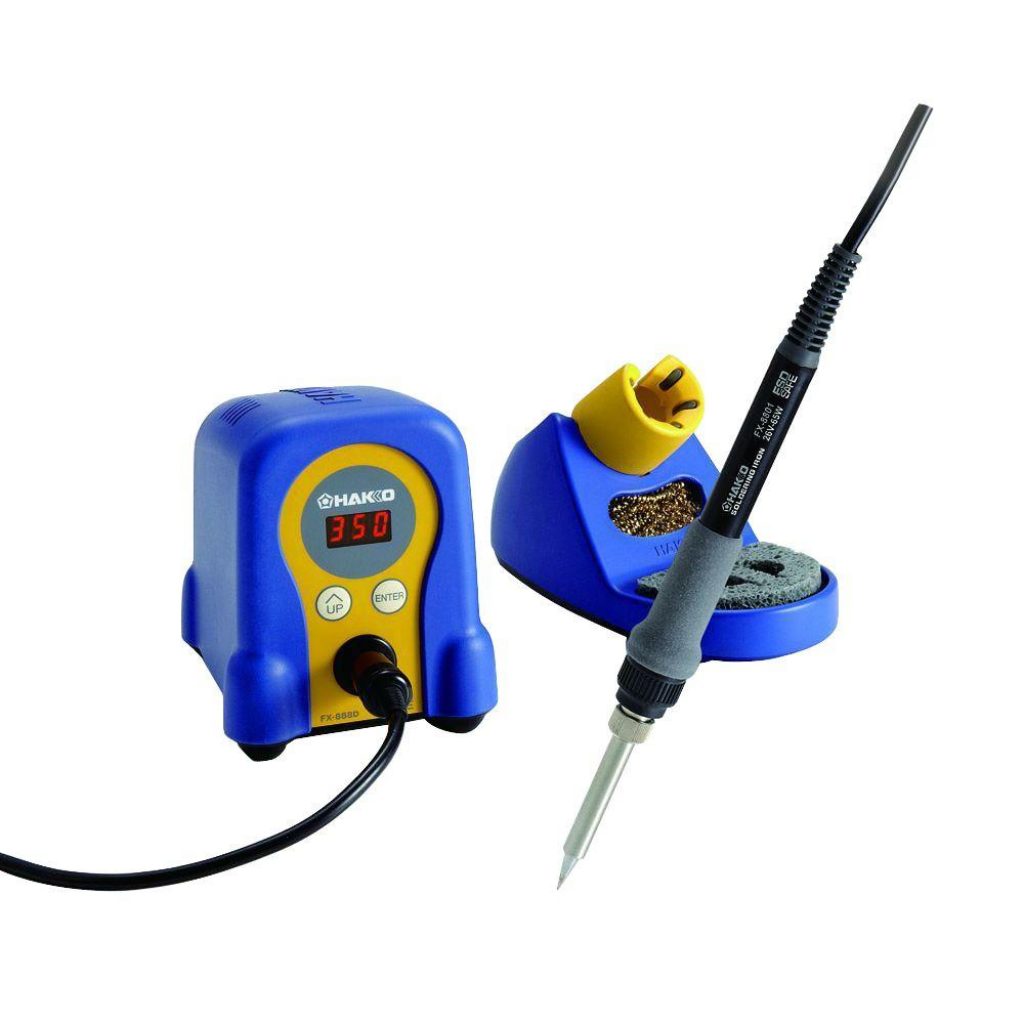 Positives
Adjustable temperature

Reliable

Powerful

Excellent thermal recovery

Included iron holder and cleaning sponge
Negatives
Additional tips sold separately

Expensive
4
Sywon 60W ESD Soldering Kit
Finally a model with an included tip pack. You'll get five extra tips in this amazingly-designed Sywon 60 W ESD kit. Perfect for DIY soldering, iron tips give you the versatility needed for performing a number of different tasks. With up to 60 W and adjustable temperature, you also get the adequate power. Of course, same as with previous models, there's a soldering stand a cleaning pad. The pencil iron is very comfortable to hold, ESD safe, and connected to the base with a high-quality silicone cord. The kit is also very affordable and, all in all, a great value purchase.
Positives
Inexpensive

ESD safe

Adjustable temperature

Included soldering stand and cleaning pad

Comes with a tip pack
Next, we come to the Anbes kit. Mind that this is not a soldering station but a kit that comes in a convenient carrying bag. This portability and overall great performance make it one of the best soldering irons for automotive wiring. Still, it's powered by a regular 110 V outlet, you can't plug it into your car outlet and use it on the road, but you can conveniently keep it in your car. The kit includes the 60 W soldering iron with a temperature dial on it, a digital multimeter, two soldering tips, a stand with a cleaning pad, and a plethora of other tools.
Positives
Portable

Adjustable temperature

Included soldering stand and cleaning pad

Digital multimeter

Two tips and various tools included
6
Weller WES51 Analog Soldering Station
We're still in the top half of our list, and with the second soldering iron, Weller takes the lead. Again, no temperature display, just an analog soldering station. But the Weller WES51 is so straightforward and reliable; it will last you forever. The temperature is, of course, adjustable via a dial on the base unit. It ranges from 350 – 850 °F, and it's accurately measured within nine degrees. Furthermore, there's a temperature lock-out feature that prevents excessive temperatures from damaging your equipment. As you can expect, the soldering pencil itself is first-rate, and the stand and sponge are included. Note that this model is just as expensive as the Hakko FX888. So if you choose this soldering kit, Lowes promo codes might come in handy.
Positives
First-rate quality

Precise and powerful

Adjustable temperature

Temperature lock-out

Included soldering stand and cleaning pad
Negatives
Additional tips sold separately

Expensive
7
Tabiger Electric Soldering Iron Kit 60W
This 11-piece Tabiger soldering kit comes packed in a carry case. Besides the decent 60 W soldering iron with adjustable temperature, there's a desoldering pump, five tips, a stand, tweezers, solder, and a sponge. The desoldering pump is a high-pressure vacuum aluminum tube used for removing solder. Though best used for DIY welding of watches, jewelry, and other trinkets, it's also good for electronics and chipboards. I like to keep my soldering iron near me, so I carry it around in my car. If you're like me, this is another interesting and very inexpensive kit that's first and foremost ultra-portable.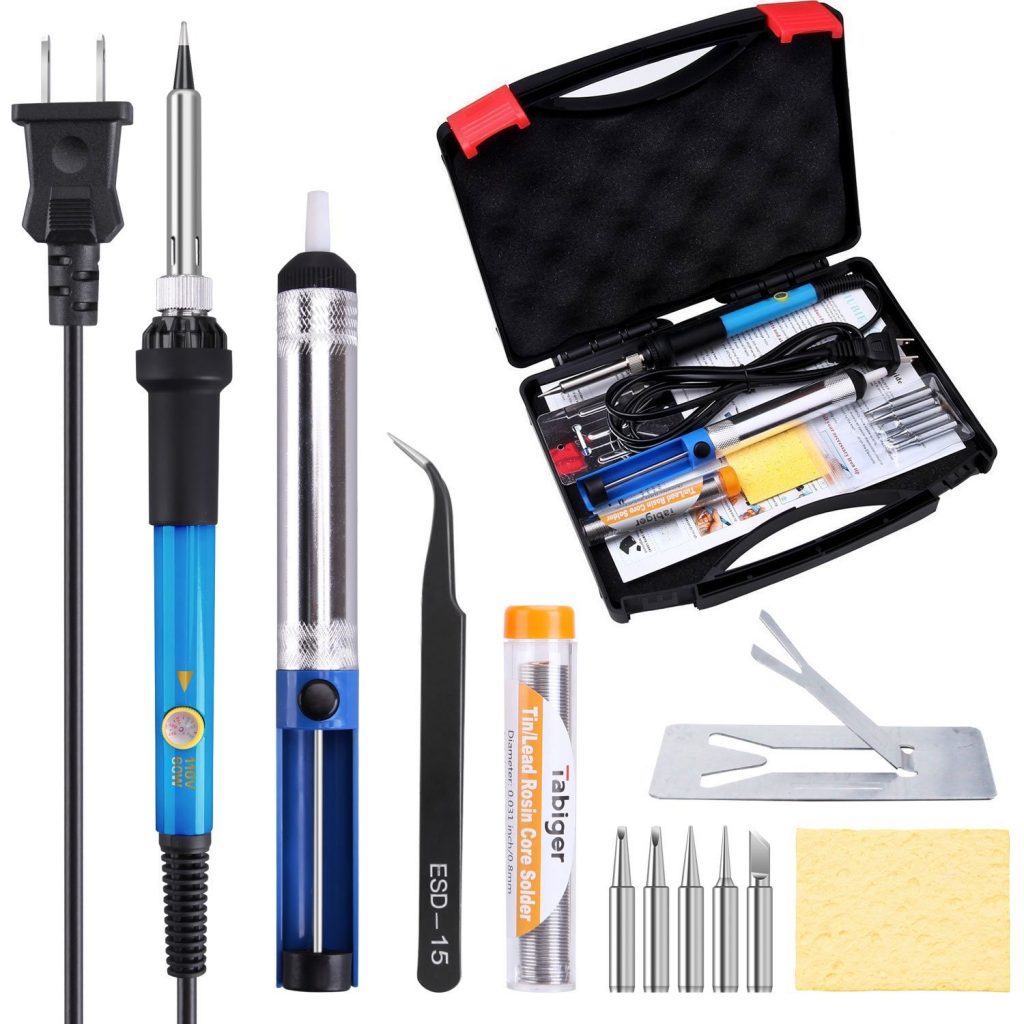 Positives
Inexpensive

Portable

Adjustable temperature

Included soldering stand and cleaning pad

Desoldering pump and additional tips
Negatives
Not the best quality materials

Unstable stand and no dedicated place for the sponge
8
Aoyue 469 Variable Power 60 Watt Soldering Station
Next, we have the Aoyue 469 soldering station. It's quite similar to a Weller in terms of the overall configuration, but not as pricey and a lot less sturdy. Still, it offers truly great versatility, with over 50 tips available for it. Although, only one tip is included in the box. It's a 60 W iron that heats up fast and operates within a 392 – 897 °F range that's adjusted via an analog controller. The stand is part of the base, and it's solid. The cleaning sponge is good and large which makes tinning a walk in the park. This model proved to be very popular and dependable for DIYers. In fact, it might just be the best soldering station for hobbyists. Get a fair discount for it by using Sears coupons.
Positives
Great versatility

Adjustable temperature

Integrated soldering stand and cleaning pad

Desoldering pump and additional tips

Affordable
9
Vastar Soldering Iron Full Set 60W
This Vastar kit is ridiculously affordable and therefore very popular. It even has great customer reviews who often say they were pleasantly surprised with what they got for their money. Though we have to note the absence of a lot of the staples we're used to, such as a cleaning sponge, or a simple on/off switch, and perhaps a case. You do get an adjustable "plug and play" 60 W pencil iron, a simple stand, five tips out of the box, tweezers, and even a desoldering pump. Certainly not the best soldering kit out there, but without a doubt a very capable starter kit.
Positives
Very inexpensive

Adjustable temperature

Soldering stand and tweezers

Desoldering pump

Five additional tips
Negatives
Lacking some basic features

No cleaning sponge
10
Handskit Soldering Kit (21-in-1)
This massive 21-piece set by Handskit contains every imaginable accessory associated with soldering. You may or may not need all of this stuff, but there's no denying that it's super handy to get all of these things in one go and one case. The question is, is the main equipment any good? Well, the adjustable 60 W pencil iron heats up quickly and performs as expected. For the most part, this is a good soldering iron, coupled with a huge range of accessories. We recommend it to total beginners who need all the extra tools as well. While the set is affordable, shipping from China can be expensive, so check out AliExpress coupons for a free shipping coupon.
Positives
Huge set with every imaginable accessory

Adjustable temperature

Good performance

Carrying bag

Inexpensive
Negatives
Average-quality materials

May have unnecessary stuff
11
Stahl Tools SSVT Variable Temperature Soldering Station
Going back to the simple, stripped back "Holy Trinity" configuration of soldering iron – stand – cleaning pad. The SSVT by Stahl Tools looks like another, less expensive, Weller knock-off. But it stands on its own as a very capable soldering iron for electronics and other uses, thanks to the adjustable temperature and replaceable tips. No extra ones included though. The only noteworthy "extra feature" we can point out is its cushioned rubber grip of the 40 W pencil iron which makes it pleasant to hold for long periods of time. This model is best for people who like to stick to the basics but don't want to pay for more premium kits.
Positives
Simple, good-quality setup

Adjustable temperature

Integrated soldering stand and cleaning pad

Cushioned rubber grip

Affordable
12
Kusonkey Adjustable Temperature Welding Soldering Iron Kit 60W
And again we're moving back to larger kits, as this Kusonkey adjustable temperature kit offers a well-balanced range of good quality accessories. The first thing you notice is the PU leather carrying case. When you open it, you'll find a soldering iron, a solder sucker, a tin wire tube, a stand with a sponge, tweezers, scissors, five regular tips, and six "aid" tips. As you can see, no unnecessary clutter. The adjustable temperature 60 W pencil iron heats up fast and has great heat dissipation. This kit is a bit expensive. As with all other items on our list, for this soldering iron, Amazon offers deals almost unmatched by any other online vendor.
Positives
Great heat dissipation

Adjustable temperature

Soldering stand and cleaning pad included

Additional tips included

Other useful accessories
Negatives
Mildly expensive

No display
13
Hakko Soldering Station, FX-951-66
The second, outstanding FX-951-66 model by the first-class Hakko company may as well be the best one we've reviewed. It's also by far the most expensive, resulting in the rather low position on our list. Beneath the recognizable blue and yellow exterior is a mighty, 75 W professional digital soldering station by the best soldering iron brand capable of performing any task precisely and reliably. Just set the desired temperature and watch the display in awe. It's amazing how quickly it heats up and how accurately it maintains the specified temperature throughout your soldering sessions. Though it does not come with a sponge cleaner nor additional tips, it is expected for pros to get all the accessories they find most suitable. Since it's so expensive, make sure to keep an eye on Groupon promo codes for a chance of landing a much-needed discount.
Positives
Supreme quality

Precise and reliable

Adjustable and accurate temperature

Fast heating

Soldering stand and holder included
Negatives
Very expensive

No cleaning sponge
14
UY CHAN Upgraded Original TS100 Portable Soldering Iron Station Kit
The UY CHAN TS100 is unique in its appearance and adaptability. The temperature is displayed on an OLED screen on the pencil soldering iron itself. It's a highly portable soldering iron that heats up in seconds. The temperature can be precisely and easily adjusted from a range of 212 – 752 °F. It has smart temperature sensors and other advanced functions such as a sleep mode, and an overheating warning. For ultimate portability, it can be powered with a DC 12 – 24 V AC adapter/power bank. So it can both be adapted for home and field use. You can even connect it to a computer via a USB port to monitor temperature curves and other custom functions.
Positives
Very portable and adaptable

Precise

Adjustable and accurate temperature

Fast heating

Advanced functions
Negatives
Expensive

No stand nor any other accessory
15
Magento's Superb 14 Pieces Set 60W
OK, so, one can definitely argue that Magento toots its own horn a little bit too confidently with this "Superb" 14-piece set, especially when you see the price. However, this all-inclusive kit that – similarly to its more expensive counterparts – contains everything you need for soldering and tinning a soldering iron performed just fine in our tests. This versatile 60 W pencil iron even features some innovative ceramic-core induction technology and smart design with large venting holes that improve heat dissipation. They even thought about environment-friendly materials. All this in a practical case. Ultimately, we can say that this kit is on par with its high-end competitors.