There are a lot of great things about TikTok:
Easy-to-use interface.

Wide selection of filters and other creative tools.

The fact that it's made for mobile devices, etc.
However, one of the best things is the ability to join other people's live videos. This can add an extra level of excitement to your day, and it's a fantastic way to meet up with new people online.
What is TikTok Live?
While TikTok has always been a platform for creative content, the live feature opens up a whole new world of possibilities.
Its feature, TikTok Live, allows users to live stream their content directly to their followers – for up to 60 minutes, which is a fantastic length possibility for a live stream.
Additionally, creators can interact with viewers by responding to comments and taking questions when broadcasting live. They can also share their screen or use TikTok's augmented reality filters.
Furthermore, these live streams are automatically saved and can be accessed by anyone who missed the live broadcast. This way, it's easier for viewers to catch up on things and helps create a more personal connection between you (the creator) and the fans.
What's more, you should know that with TikTok Live, there are no filters or editing – it's just you, living the moment. Whether you're sharing your latest dance routine or having a casual conversation with your friends, TikTok Live is the perfect way to connect with your followers in real-time.
What Are The Requirements to go Live on TikTok?
Unlike other platforms (Instagram, for example), TikTok Live requires users to have a minimum number of followers to start streaming.
This opens the way for new and emerging creators to build an audience and engage with their fans — inspire them to go Live, get noticed, and build up their audience.
There are two basic requirements to start doing TikTok Live videos:
You need to have at least

16 years old.

You need a

minimum of 1K followers

on your profile.
These are some of the community guidelines you must oblige to – and of course, ensure your live content is free of nudity or any wrongful doing towards a person or a brand.
How To Go Live On TikTok?
If you fulfill the basic requirements, you're three steps away from your first-ever TikTok Live stream.
Open your

TikTok application

> tap on the '

+

' in the middle bottom screen.
Find the

'Live Section.'
Before going live – accommodate the presets according to your needs:
3) Press the 'Go Live' button and start sharing and connecting.
Why is My TikTok Live Not Working?
You're over 16 and have a profile with more than 1.000 followers, but this feature doesn't show up?
Check if your country is on the 'not banned' list. In the following countries, TikTok is banned/not available:
If you're outside the banned zone, these might be some of the issues behind your problem with going live on TikTok:
The TikTok app is outdated.

Your device has a bug preventing it from functioning normally.

Your TikTok app is malfunctioning.

A possible network/connectivity error.
5 Ways To Fix TikTok Live Not Working
 On Androids, open the

Google Play Store.
Then, tap on your

profile icon

(the top right corner).
Tap on

'manage apps and device.'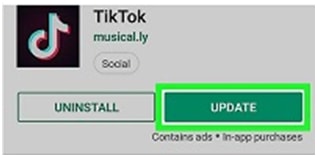 NOTICE: For the updates to function, restart your app, or better yet, the device.
Reboot your mobile device
Switching your device ON and OFF will probably fix all bugs and malfunctioning issues, not just the ones you're facing on the TikTok app.
Uninstall and Reinstall the TikTok App
Reinstall the TikTok App once more via Google Play Store, and log in with your

account. Now, try to go Live.

On an iPhone, the TikTok App will be on your main menu. Press and hold the icon until it starts jiggling.
When the

'x'

appears on the TikTik app icon – press the

'x.'
'Delete app'

and re-install it once more through the App Store (

wait a minute or two at least before doing so

).
Check your Internet Connection
There can be multiple issues on this particular subject. Maybe it's your Internet provider – they might be doing updates on their servers or fixing something.
If this isn't the thing, try rebooting your router and establishing a connection afterward.
4) Try using the TikTok Help Centre.
This should be your last resort. Their Help Center is like a blog with various topics to choose from and many subsequential mini topics within each different topic.
How To Get Rid Of Comments On TikTok Live?
Feeling insecure about an immediate engagement or criticism of what you do by a wider audience is terrifying. However, to avoid it for a while, you can turn these notifications off.
Enter the TikTok app and press the '+' in the middle of the screen.
Find the 'Live' section below.
Enter the 'Settings' (gear icon) before going live.
Toggle the comments 'ON' (turn it green).
While we're on the comments topic, let's cover another thing that might get annoying.
For example, many people get annoyed when watching someone else's TikTok Live, and the comments seem endless on the screen. To prevent this and hide them, swipe right on the screen to hide them. And, to have them back on screen, just swipe left.
Why Don't I Have The 'Guest Option' On TikTok?
The 'Guest Option' (an icon that looks like two smiling faces) is how you enter someone else's Live on TikTok. Better yet, it's a request to enter someone's TikTok Live. Or, you can invite people to co-host your own TikTok Live.
Though, if you're watching someone's Live and there's no option for you to enter it, it might be because they've turned this option off.
Here's how it's done:
You will see a screen informing you of guests' requests and also the ability to turn off the Guest Option.
Finishing Up
So there you have it!
Everything you need to know about joining someone else's live stream on TikTok.
We hope this has been helpful and that you'll go out and start streaming with your friends (and maybe even some strangers) today.