The Food Subscription Box You Should Sign up For in 2020
Today, you can get just about anything delivered, including your favorite food. Healthy-conscious meals have become extremely popular, hence typical fast-food is now often replaced by a food subscription box. Apart from being extremely useful and efficient for lazy/busy people, they also make perfect gifts. Fresh ingredients, healthy and tasty food – what's not to love about it?
16 Best Food Subscription Boxes You Can Sign up for in 2018

We can't deny that the mouth-watering subscription boxes listed below are total crowd-pleasers. Our research team has rounded-up their favorite food subscription boxes based on their diversity, price, and most importantly – the quality of what they have to offer.
Our first recommendation is one which you can rely on when you want to treat yourself. Blue Apron delivers boxes of pre-measured, fresh and sustainably-sourced ingredients alongside chef-designed recipes which will help you prepare the most delicious meals.
Moreover, you can shop a wide variety of cooking utensils directly from their website. You can even subscribe to Blue Apron monthly wine delivery plan to make sure you always have that perfect glass of wine that goes with your delicious dinner. What's more to it – prices start as low as $8.99 per serving, and there are Blue Apron promo codes ensuring great savings regardless of the meal plan you choose.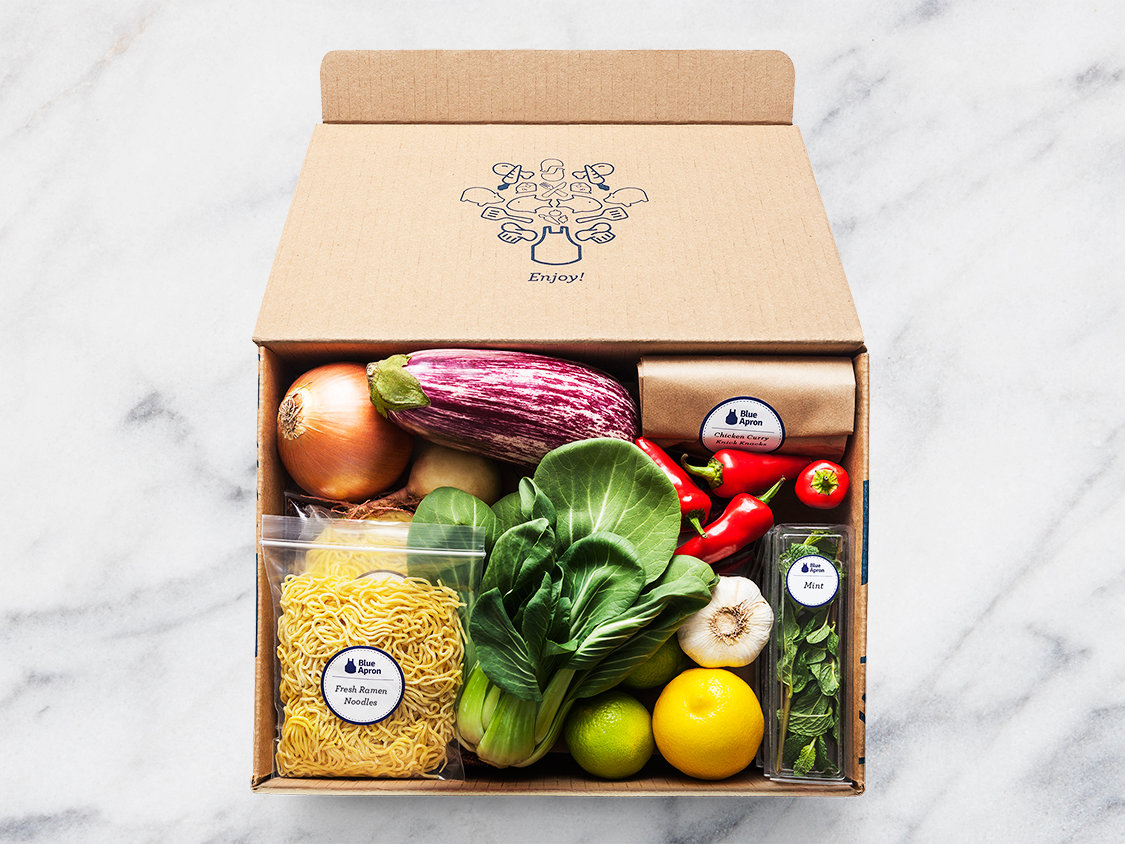 RXBAR are great contenders to snack subscription boxes. Although they don't offer classic subscription services, they offer packs of delicious protein bars delivered to your doorstep. What makes them so special? Their snacks don't have artificial sweeteners, flavors, color, or fillers, thus are 100% natural. In fact, the ingredients list is the most prominent part of the packaging!
RXBARs can also be purchased at physical locations. However, not everything from their range will be available in brick-and-mortar stores, which is a good enough reason why you should opt for delivery. When it comes to ordering online, shipping is free of charge for orders over $40, and there are plenty of RXBAR discount codes to help you get even more snacks for that amount of money!
Losing weight is never easy, and it's great to have a helpful sidekick while at it. IdealShape can be of great help when it comes to achieving your fitness goals! Their weight loss offer consists of meal replacement shakes, weight loss plans and guides, and much more – all of which is covered in our in-depth IdealShape review.
IdealShape subscription boxes are delivered across the US on a monthly or bi-monthly basis. While shipping isn't free by default, you can make use of IdealShape coupon codes to be granted free delivery as well as discounts on shakes, drinks, snacks, and much, much more!
Look no further than Urthbox if your goal is to have a healthy food box delivered to your doorstep. You can choose between four different sizes and four types of boxes – classic, diet, gluten-free, and vegan subscription box. When it comes to the items you can expect to find in each box; our Urthbox review holds all the details about that, as well as the office delivery options.
When it comes to delivery frequency, you will receive your Urthbox at the same time each month. Shipping is free of charge within the US, and there are Urthbox coupons that promise grand savings on your monthly subscriptions.
A health food subscription box usually comes with recipes along with the ingredients needed to prepare them. Freshly, however, deliver boxes with meals that are actually cooked by chefs! They offer extensive weekly menus with dishes suitable for anyone's dietary regime and preference; all of which are discussed in our Freshly review.
When it comes to delivery, they deliver five days a week, from Tuesday to Saturday. While this is not the cheapest, it is one of the best meal subscription boxes you could sign up for, and you will be happy to know that shipping is free. Furthermore, there is the option of reducing subscription costs by providing a Freshly promo code when placing your order.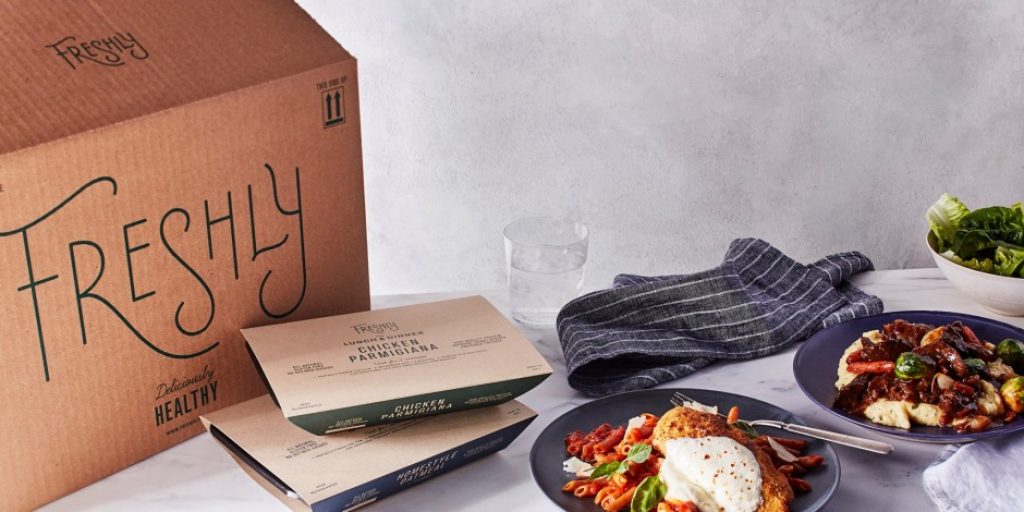 Nature Box mix unique ingredients with exceptional flavors and deliver the most authentic and delicious subscription boxes. You can choose from a wide variety of snacks, coffee, and even full meals from a dozen of nutrition options! All the ways you can mix and match them are covered in our Nature Box review.
Nature Boxes are delivered on a monthly basis. Delivery is free of charge for orders over $25. However, there are Nature Box promo codes that will grant you either free shipping with no minimum order amount or a discount on your subscription.
Cooking a delicious dinner is longer a chore! Plated will deliver a healthy food subscription box with comprehensive recipes as well as the ingredients you need to cook them. You can save a Plated box delivered up to four times per week, and the details concerning their weekly recipes are covered in our Plated review.
Furthermore, Plated promo codes are a great way to obtain free shipping on your orders if they are less than $60. If you're lucky, you might also come across a discount on your subscription. The convenience it offers, however, is priceless!
A junk food subscription box can be truly tempting on a cheat day. To maintain a healthy life, however, you should opt for Farm Fresh To You to deliver an organic box straight to your doorstep. There are six types of subscriptions you can choose from, and we have covered the differences between each in our Farm Fresh To You review.
Your farm box can be delivered to either your home or your office. When it comes to pricing, on the other hand, the cost depends on the type of subscription box you will opt for. However, Farm Fresh To You coupons are often being offered so that you can get a significant discount on your subscription, among other benefits.
There is no doubt that sugary drinks are refreshing and tasty, but also not the healthiest choice you could make when thirsty. Flavored water is a great alternative, especially if it's without any artificial sweeteners or preservatives, as the case is with Hint Water. They have a wide selection of infused water options, from sparkling flavor to caffeine kicks.
Moreover, they even have a sunscreen line! To discover the details about their offer, have a look at our Hint Water review. When it comes to shipping, on the other hand, there is a flat rate of $5 for orders up to two cases. However, you can use a Hint Water coupon to get your subscription box delivered for free, and even grab a discount on the subscription itself.
When we think about food that comes in monthly subscription boxes, candy and snacks are often the goodies that come to mind. Bean Box is not really a food box. It is one of the rare coffee subscription boxes that will surely sweep you off your feet! There are hundreds of types of coffees to choose from, and several subscription plans to opt for – all of which are explained in detail in our Bean Box review.
Unlike any other food subscription box, free trial is an option at Bean Box. Furthermore, shipping is always free, regardless of the order amount. To make things even better, you can even redeem a Bean Box coupon to shop anything you need to brew the perfect cup of coffee – from coffee makers and grinders to cups and all kinds of accessories!
Are you tired of throwing away food and groceries that you haven't been able to cook on time or bought too much of? Do you think that cooking dinner requires chef-like creativity? You should consider a Home Chef! Not an actual person you would hire, but a subscription box in which you will get everything you need to cook delicious recipes, in the exact amount you need.
Check out our Home Chef review to discover the details about their weekly menus and pricing plans. Home chef delivers coast-to-coast; however, you must first enter your zip code in order to see if they deliver to your area. Delivery is free of charge if your weekly order exceeds $45; however, there is the option to get it regardless of your total order amount by redeeming a Home Chef coupon.
Taste Trunk is the best subscription box you will come across. You can send wedding, corporate, and even personalized gift boxes. When it comes to their contents, you can send a snack food subscription box, one filled with various kinds of chocolate or one with salts and seasoning!
You can subscribe to receive goodies for as much as six months, and delivery rates are calculated in the subscription price. However, you can reduce that price as much as 70% if you're lucky enough to come across a Taste Trunk coupon of the sort!
If you read our Daily Harvest review, you will discover all the reasons why this a food subscription box from Daily Harvest is living proof that healthy food can be delightfully tasteful! Offering anything from smoothies and soups to lattes and sundaes, there is a plethora of healthy, nutrient-rich food to sign up for!
You can choose between weekly or monthly plans, with the prices per cup of the latter being slightly lower. However, you should keep an eye out for Daily Harvest promo codes which can grant you even bigger savings, regardless of the type of subscription plan you will opt for.
Although this isn't the champion in our subscription boxes reviews, it was certainly worth mentioning. What makes Green Chef stand out is the three certified gluten-free manus you could opt for, including keto and paleo. The premium organic ingredients arrive prepped, along with step-by-step recipes with photos. There is a number of meal plans to choose from, and we've covered them all in detail in our Green Chef review.
When it comes to pricing, it depends on the type of the subscription plan as well as the meals you've signed up for. Green Chef delivers to almost every part of the US, except some parts of Louisiana, Hawaii, and Alaska. A point worth mention is that, unlike the majority of subscription boxes, for this one's delivery you will be charged a fee of $9. However, there are Green Chef coupon codes which you can apply to your order and grab a discount on your subscription or get free shipping.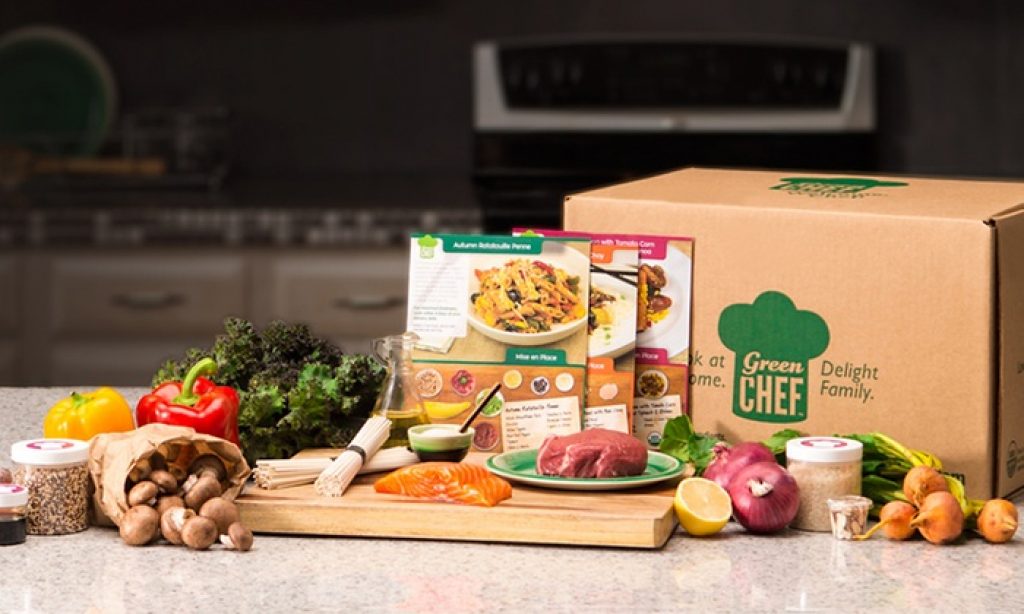 If you want to say goodbye to unhealthy food and bad eating habits, then look no further than Love With Food, where a variety of healthy goodies and snacks can be packed in a box and delivered to your home or office. This company donates a portion of its proceeds to a food bank, so with every subscription, you'll be helping to stop child hunger. When it comes to the items you can expect in your subscription box, check out our Love With Food review where we have discussed them in detail.
When it comes to subscription plans, there are several home and office alternatives to choose from, as well as plans based on the type of snacks you want to sign up for. As far as pricing is concerned, the longer the subscription – the lower the price. However, Love with food coupons are frequently being offered and can grant you even higher discounts on your subscriptions.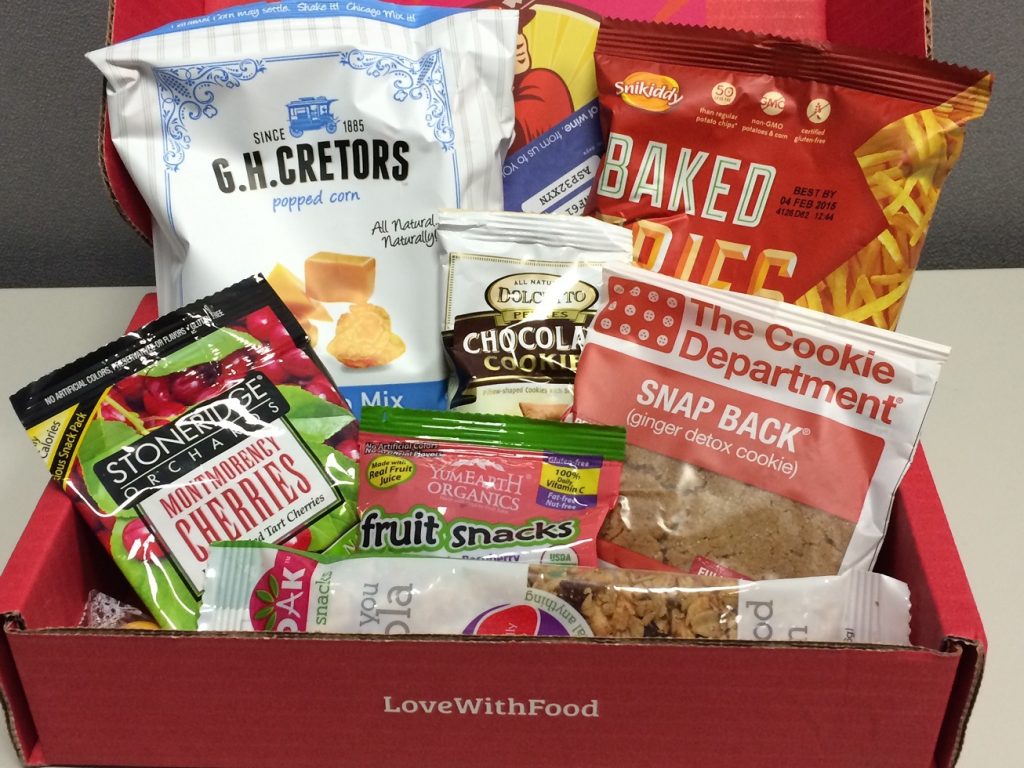 Sun Basket sends fast and easy recipes along with fresh, organic, and healthy ingredients so people can prepare delicious dishes on their own. When it comes to their menu, they offer a huge selection of recipes updated weekly, where you can find anything from vegan recipes to curry chicken. Moreover, there are two types of subscriptions to choose from, family and classic, based on the number of dishes you need to cook.
Sun Basket deliver their organic food subscription box on a weekly basis to almost anywhere in the US, excluding HI, AK, MT, and parts of NM. What's more to it, you can get 40% off your first delivery! There is also a way to reduce the costs of your subscription by redeeming a Sun Basket promo code. Healthy ingredients with comprehensive recipes at discount prices; what more could you ask for?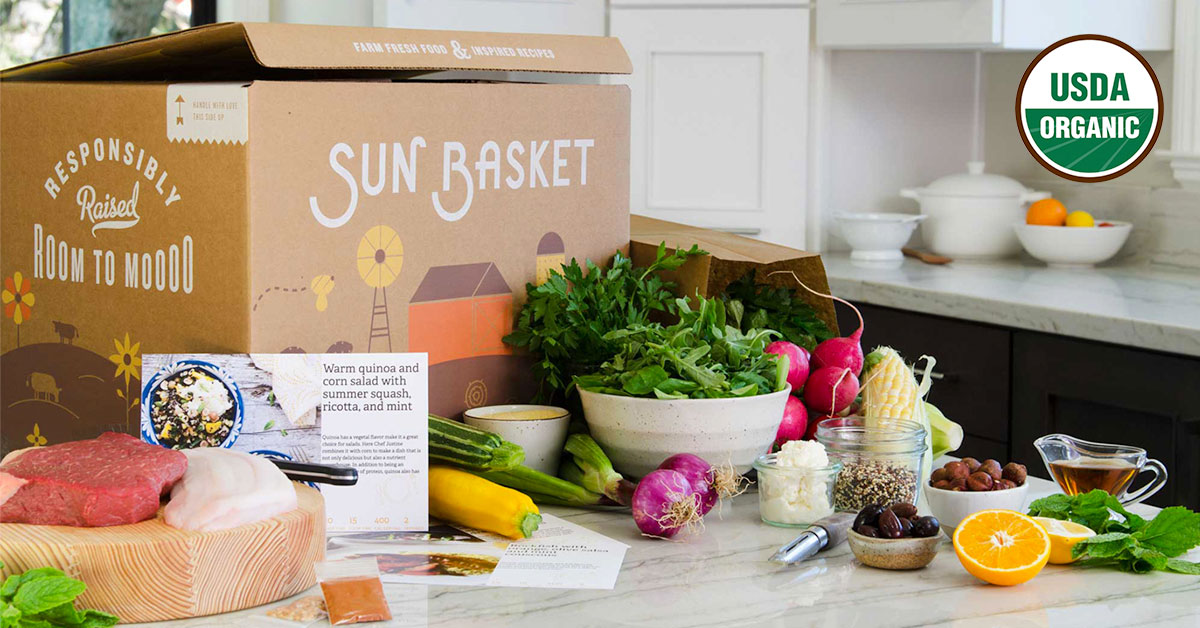 Why sign up for a food subscription box?
Subscription guide
There's something for everyone!
Based on our reviews so far, you have probably noticed that each box offers something different – from snacks and junk food to organic produce and even cooked dishes! Furthermore, many of these subscription boxes offer an option to be sent as gifts, one-time or recurring ones. That being said, their arrival can make many people happy.
It's convenient
We all go through one – or several – of those days when we're too lazy to get out of bed, let alone leave the house. Moreover, there are also the days when we genuinely don't have the time to go shopping for groceries nor cook. Food subscription boxes are a great solution to these problems, as you get everything you need delivered to your doorstep.
It's completely customizable
The best options are the ones we can entirely adapt to our needs. For instance, you can choose anything from a Korean food subscription box to a French snack box. People have a lot of different preferences when it comes to food; both in terms of nutrients and taste. When it comes to the first, there are issues like allergies or intolerance conditions, which should be taken very seriously when choosing any kind of food, not just the one that comes in a subscription box. The latter, on the other hand, is much more easier to solve.
Bottom line
Based on everything that has been outlined so far, a food subscription box is a great way to save time otherwise spent on shopping and cooking. Whether you want snacks delivered to your doorstep or even whole cooked meals – you will surely find a match among our recommendations above. So, when it comes to food subscription boxes, 2018 is a great year to try them out, considering the broad choice of them currently available on the market!