The family-run delivery service, Fresh Farm to You, delivers a mix of fresh, organic fruits and vegetables to your doorstep. The second generation of Capay Organic farm strives to grow completely organic produce while using local water sources and encouraging a diverse ecosystem. The company's mission is to improve the food system by bringing farmers market into the busy, urban lifestyle of their customers. We took upon ourselves to check out Farm Fresh to You reviews written by customers as well as order a box ourselves to provide you with details regarding this delivery service.
What's in the box?
Farm Fresh to You aims to save your time and effort, delivering produce that is healthy and, above all, tasty. Their produce and farm products are completely pesticide-free and certified organic by CCOF, which is one of the reasons why Farm Fresh to You is considered as one of the best food subscription boxes you can sign up for.
You get the chance to choose what goes in each box by handpicking the produce. Apart from fruits and veggies, you can add a variety of artisan farm products including honey, jams, eggs, and organic dairy. In your delivery box, you'll also find different recipes which will inspire you to cook something healthy, as well as cooking tips and notifications about any upcoming events the company organizes.
How does it work?
The Farm Fresh to You website offers the possibility to choose whether you like your box delivered at home or the office. Also, you set the delivery frequency – once a week, every other week, every three weeks, or every four weeks – which helps you meet the recommended daily servings of fruits and veggies effortlessly. Then, you get to pick one of the six uniquely designed boxes which come in different sizes: small – enough for 1-2 people, regular – suitable for 2-4 people, more – perfect for 4-6 people, and monster – great for 6-8 people.
The Fruit Only box offers a wide selection of only organic fruit, ideal for juicing and healthy snacking.

The Mixed Fruit and Veggie box provides a variety of fresh fruits and vegetables, great for those who enjoy fruits but also like to cook healthy meals from time to time.

On the other hand, there's the No Cooking box which intends to please those with the busiest schedule. It contains mostly fruits and some easy-to-prepare vegetables.

If you're up to healthy snacking and a fruit bowl is your go-to, the Organic Snack Pack is the box for you. Containing easy-to-eat, fresh and organic fruits, this box will provide the ultimate health snacking.

There's also the Traditional CSA (Community-supported agriculture), a mixed box that provides you with the perfect seasonal mix directly from the farm.

Finally, you can opt for the Veggie Only box and enjoy the great variety of organic veggies perfect for your health routine.
For even greater convenience, Farm Fresh to You regularly sends an email to notify you that your box is ready to be customized. You can add items you like and remove the ones you don't want to be included in your delivery. If there are some products that you never eat, just add them to the Never Send List. As already mentioned in our Farm Fresh to You review, you can also add grocery basics and artisan products to your box, including coffee, milk, meat and seafood, meat alternatives, honey, jams, bakery, eggs, pantry and snack items.
As a business owner, you can also choose between the six boxes mentioned above and add artisan products like healthy breakfasts, coffee, beverages and fresh flowers, which will boost your team's motivation and productivity. Moreover, you have the opportunity to take the team-building to a whole new level, providing your employees with a unique wellness benefit through the Farm Fresh to You Workplace Wellness Program. The program can be customized in order to optimize employees' productivity and well-being.
Farm Fresh to You Reviews – 2018 Subscription Policies
Subscriptions are flexible with Farm Fresh to You – cancel or add a delivery anytime, or change the delivery date and frequency. Additionally, you can put your deliveries on hold while on vacation. Make sure, however, to make the changes by 2 pm at least two days before the scheduled delivery. You can contact the company regarding any questions you might have, as they provide great customer support. The Farm Fresh to You phone number is +1 800-796-6009, available Monday-Friday between 7 am and 6 pm. You can also contact them via email directly from their website.
The delivery is free on all boxes at Farm Fresh to You – San Diego, Moreno Valley, and Sacramento are just some of the cities where the company ships. However, the company doesn't ship outside California, which can be quite disappointing. Make sure you check whether you are in one of the Farm Fresh to You locations for delivery by providing your zip code on their website.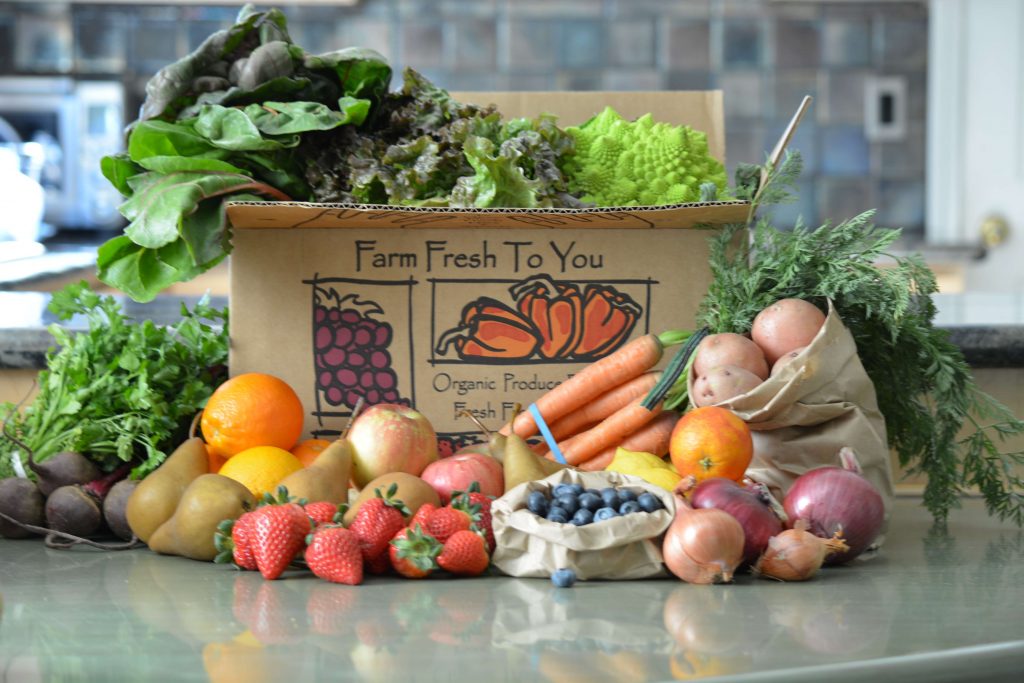 Farm Fresh to You – Additional benefits
An additional benefit of Farm Fresh to You is their excellent referral program. You will enjoy great savings, receiving a $25 account credit when you recommend the delivery service to your friends, and they join using your promo code. In return, they get $15 off their first delivery box, which proved to be a great start for many customers according to the Farm Fresh to You reviews. Moreover, Farm Fresh to You enables you to give a healthy gift to your loved ones. Choose the produce box that suits best their needs and selects the preferred amount of your gift card, ranging from $26 to $250.

By using Farm Fresh to You services, you are helping the community as well. The company has developed a School Fundraiser Program which enables each customer to raise funds for schools while enjoying healthy foods. In further support to the community, you can choose to donate a box full of fresh fruits and veggies to a family in need. There are four box sizes to choose from: small, regular, more, and monster. You will be able to set up the frequency of your donation (whether it's one time or recurring donation) as well as the box quantity and the food bank.
Farm Fresh to You Prices
The price of the boxes depends on the type and size of the picked box. Each box has a fixed price which will change if you decide to add some artisans. If you opt for a Fruit Only or No Cooking box you will pay $26 for a small-sized, $33 for a regular-sized, and $46 for a more-sized box. The same prices stand for Mixed Fruit and Veggie box too, but there's an additional size – monster – which costs $58.
The Organic Snack Pack also comes in four sizes, including mini which is $35, small which costs $60, a medium which is $85, and large which comes at the price of $110. The Traditional CSA and the Veggie Only boxes come in two sizes only –  regular and more – priced at $33 and $46, respectively. Don't forget to grab a Farm Fresh to You promo code and get your box at a reduced price.
Is Farm Fresh to You worth it?
As we come to the end of our Farm Fresh to You review, it's safe to conclude that this delivery service is a great opportunity to incorporate healthy, 100% organic produce and farm products in your diet. The company provides a wide range of fruits, vegetables and carefully curated artisans, as well as convenient and flexible service, which is highly appreciated in many Farm Fresh to You reviews by customers. All in all, Farm Fresh to You is definitely a delivery service worth trying.