In recent times, more and more churches and ministries seek technical assistance. In other words, religious organizations started recognizing and accepting the perks of the much-needed digital help. Therefore, we can clearly state that nowadays the church management software market is seeing quite the reach out.
This is why today's article is dedicated to eCatholic – a complete management system for churches, ministries, and dioceses.
With no further ado, let us see what all will be covered in this eCatholic review.
Contents:
eCatholic Overview
Highlights
eCatholic Key Features
eCatholic Pricing and Plans
How Does eCatholic Work?
Pros and Cons
eCatholic Alternatives

eCatholic vs. Breeze
eCatholic vs. Churchteams
eCatholic vs. Aplos

eCatholic Customer Reviews and Ratings
Summary
FAQs
eCatholic Overview
What is eCatholic?
eCatholic is regarded as one of the largest Catholic website builders in the USA, and it provides its services ever since 2005.
The man behind this incredible idea that came into realization is Josh Simmons. This is a man that comes with an interesting start and a 'Peter moment' kind of story. The main seat of eCatholic is in College Station, Texas, the US. And while there are no other offices apart from that one, many of eCatholic's employees accomplish their work duties from the comfort of their homes.
Nevertheless, Josh's main idea and mission are to help parishes, ministries, and dioceses create beautiful, engaging, and dynamic websites. Moreover, he is combining his love for technology and his devotion to religion, to help bring religion closer to people across, especially today, when this is much needed.
Who is it best for?
This platform is just perfect for small to mid-sized companies (ministries, parishes, dioceses, schools, etc), who want to build an online solution at an affordable price.
How big is the network?
eCatholic's network stretches far and wide. In fact, it goes beyond 4.500 trustworthy parishes, ministries, schools, and dioceses; situated in more than fifteen countries, and all fifty states.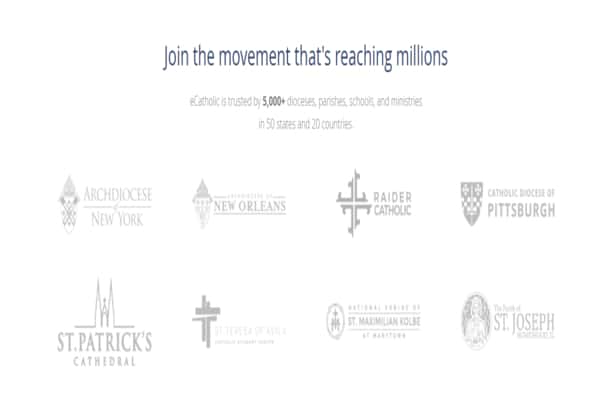 The names of parishes, dioceses, schools, etc from the image are just a small portion of the many that are part of the eCatholic network.
How secure is it?
The clients' protection and safety measures are a priority to the eCatholic team. Therefore, all of their sites own an HTTPS certificate—one that safely encrypts all data and info.
They make sure your information is secured by several layers of protection. On the plus side, all websites undergo an automatic backup. The automatic backup serves as an extra safety precaution.
Highlights
Integration tools
The platform as such doesn't offer integrations to some of the most common managing systems. However, some integration tools can be connected:
YouTube Live integration
Facebook Live integration
Restream.io integration.
What kind of deployments does it support?
There are three kinds of deployments it supports: SaaS, web-based, and cloud support.
Is it user-friendly?
The platform offers an intuitive and easy way to build websites without requiring any prior coding skills. And to make things even easier, on the eCatholic's official site you can find a nicely elaborated Beginners Guide.
Customer Support Service
eCatholic has an amazing support team, and they offer several ways of resolving any problems or queries you might have. Here's how you can contact them:
You can always give them a call on the number left on their site.
Or, maybe you'd like to send them an email on any of the designated email addresses left on the official eCatholic website.
Feel free to reach them through any of their social media accounts: Facebook, Twitter, and Instagram.
Scan the very well-put-together FAQs section.
You can also visit the Beginners Guide (which we already mentioned),
or, you can head over to their Help Center.
What are the devices supported?
You can easily connect through all desktop, mobile, and internet-connected devices including Android, Apple, Windows PC, Mac, Roku, Chromecast, and more.
eCatholic Key Features
In this section, we will discuss the key products and options provided by eCatholic and how they would benefit churches, parishes, dioceses, and other Catholic organizations.
The great thing about editing eCatholic websites is that you can do it without any prior coding skills. The system as such is very intuitive and allows you to arrange the structure of your website: mapping, creation of forms, how to add them to your page, and be also capable of making small in-line edits without requiring a professional website developer.
Site Map Editing: eCatholic comes with a Site Map Editor tool that makes creating a new page a piece of cake. And, as soon as a page is done, you can easily add it to the appropriate menu. Moreover, you can also easily delete pages by using this very tool.
Online Forms Tool: You can create various forms by using the eCatholic Online Forms tool. This can simply be done by visiting the page you want to create a form; click on the 'Add Contact' option to be granted access to as many as eleven different types of forms.
Choose one, click on it, and drag it to the page to start editing. With the drag-and-drop tool, it becomes very easy to edit your forms, arrange, or re-arrange them, and name them. Once the forms are organized, you can make the final edits to your Catholic design or copy.
If you are looking for beautiful Catholic online images, then eCatholic offers you a repository of catholic stock photos to add to your website. You also have the option to browse the eCatholic online library and get instant high-resolution photos at an insignificant price.
As a matter of fact, the design team at eCatholic has also created five free website themes available to all eCatholic customers, with favorite designs including Turin, Cascia, Moser, and Tabor & Sinai.
eCatholic has many types of online Catholics content that you might like to add to your website. Some of the core modules for adding and editing in your websites include:
Text
Document
Events
Calendar
People
News
Media Gallery
Forms and Payments
Donations
Links
Consequently, the platform allows you to add all sorts of content to your eCatholic websites, including social media content, videos, and Catholic news, without using a single coding line.
Online Payments and Giving
The eCatholic Payment tools make sure the creation of forms is as simple and easy as can be, and make them mobile-friendly as well. Consequently, once that's settled, the processing of debit cards, credit cards, and e-checks will run smoothly. It also allows recurring donations, acceptance of tuition payments, events, and a host of other things.
Through the eCatholic Payments dashboard, you can see all the information about transactions including date of payment, donors, the amount of donation, accounts/subaccounts, account balances, and financial statements, which can be printed as well.
eCatholic has also introduced the Reconciliation Mode that allows you to easily reconcile bank statements with the help of data found directly in the eCatholic Payments Center. This eliminates the hassle of switching between different programs.
Additionally, the tool also sends recurring donation email receipts and credit card expiration notices for admins.
eCatholic always makes sure that a 10% donation of its profits goes to seminaries and priests who are retired.
All eCatholic websites are equipped with an HTTPS certificate, which assures secure encryption of data and lets users know the website is secured and reliable. They also automatically back up your website data in case of a sudden disaster.
eCatholic Live Streaming allows you to schedule and stream live events over the most popular online channels. The platform's Live Streaming plans allow you to live-stream content through your website, Facebook, YouTube, Apple TV integration, Vimeo syndication, and Roku channel.
It also offers automated archiving and real-time analysis. Therefore, with the automated archiving features your videos when done, will be saved—the same can be seen by your audience whenever requested.
eCatholic Plans and Pricing
eCatholic offers three Website Hosting Packages, and various services at the same time. These pricing packages include a complete Catholic toolbox of website features, modules, and themes. As follows:
Starter Package – $20 a month.
– up to 25 pages on a website
– 1GB storage space (pictures, videos, files)
– Technical Support
– Continuous Updates
– Safe Cloud Hosting
Essential Package – $35 a month
– up to 50 pages on a website
– 2GB storage space
– Tech Support
– Continuous Updates
– Safe Cloud Hosting
Premium Package – $50 a month.– Unlimited number of pages
– 5GB storage space
– Technical Support
– Continuous Updates
– Safe Cloud Hosting
It's important to remember that all of the above-mentioned packages enable you access to everything the website platform features, modules, and themes have in store.
The payments can be either per year (via check or ACH), or monthly payments via credit and debit card.
Here are also the prices of some of the other services available through eCatholic:
Donations and Payments: The platform has partnered with CardConnect to enable users to accept donations. However, using CardConnect costs an additional $20 a month. Here are the payment processing costs:
around 3.1% of the transaction amount plus 20 cents for each transaction for credit cards,
roughly around 1.7% + 30 cents on each transaction for debit cards,
1% + 35 cents for each transaction for ACH payments.
Moving further on, let us have an in-depth view of the Live Streaming packages:
Lite Package – $79 a month.
– 100 viewers
– 100GB storage space
– 720p HD streaming quality
– Live Stream integration (YouTube Live, Facebook Live Apple TV, Roku, etc)
– An embeddable player
Pro Package – $149 a month.
– 500 viewers
– 300GB storage space,
– 1080p HD streaming quality
– StreamSpot Sync Automation
– Live Stream integration
– A player that's embeddable and customizable
Premiere Package – $249 a month.
– 1000 viewers
– 600GB storage space
– 1080p HD streaming quality
– StreamSpot Sync Automation
– Live Stream integration
– A player that's embeddable and customizable
All of the above packages enable you access to a custom Roku channel, Apple integration, Vimeo syndication, real-time analytics, automatic archiving and archive management, playback with no ads, and much more.
But, there's another valuable service by eCatholic – the Stock Photo option/feature. Let's check out the prices they come with:
Website Add-on for Stock Photos for just $10 a month. This option enables you to add exceptionally beautiful eCatholic stock images to your sites.
Photos A La Carte for only $5 an image.
Does it have any free trial/ free version?
Yes, eCatholic offers a free trial – you can enjoy a 30-day free trial version. This is your chance to try and create free websites for churches on your own, and see how they work, the quality they bring to the table. One of the great things about their free trial is the fact they don't request your credit/debit card credentials.
How Does eCatholic Work?
The Catholic software is remarkably easy to use. And even better, if you're in any doubt regarding an option, they have nicely elaborated videos to follow.
But, still, let's go step-by-step and see how you can get started with a trial version by eCatholic:
Step 1 – Open their official website. In the top right corner, you'll notice an orange 'get started' button – click on it.
Step 2 – Once you click on 'get started,' you will be taken to another window. Here the first thing you need to do is choose one of the services you want to try.
Step 3 – Assuming that you've already chosen a service you want to try out, further down, you'll see a sort of a form. This is actually what's needed for you to be able to use the free trial.
Step 4 – The blank spaces need to be filled in, of course. What's required from you is to give the name of your organization, also the name of your parish/diocese/school/ministry. Also, you need to provide the city and state, as well as basic info (name, last name, email, contact no. etc) and website info.
Step 5 – Now that all of the above steps are done, go ahead and click on the orange 'Start Trial' button to start using this church membership software for thirty days free of charge.
And, if you need to access your LIVE portal, just go to eCatholic login. Once you are IN, you can click on the 'LIVE' button – that's it.
Premium Services
The software offers different levels of services from Basic to Premium ones. For example, if you opt for a Website Hosting package, you can access the Premium version for $50 a month. This lets you have an unlimited number of pages, 5GB file storage space, excellent customer support, ongoing upgrades, and safe cloud hosting.
eCatholic Services
If you don't have the time to build a website, or you lack the skills to create one, don't worry about a thing. eCatholic offers several services that can assist you with this:
The team can help you create a professional Catholic-based website. All that's needed from your side is to decide which package suits you best:
| | |
| --- | --- |
| Custom Design Package – $5.500 | Complete Branding Package – $8.500 |
| One of a kind website design | Customized logo and design |
| Attentive and professional eCatholic member (one-on-one work) | Unique brand style |
| Responsive design/website | Usage of eCatholic Stock Photos |
| eCatholic assists you promote your site | 1-year eCatholic Premium package |
You can get a custom website design and logo and some professional photography through this package.
Digital Stewardship Package
This enables you to create a twelve-week plan with on-site consultations that can increase your parish's offertory through online giving. According to the eCatholic team, your parish's support should mark an increase of at least five percent.
Hire the expertise of professional graphic designers to create a brand logo that reflects and conveys your message accurately.
If you have an existing website, you can hire the platform's services to migrate your content easily to the eCatholic platform. This can be done for an affordable price. The Quick Flip costs $350 (for no more than 25 pages). However, if there are more pages, every page after the 25th, will cost $10.
Existing eCatholic customers can get their websites redesigned in the most cost-competitive way while unlocking new features along the way—this can be achieved for just $350.
What's even better, apart from the website and logo designing services, it offers extra features of support for Catholic-based organizations, including an eCatholic chat program.
Pros and Cons
Pros
The website builder is very intuitive and easy to work with.
Requires no knowledge of coding.
Live streaming is enabled on many popular media sites including Facebook, YouTube, Vimeo, Roku, Apple TV, and more.
Cons
eCatholic Alternatives
No matter how amazing, or professional an organization or a company can be, there are always alternatives to it. With that in mind, we decided to compare eCatholic against three of its best alternatives: Churchteams, Aplos, and Breeze.
eCatholic vs. Breeze
Breeze, same as eCatholic, is one of the most popular church administration software for small to mid-sized Catholic organizations. However, it seems like eCatholic is the choice of the majority of parishes, ministries, schools too, and dioceses.
Nevertheless, both companies offer somewhat different services. Breeze offers members communication and management, eases up the events management process, it has online giving, forms, and there are also mobile app solutions. On the other hand, eCatholic also makes sure there's a smooth organization and the churches agendas and finances stay organized. But, eCatholic also shifts their focus on enabling churches, parishes, ministries, etc to get smooth, and easy-to-use websites. They customize whole websites with all of the needed elements and make sure that the message of the client is conveyed to its visitors.
In terms of price, they both come with different pricing packages. Breeze's price per month is $50, whereas eCatholic's lowest starting price is just $20. Both companies offer trial versions, which are completely free of charge.
eCatholic vs. Churchteams
Churchteams is one of the best Catholic software out there and is a great option for churches that want cutting-edge technology but do not have the technical manpower to make that happen.
Both platforms, eCatholic and Churchteams, share the same mission. They both bring to the table features and services to customize the needs of these religious organizations, churches, parishes, etc.
When it comes down to the price, eCatholic, once again, takes the lead, by being the more affordable one. As said, eCatholic's lowest starting price is no more than $20 a month, whilst, Curchteams's starting price is $37 a month.
They both offer free trial versions, which is a great way to discover whether they will suit your churches' needs before opting for a paid subscription.
However, if you do have in mind exactly how your ministry's/church's website should look like, we suggest you contact eCatholic. They will make sure your voice is heard AND seen when people are visiting your official website.
eCatholic vs. Aplos
We'll start with the most obvious of differences these two have. Aplos is one of the leading software for church management and can help small to mid-sized churches and nonprofits to manage their finances on time. On the other hand, eCatholic is a complete management software that assists dioceses, ministries, parishes, schools by customizing and designing websites for them.
Nonetheless, once again, this two software come with different price tags. eCatholic is more budget-friendly than Aplos, but keep in mind that they offer completely different services.
eCatholic Customer Reviews and Ratings
To complete this review, we will present to you some verified comments and reviews left by eCatholics' customers. But, before we do that, let's see their online rating by other websites:
G2 – eCatholic has a 4.5-star rating, out of 5. Though, this rating is based on just one review.
Yelp – This site has given eCatholic an excellent 5/5 star rating. And, again, this is based on a single review.
Smart Reviews – eCatholic has received 4.8-stars, out of 5 from this site. What's interesting is that once again, there is only one customer review.
Now that we've seen how great they rank on some online rating sites, let's proceed with verified customer reviews.
Customer Reviews
– Christina Wohar, review from the eCatholic website
– Tim Hatch., review from the eCatholic Facebook page
– Steve N., review from G2
Summary
To sum up, eCatholic represents one of the largest all-in-all management systems that make sure you get your customized website.
It is affordable, user-friendly, and comes equipped with a complete website builder package. Moreover, it is made so that everyone gets the hang of it, meaning, you don't need any coding skills to understand it and put it into practice.
So, if you're looking for the total package, eCatholic is your go-to platform. It offers everything, from assistance with website editing to an amazing gallery with beautiful religious images, and beautiful themes.
Hopefully, this eCatholic review gave you enough reasons to consider it for your religious organization, parish, school, etc. Or if you still have doubts about it, feel free to check out our guide on the best church management software, and broaden your options.