16 Best Crossbow Reviews & Buyer's Guide
Since Medieval times, the crossbow was both a hunting weapon and a weapon of war. It was cheap, easily produced and allowed nations that didn't have an archery tradition to field a ranged force. Today, a crossbow is still a hunting weapon, as well as a sports one, but it's not exactly cheap. Buying a crossbow requires careful consideration, no matter if you want to use it for target practice or hunting. If you wanted to buy one, you're in luck, because we've searched near and far to bring one of the most extensive crossbow reviews you'll ever see.
But that's not all. Aside from our reviews, we have two additional aspects you'll be happy to read and exploit. First, we've included a buying guide, so you know exactly what to look for in your future weapon and what we're referring to in our reviews. Finally, since crossbows aren't an everyday purchase, we've found a selection of promo codes and deals you could use and get a bargain purchase.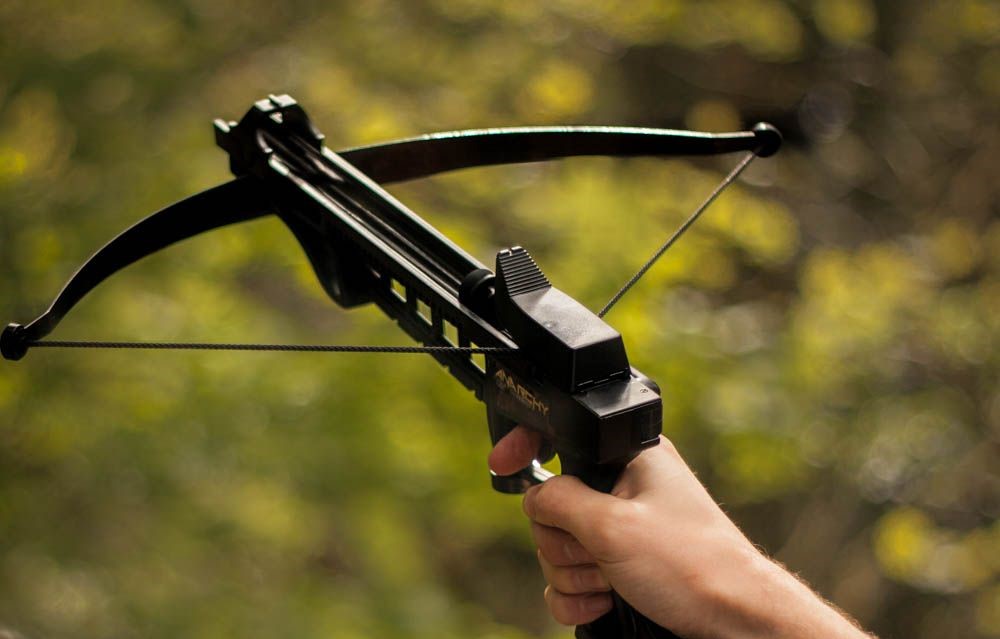 Best Crossbows - Experts Reviewed and Tested
Today, we have a selection of 16 outstanding weapons that ought to appeal to those shooting both standing targets and moving targets alike. So, let's jump right in!
[content-egg-block template=offers_list]
Our first product comes from one of the best brands on the market – Ravin. Though they've upgraded their arsenal with the R20, the R15 Predator crossbow remains very much relevant. The Ravin R15 crossbow is one of the most powerful out there, with a draw weight of 220 lbs, but with a draw force of only 12 lbs. This force translates to a speed of 425 fps and a kinetic energy output of 160 ft. per Ibs, meaning it can kill any game in the US at 50 yards. It also comes with a 100-yard scope and a quiver attached, plus 6 Ravin bolts with 100-grain practice points – ideal for zeroing in.
One of the best parts of this crossbow is its very narrow profile. Thanks to advanced engineering, the bow's axle-to-axle width is but 6 inches cocked, meaning it's smaller than most crossbows. As a result, R15 one of the best, if not the best crossbow for hunting – well, maybe it would have been, if not for the R20 model.
Positives
Exceptional power

Small profile

Can be used for hunting any pray

Breakneck speed
Negatives
Very expensive

Does not come with drawing aid
2
Barnett Ghost 410 Crossbow
Second up is a very fine crossbow from Barnett. The 410 Ghost is among the fastest crossbows on our list and, for what it offers, it's quite affordable. Its draw weight is quite considerable, standing at 185 lbs, making it a perfect fit for hunting. This is further supported by the fact that 410 is clocked at 410 fps and is very quiet, so you can bet that deer will fall to the ground before it even realizes it's been struck.
These couple of facts rank this item quite high in all Barnett crossbow reviews. However, its size seems to be one of the most important factors for hunters. Namely, the bow is 20" from axle to axle, which is about the average span for a hunting crossbow. The crossbow also comes with additional accessories. It comes with a 3×32 scope, three bolts, a quiver and a drawing aid device, which is something you might need using this bow.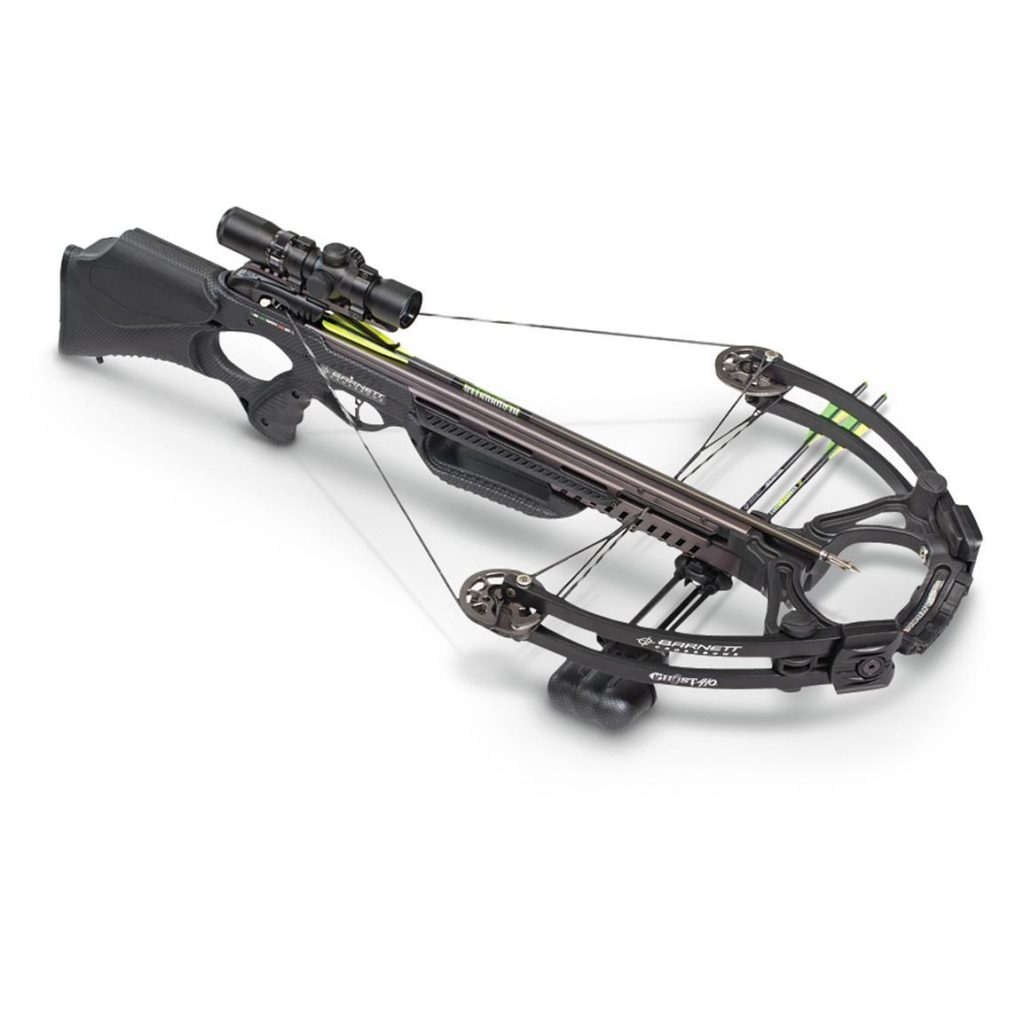 Buy Now
Positives
Powerful and fast

Excellent value for the money

Comes with a scope and drawing aid

Relatively narrow profile

Best crossbow for deer hunting
Negatives
We observed customers reporting dry firing incidents
3
SA Sports Empire Beowulf Compound Crossbow
Our next crossbow is more of a budget option that a grade-A weapon. SA Sports Empire Beowulf crossbow is a fine-tuned piece of hunting and target practice weaponry with a very affordable price tag. The bow has a formidable draw weight of 175 lbs, and has a very decent 14″ stroke, allowing it to move a bolt at a very impressive 360 fps. It's also a full inch narrower than Ghost, making it ever so maneuverable.
The only problem with this weapon is that it's not the quietest crossbow of 2018. This somewhat limits its usefulness as a hunting weapon, as there are more silent weapons, and this might mean a world of difference when you're on the hunt. Even though it's quite affordable, you can reduce the price further with one of the Sears promo code offers.
Positives
Reasonably powerful, with good speed

Very affordable

Comes with a scope attached

Quite a narrow profile
Negatives
Not the quietest bow around

The bolt groove is a little rough, might damage the string and the fletching
4
Carbon Express Intercept Axon Crossbow
Moving on to no.4, we've got the Carbon Express Axon Crossbow. If you're looking for the best tactical crossbow, Axon about fits that profile. It's affordable, but quite powerful, and offers numerous customization options. The crossbow comes outfitted with a Picatinny rail so that you can mount any scope on it. Plus it comes with an AR rifle family stock, so people experienced in shooting with an AR will feel very comfortable shooting with this bow. The length-of-pull is also adjustable, so you can highly personalize your bow.
As for the bow's performances, you're looking at a 13.5" power stroke with a 175 lbs draw weight, creating a speed over 360 fps. Its kinetic energy output is not the best though, standing at 122 ft. Ibs. The bow's width is 13.5", which makes it one of the narrowest crossbows on the market. Overall, it's an excellent, highly customizable, bow that will never fail you on the hunt.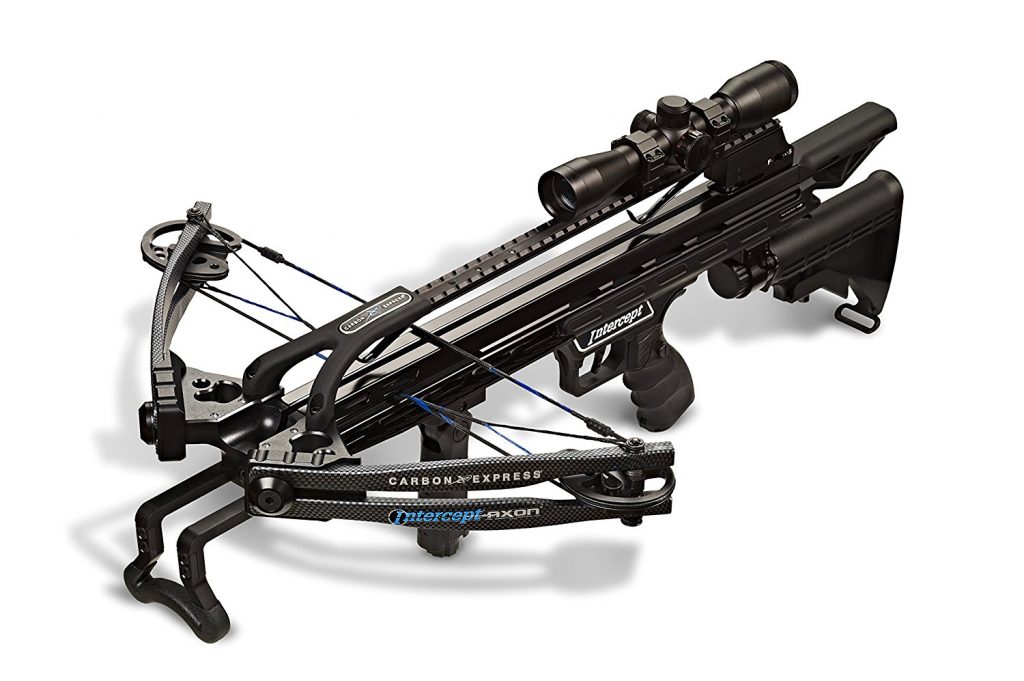 Positives
Very narrow profile

Quite affordable in its power and speed range

Highly customizable

Comes with a drawing device
Negatives
Does not have the best kinetic energy output

Certain quality issues with the front hand post and metal pieces that hold the bolt at the front
5
Wicked Ridge Invader G3 Crossbow
At spot no.5 we've got the Wicked Ridge invader G3 Crossbow. This is one of the best budget crossbows, offering an excellent price with very decent specifications. The bow boasts 165 lbs of draw weight, fires a bolt at 330 fps and has a more than decent 13.5″ power stroke. The bow is not overly wide as well, being 19″ from axle to axle making it reasonably maneuverable. The bow is also very quiet, which, combined with its specifications, makes it, hands down, the best deer hunting crossbow of 2018. The bow comes with a cocking device, a 3x scope and three carbon fiber bolts plus a quiver. Since this crossbow is one of the most popular ones, you can get it at a reduced price by using Walmart's deals and promo codes.
Positives
Quite affordable

Decent power and speed

Fairly maneuverable

Fairly light

Comes with a cocking device
Negatives
Not as powerful, but can be still used for deer hunting
6
Excalibur Null Matrix SMF Grizzly Crossbow
If you're looking for a real beast of a crossbow, then you need Excalibur Null Matrix Grizzly Crossbow. As the word "grizzly" in the name suggests, this crossbow is intended for hunting big game, and, boy, does it deliver. 200 lbs draw weight at only 100 lbs draw effort, fires a 350-grain arrow at 305 fps. With these stats, Excalibur Null Matrix is more than enough to bring down the eponymous grizzly, and at a great price, especially if you're buying it off Academy and grab one of Academy promo codes.
One of the interesting things is this is a recurve crossbow, whereas all others so far were compound bows. Another interesting fact is that Null Matrix is almost the same as Excalibur Crossbow Matrix 405 Mega Crossbow with Twilight Dlx, optimized for a treestand, and boasting a 290-pound draw weight. Sadly, this Hulk was discontinued, due to the new Null Matrix, but we figure you'll be plenty satisfied with Null, even without the extra 90 lbs of draw weight.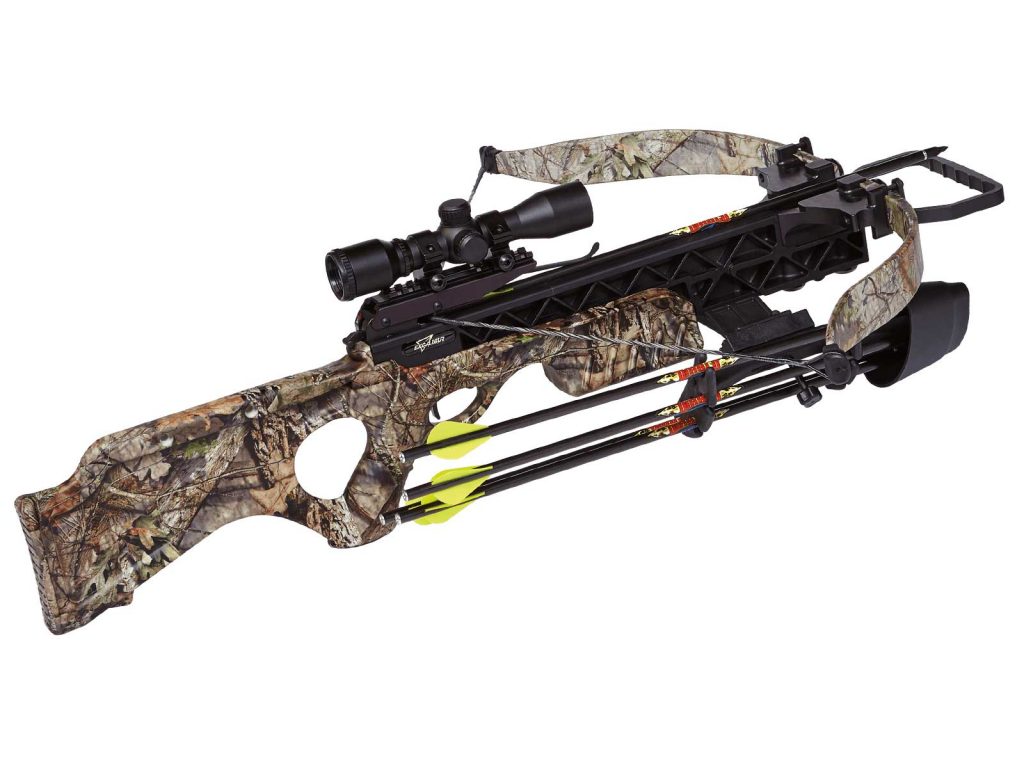 Positives
Very simple, owing to its recurve design

Quite affordable

Exceptionally powerful

Exceptionally accurate
Negatives
Recurve design slows down the arrow speed for the same draw weight compared to a compound bow
The CenterPoint Sniper 370 crossbow is just before the halfway mark on our list of crossbow reviews. This item is the definition of value for the money – it doesn't cost much but boasts of 185 lbs of draw weight and firing at 370 fps. It has a nice, adjustable, AR-like stock, and an integrated suppression system for low noise and low vibration, which is something we haven't seen on other crossbows so far, making it excellent for hunting elusive targets like deer or rabbits.
However, be mindful – this is a bargain-priced crossbow. That being said, you'll have to settle for some quality issues. Customers reported the limbs cracking and the strings snapping, and there were frequent complaints about the scope which was not illuminated as promised by the manufacturer, and of relatively poor quality. Finally, even though you won't break your bank by paying the full price, why not save more with Dick's Sporting Goods promo codes.
Positives
Great value for the money, very affordable

Decent power and speed for the money

Adjustable stock

Noise suppression system
Negatives
Problems with the quality of the materials used and the quality of the scope
Right when you thought we'd give it a rest with high-end bows and start reviewing budget ones, here comes TenPoint Venom. Venom is one of the best and the most expensive crossbows on our list, and for a reason. This stellar weapon comes bearing 185 lbs of draw weight and propels an arrow at 372 fps. Not only that, but the crossbow has a very narrow profile, being only 17.6 inches wide from axle to axle. It also comes with a scope and an ACU50 cocking aid.
Positives
Exceptionally fast, powerful and accurate

Comes with a cocking aid

Comes with a noise dampener

Narrow profile
9
Arrow Precision Inferno Fury Crossbow Kit
At spot number nine we've got the Arrow Precision's Inferno Fury Crossbow. A mean name for not so mean a crossbow. This is, arguably, the cheapest crossbow on our list. However, it's not like it doesn't deliver – this recurve bow boasts 175 lbs of draw weight, and shoots the arrow at 235 fps. Now, this isn't that impressive, considering the bows we reviewed before it, but, considering what it costs, we'd say it offers plenty of value for the money. Looking at its speed and power, it won't kill a buffalo, but it will suffice if you plan to hunt rabbits and deer.
Positives
Very affordable

Very light

An excellent choice for target practice

Good beginner's crossbow

Comes with a 3-dot scope
Negatives
Not as accurate as other bows on the list

Reasonably wide at 27 inches

Lackluster power and speed
10
Barnett Jackal Crossbow
We've had one Barnett, yes, but what about another Barnett on our list of crossbow reviews? Well, here you go – the Barnett Jackal. Jackal is the younger brother of Ghost, and, as such, it's not as powerful nor as fast. Still, it shoots the bolts at 315 fps, and has a draw weight of 150 lbs, making it an excellent weapon to hunt rabbits and deer. The bow also comes with a 3.5-pound trigger and a three dot sight. The bow is about 26.5 inches wide. Since the regular price most likely doesn't quality for free shipping, try one of the Cabelas promo codes and get this item at your doorstep for free!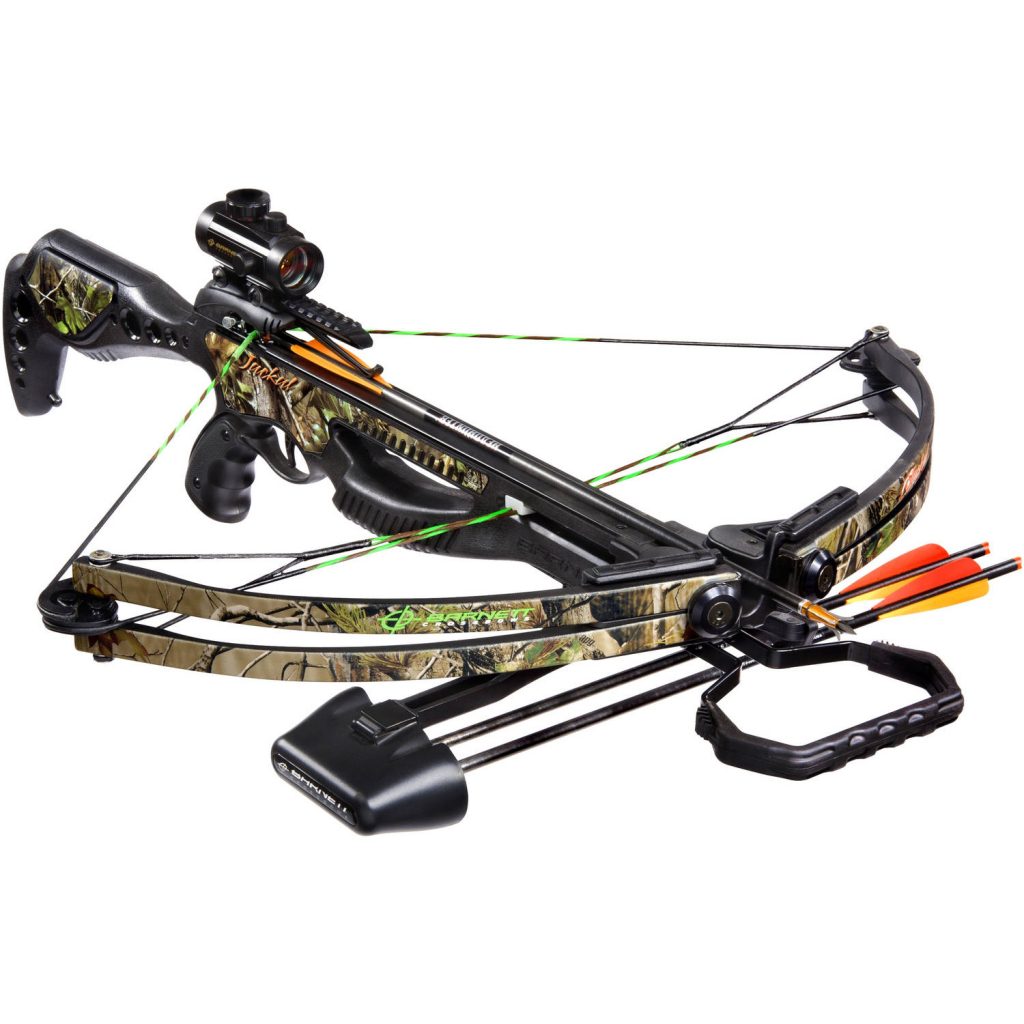 Positives
Quite affordable, fit for beginners

Good bolts speed

Ideal for hunting smaller to the mid-sized game

High-quality trigger
Negatives
Wider than most crossbows

Not as powerful, but still shoots fast
Deathstalker Crossbow is one of the most exciting entries on our list. This is one of the higher-end crossbows on our list, made by Scorpyd Crossbows. The thing that makes this crossbow peculiar is because it has inverted limbs (they look like they were mounted backward, arching toward the shooter). These limbs increase the power stroke, allowing the bow to shoot faster at relatively low draw weights, making it easy for the shooter to cock the bow without losing power. Indeed, Deathstalker can fire a bolt at 380 fps while being rated to only 130 lbs. The inverted limbs also decrease the bow's width, making it very narrow, and, by proxy, maneuverable.
Another interesting thing about Deathstalker is that the entire order is customizable. If you go to Scorpyd's page, you'll be able to pick your bow's draw weight (115 and 130), scope, finish, quiver, arrows and even a cocker. Basically, you're building your crossbow with Deathstalker.
Positives
Incredibly fast at relatively low draw weights

Fully customizable during the order

Very narrow profile (10 ¾ inches cocked)

Very long power stroke (17 ¼ inches)

Colt 1911-style grip
Negatives
An expensive product; each modification also adds to the overall price
12
Junxing Hunting Crossbow
This Juxing crossbow is the perfect choice for those starting out. It's very cheap but well made. Despite the name, this is not a hunting crossbow – its measly 65 lbs draw weight will barely take down a squirrel. However, for target practice, it's more than enough. Comes with a convenient foregrip.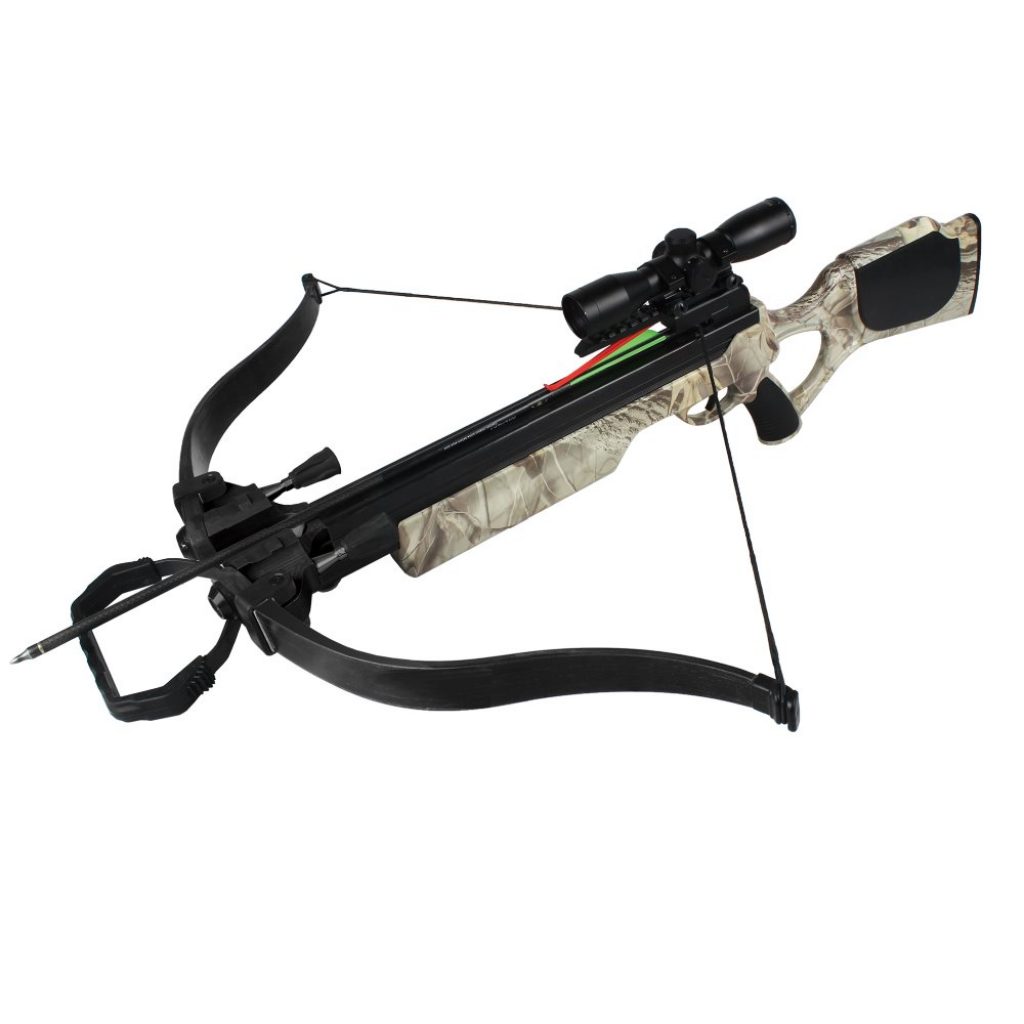 Positives
Inexpensive

Fair quality for the money

Excellent beginner's bow

Good for target practice
Negatives
Low draw weight and low speed

Not intended for hunting despite its name
Only four more crossbows left, and we've got another Ravin crossbow. This time, it's an earlier version as compared to the previous item – the Ravin R10. R10 is, despite being outclassed by the R20, still a very powerful and potent weapon. Just like the R15 and R20, it has a very narrow design that is sure to appeal to hunters. The bow boasts an impressive 185 lbs of draw weight, shooting at 400 fps while having only 11" power stroke. When cocked, the bow is only 6.5" wide. If you want to get it with a significant discount, purchase it with one of Groupon's promo codes.
Positives
Very narrow profile

Exceptional power, speed, and accuracy

Very light and maneuverable
Negatives
High-end product means high-end price
14
SAS Troy 370 Compound Crossbow
Spot number belongs to SAS Troy 370 Compound Crossbow. This the one of the best, if not the best crossbow for the money. It's quite affordable and it delivers 185 lbs of draw weight, firing the arrow at 370 fps, making it very practical for hunting bigger game. The bow also comes with an adjustable tactical stock so that anyone can shoot it. It's also very narrow, being only 14" wide when cocked. All in all, excellent and affordable hunting weapon.