Cozzia Massage Chair Reviews
Last updated on July 3rd, 2018 at 01:28 pm
Massage chairs are the next best thing to a real professional massage, and buying one is probably one of the best investments you could make. Choosing a high-quality, durable massage chair will bring you years of back-fixing, muscle-relaxing satisfaction. When speaking of high-end and reliable massage chairs, one name pops up regularly. We are of course referring to Cozzia massage chairs. Strangely enough, there aren't too many Cozzia massage chair reviews online. That's why our team of experienced researchers has done a thorough analysis of Cozzia's catalog, so read on to learn more about one of the leading US massage chair manufacturers.
16 Best Cozzia Massage Chairs
1
EC-618 Cozzia Massage Chair
The first massage chair offers both value and quality. This chair comes in three different colors – red, graphite, and chocolate. EC-618 model is probably the only moderately priced product with 3D body scan feature and an S-track design. These features guarantee full back coverage because the 3D body scanning technology examines your back and finds pressure points, which are later treated by quad rollers. This model also has built-in LED lighting, enabling the benefits of chromotherapy body healing. Probably the best thing about this chair is its customization options. You can adjust almost anything, from the massage intensity to the level of lumbar heat.
The next model is also a moderately priced massage chair, but as it's the case with the previously reviewed model – features of this model offer much more than you would expect from a product in this price range. You wouldn't expect a chair with warm air technology and a 3D body scan to have a below-average price tag. You can choose between eight auto programs or customize your experience by creating personalized massage program. The air massage technique has proven to be a terrific innovation since 50 airbags, and five intensity programs enable an incredible arm and thigh massage therapy. This massage chair is characterized by an immaculate design, zero gravity seating, and a fantastic price-quality ratio.
Buy Now
This model has all necessary features both for residential and commercial purposes. Its 3D roller follows the curve of your spine and, compared to the traditional 2D technology, it has an additional axis that gives you a genuine massage feeling. This Cozzia Fortitude massage chair has a full-body scanning option, which scans your body for pressure points so you can choose between a whole body or partial massage therapy. An innovative LCD remote will help you visualize the massage stage you're at and enable you to increase or decrease the current program's intensity. Trust us; you won't make a mistake if you purchase this model.
According to many different reviews, this product is the champion of practicality. Apart from the most modern massage techniques, this model has built-in Bluetooth speakers, allowing you to play music from your phone or tablet devices. Moreover, this model comes with an innovative touchpad to set the massage technique and intensity. This model features eight auto programs and six unique massage techniques. Additionally, you'll get a global treatment since you can choose between Chinese, Swedish, and Thai massage therapies. What separates this model from its predecessors is the fantastic built-in feature called sole rollers. This technology will provide an incredible and relaxing foot massage that affects your entire body.
QI series leads the way when it comes to Cozzia massage chairs. After all, QI is their flagship series. This particular model has all the makings of a top-notch massage chair. Warm air technology is attached to the rollers, offering an incredible muscle relieving massages. This way, you'll get a 4D heating sensation starting from your neck, going all the way down to your lower back. Its 15 auto programs, full adjustability, and a terrific L-track design only confirm our opinion that this is easily one of the best chairs on the market. If you're looking for a high-end Cozzia massage chair, QI SE model has proven to be the best this company has to offer.
6
Cozzia Massage Chair 16028
If you're a tall person and you have a hard time finding an appropriate massage chair to soothe your aching back, look no further because this model is built for people from 5'0 to 6'8. Moreover, you'll get a full body scan technology for the full or partial treatment of your sore muscles. Even though this model uses 2D technology, it's quite efficient due to its other innovative features like lumbar heating, Chromotherapy Lighting, and seat vibration massage. This model features five auto programs and seven unique massage techniques, including the custom-massage option. The S-shaped backrest design enables this model to provide a unique human-like massage therapy experience.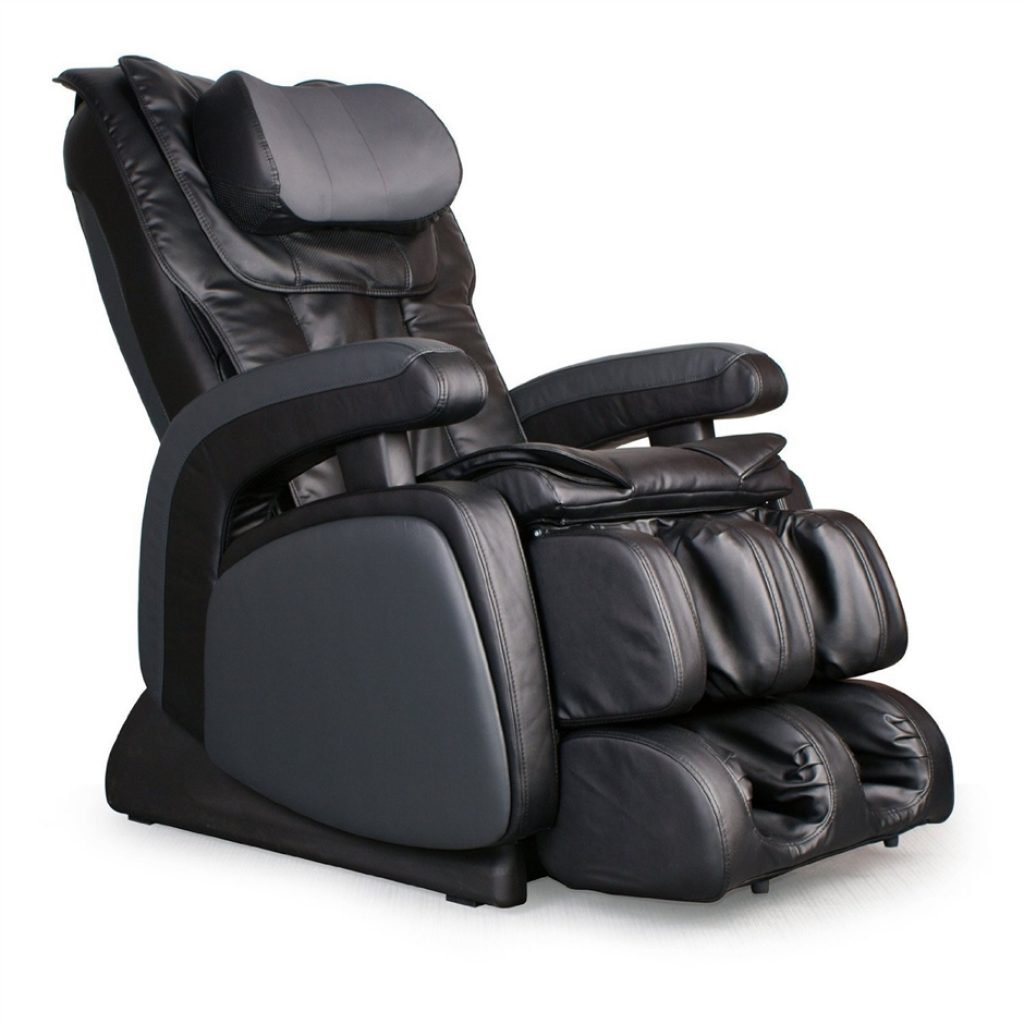 7
Cozzia Zero Gravity AG-6000
The next reviewed model is a perfect fit for all people who want to alleviate back pain and treat aching, sore muscles. This chair's design is a big plus; it looks like a regular armchair, and it fits any home decor. Furthermore, this model can recline into several positions, including neutral zero gravity (the optimal position for receiving a message). It seems that everything on this chair can be adjusted, from backrest and footrest to even headrest. Additionally, heat therapy at this price range is unheard of, but this model has it. Considering everything, this Cozzia Zero Gravity massage chair is definitely a great value purchase made even more appealing with an addition of a Walmart promo code.
In 2015, Cozzia impressed the world with MC-520, the world's first lift massage chair. If you take a glance at this model's 360° overview, you might think that it's just a regular armchair. However, this model is everything but regular. Massage options are a bit lacking, but the two different modes are driven to perfection. Creators of this model have focused on providing the perfect comfort, which explains the features such as warm air technology, lumbar air massage, and memory foam seating. Lastly, both armrests have a power adjustment option, which enables you to get in and out of the chair with ease.
EC-360d is another excellent Cozzia massage chair for people with above-average height since it's a perfect fit for people from 5' to 6'8″. When compared to the other "tall-people models" from our list, EC-360d is a hit-and-miss; it offers a shiatsu massage and has more air massage intensity levels, but has fewer airbags. Interestingly enough, this model is cheaper than the Cozzia 16028 massage chair. Still, EC-360d is known for being one of the best shiatsu massage chairs on the market. Besides shiatsu, this model can perform five other massage techniques, including dual action massage therapy. All in all, tall people don't have to worry since Cozzia's got them covered with these two models.
Featuring recognizable design and innovative massage technologies, this model brings one of the most significant innovations we've seen over the past few years – the Advanced SuperTrac mechanism. Although similar to the L-track mechanism (roller goes from your neck to your glutes), Advanced SuperTrac can perform its magic in a full layout position. Other than that, this model features almost everything that made Cozzia one of the largest US massage chair manufacturers – immaculate design, 56 airbags, smart body scan system, dual sole rollers, lumbar heating, and the list goes on and on. When you add this model's ability to recline into a zero gravity position to the list, you get a strong contender for the best Cozzia massage chair.