16 Best Multimeter Devices in 2018
A multimeter is one of those things that every electrician, hobbyist or professional has simply got to have in their arsenal. A good multimeter is your eyes in any electrical repair situation. It lets you know what's going on in the circuit, and in doing so, can help you diagnose the problem. Multimeters come in a wide variety when it comes to quality and price – the purpose of this post will be to help you find the best multimeter that money can buy. Our aim is to give you the best bang for your buck and help you find a tool that will serve you for years to come.
Multimeter Reviews
Online product descriptions of multimeters can sometimes be obscure if you don't know what you're looking for. Should you get a Blue Point or maybe a Fluke? A lot of strange-sounding words that represent parameters you might not be familiar with cause confusion. Because of this, we've put together a collection of easy to digest reviews that are brief, concise, and that will hopefully help you make your choice quickly and easily. If you're interested in buying a multimeter, Amazon promo codes and other deals are just one of the many chances you have to shop & save. Read on!
1
Fluke 87-V Digital Multimeter
This Fluke 87-V unit has a built-in low-pass filter that allows for accurate frequency measurements on its adjustable speed drives. The dual display resolution lets you see miniature changes in the value if you're dealing with really sensitive signals, and the device can capture changes as fast as 250 microseconds. The maximum rating of this unit is 1,000 volts, which is more than enough for any household application, and the multimeter is CAT III and CAT IV safety rated so you can safely use it for any of your electrical applications.
2
Fluke 88 V/A KIT Automotive Multimeter Combo Kit
This is a very versatile unit capable of measuring more values than almost any conventional multimeter. It does AC and DC voltage, AC and DC current, resistance, capacitance, frequency and even temperature, which just about encompasses anything you could ever need when dealing with electric circuits. The multimeter Fluke 88 allows you to switch between manual and auto-ranging modes that can sometimes be useful, if you're aware of the exact range the value is in. If automotive is what you're looking for, this is one of the best automotive multimeters on this list, so if that's the case, you should definitely take it into consideration.
3
Fluke 179 6-Piece Industrial Electronics Multimeter Combo Kit
If you're a pro electrical engineer and want to get your hands on the best multimeter for electronics technician employees, the Fluke 179 is for you. This is the top model of Fluke's 170 series that comes with a lifetime warranty, voltage range up to 1000V, current range up to 10A and a built-in temperature rating. It's possible to choose between automatic and manual ranging – which is always useful – and the unit itself come with a 9V battery, a thermocouple and test leads, meaning it's ready to be used right out of the box.
4
Klein Tools MM700 Auto-Ranging 1000V Digital Multimeter
The MM700 uses TRMS technology for increased accuracy with the automatic ranging algorithm and is capable of measuring up to 1000V AC/DC voltage and up to 40 MΩ resistance. The CAT IV safety rating dictates the safe use of this unit at 600V, and this multimeter was tested to withstand a six feet drop without any noticeable performance impairment. If you need the best multimeter for electronics hobbyist purposes that will last you a long time, definitely consider the MM700.
5
Klein Tools MM200 Auto Ranging 600V Multimeter
Many people wonder where they can find the best multimeter for HVAC, but look no further – we've got it right here. As many of the units in this price range, the MM200 is equipped with auto-ranging and a backlit display so that you can use it even in low-light conditions. The voltage rating goes up to 600V, and the current is rated at 10A. It's capable of measuring capacitance, temperature, and frequency, in addition to voltage and resistance, making this a good all-around unit that will take the guesswork out of your electrical troubleshooting.
6
Fieldpiece HS33 Expandable Manual Ranging Stick Multimeter
The Fieldpiece HS33 is a good entry-level multimeter if you're a hobbyist electrician and are short on cash. The cool thing about this unit is the non-contact voltage feature. Once this is turned on, all you have to do is hover the unit over the source, and the voltage will read out on the screen. This can really come in handy when you're dealing with a problematic circuit that's under high voltage. Since you don't have to physically touch the circuit, it's a safer way to work. Overall, it's perhaps the best budget multimeter.
7
Fieldpiece SC260 Compact Clamp Multimeter
This unit features true RMS measurements for accurately testing variable frequency drives with greater accuracy than you could test with a conventional multimeter. Additionally, the SC260 features a backlight display for readouts in low light conditions, and like the previous unit, it includes a hands-free measurement function thanks to an innovative magnet-based engineering principle. The high-temperature resistance of this unit means that it's fit for use in almost any environment, and the Auto Select mode helps you save time on setting the unit up for first use.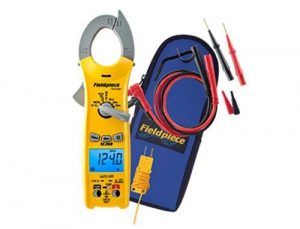 8
Fieldpiece LT17A Classic Style Digital Multimeter
The LT17A has a capacitance rating up to 200 MFD and a temperature rating of up to 1400 °F. It works with accessory heads and includes microamps for conducting a flame diode test. A magnetic hanger is included making it easy to put the unit away when it's not in use. The auto power off feature prolongs battery life if you're one of those people who tend to forget to turn the unit off (there are a lot of us out there, believe me). Probably the best multimeter under 50 dollars you can find on the market today, so if you're short on cash we highly suggest you take a look at it.
9
Cen-Tech 11 Function Digital Multimeter with Audible Continuity
This Cen Tech multimeter unit features an easy-to-read LCD and is capable of measuring AC/DC voltage and current, continuity, and temperature. The display capacity is rated at 1999 and, unlike most other units in this price range, it has a memory bank for stor