Fantastic Motorized Skateboard Models to Buy in 2019
Last updated on June 29th, 2019 at 10:40 am
Do you love skateboarding but get tired of the pushing motion? Wouldn't you prefer having more opportunities to just enjoy the view? Cruising around town would be much more fun if you could concentrate on the horizon, instead of staring at the pavement. Living in the golden era of technology, you should look into getting yourself a motorized skateboard! It is a battery-powered skateboard that you can control with either a remote or just by leaning on the footpads. You can control the speed, as well as steer and brake by pushing a button. Sounds amazing, doesn't it?

The Best Motorized Skateboards
If you need help, we've covered all the essential features you need to consider before choosing the best motorized skateboard for you in our guide below. Now is the time to take a look at the many options that are currently offered on the market. We have done the hard work for you and narrowed down the vast selection of motorized skateboards in the below list. All you have to do now is pick the one that ticks the most boxes on your preferred features list.
[content-egg-block template=custom/all_offers_list]
1
Evolve Skateboards – Bamboo One
This is the board for you if you are looking for a smooth ride. Powered by a 2000 Watt motor, it can provide a 20-mile ride on a single charge. It was designed using the new Super Carve Truck system, which will provide you with stability while making those tight turns. This electric skateboard falls slightly on the fast side, as it can go up to 22 miles per hour. It takes about 3.5 hours for the battery to charge and it is intended for street use only. The deck length is 37 inches, and this board is the lightest one from the Evolve brand, weighing merely 16.3 pounds. With that said, it is important to mention that it can stand a maximum weight of 220 pounds. It comes with a remote which controls the board in four different speed settings.
If you are looking for a smaller and lighter motorized skateboard with remote control – this might be the board for you! It is not the fastest, and its battery doesn't last longer than 7 hours, but it only weighs 10 pounds and is only 27.5 inches long; making it compact enough for you to carry around in your backpack. It goes up to 15 miles per hour and has integrated lights for safer night rides. Do you enjoy going on hikes but need a plan B, in case you get tired? Just bring this board with you and hop on it, since it is powerful enough to climb hills with. When it comes to purchasing it, while it isn't the most expensive one when compared to its competitors, you will often find it among eBay deals and promotions for items of the sort.
3
Boosted 2nd Generation Dual+
The powerful 2000-Watt Boosted motorized skateboard will allow you to ride around with incredible speed and ease. This electric skateboard is extremely flexible and comes with wider wheels, making it more stable and reliable. However, the turning radius is tighter than you would expect from a skateboard of this type. This model has a strong bamboo deck and a weight of 15 pounds. It can go up to 22 miles per hour and offers a range of 7 miles with a single charge. In case the battery range is not enough for you, you have the option of buying the extended battery, which can provide you with a 12-mile range. If wondering how much is a Boosted board; you will see it is more on the expensive side.
Inboard is famous for its high-quality and futuristic-looking motorized skateboards. This model weighs only 14 pounds and has dual 1600-W in-wheel motors. Its integrated LED lights will make you visible from a distance, thus provide a safer late-night ride. You can use it to climb an 18% grade hill, and it features regenerative braking. This board can go up to 22 miles per hour and allows for smooth acceleration. If you are worried that you might lose or forget your remote, you will be delighted to hear that this board is also accompanied by an app. You can download the Inboard Vision™ mobile app, which features all of the functions provided on the remote, as well as the option to check the battery status and choose between four safe riding modes.
Have you ever wondered how it feels to fly down the snow-covered slope on a snowboard? If you are craving this adventure, but never had the opportunity to make this dream come true, you might get that experience riding the LEIF eSnowboard down your street. These are electric skateboards made to move like snowboards. This model allows for 360 degrees of motion. It can go up to 23 miles per hour, and you can expect a 10-15 mile range from a single battery charge. Aside from that, LEIF's skateboards are also water-resistant.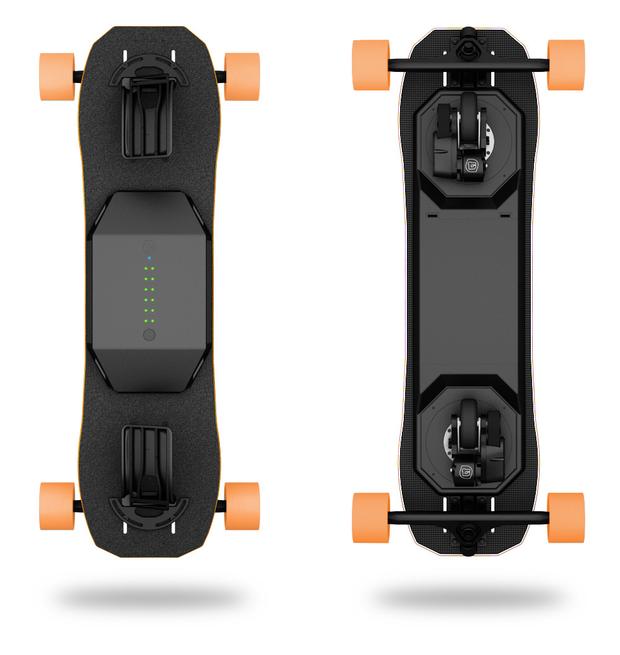 This is one of the fastest and lightest motorized skateboards you'll find on the market – it can go up to 26 miles per hour and only weighs 10 pounds. Designed for commuting through high-density cities, with this motorized skateboard you can easily maneuver your way through the crowd and arrive at your destination in no time. Aside from that, this awesome board is highly customizable – you can modify top speed, adjust braking power, and so on. Another exceptional highlight is that its battery can be fully charged in 90 minutes, which means you can charge up to 3 miles in just 15 minutes.
7
29-inch Micro Slim Electric Skateboard
This motorized skateboard goes up to 20 miles per hour and weighs around 15 pounds. The battery provides you with a 10-mile range with a single charge. Its deck is shorter and wider than the ones found on average boards, which allows for a more stable ride while not compromising maneuverability. Designed to make controlling the board for prolonged periods of time more comfortable, the remote has two buttons and a joystick, resembling a game controller. On top of that, it comes with front and rear lighting for a safer riding experience.
STARY is the world's thinnest motorized skateboard – it is only 0.62 inches thin. It is also extremely fast compared to other skateboards as it can go up to 18 miles per hour. It weighs 11.4 pounds and has powerful electronic regenerative brakes. STARY is water and dust proof, which means you can take it on an adventure anywhere without having to worry about damaging it. The battery can last up to 9 miles of skating, and you may even continue using it when you've run out of battery life as the motor is resistant to friction.
Stinger is a fantastic choice if you are looking for a long-lasting motorized skateboard. This board is a wonderful combination of a classic look and modern technology. Its battery – which is fully charged in only 2.5 hours – can last up to 20 miles, and it can go as fast as 20 miles per hour. The deck is made of Canadian Maple wood, which makes it extremely durable. The board falls on the lightweight side, since it weighs around 11 pounds, and is only 20 inches long, so it can easily fit in your backpack.
This cool-looking electric skateboard has a 400-W motor and can go up to 12 miles per hour, with a battery range of up to 18 miles. It features a wireless remote, which controls the board in two riding modes – fast (up to 12 miles per hour) and slow (up to 8 miles per hour), making this board a kid-friendly option. Since this model is a bit expensive and your kid won't care about the price, take advantage of Walmart coupon codes and deals and get a reasonable discount. It has a kicktail shape, which will provide you with more control and a better-steered ride. Moreover, it is lightweight and convenient for your urban life. Aside from that, you can download the E-Go Cruiser app to control the board right from your cell phone.
If you're wondering how much is an electric board of this kind, we can assure you it is a bargain considering all the features it has. First of all, if you're not the one to carry a remote around, this is a great option for you – two built-in footpads control this electric skateboard. The footpads are sensitive to applied pressure; applying the pressure to the front pad will make the board accelerate, and the same motion on the back pad will make the board slow down or stop. The maximum speed this skateboard can reach is 20 miles per hour, and it has a range of 16 miles with a single battery charge. Designed with a safety and convenience in mind, this board has LED headlights and tail lights.
How does a motorized skateboard work?
Buying Guide and Advice

How does a motorized skateboard work?